JURA S8 espresso machine
Regular price

Sale price

2,995.00 $

Unit price

per
With its clear cut, sculptural design, the stylish S line exudes quality and precision in every way.
Complementary products
Regular price

Sale price

39.95 $

Unit price

per

In recent years, in Quebec and around the world, we have witnessed an unprecedented craze for coffee.

People of all generations are passionate about its cultivation, its quality and the different ways of preparation. Here is a unique book that offers both coffee-based recipes and others that beautifully accompany this beverage that is part of the daily lives of millions of people: CAFÉ - LE CONNAÎTRE, LE CUISINER, L' APRRÉCIER by Kareen Grondin and Didier Reolon.

Winner of the GOLD award in the "Livres de cuisine sujet unique" category for the Taste Canada Awards 2023.

See more

See less

Regular price

Sale price

42.95 $

Unit price

per

Encased in a high-quality stainless steel coil spring, the milk pipe connects the milk container to the milk spout and makes the perfect finishing touch to the elegant design of your coffee machine.

The opaque casing of high-quality material guarantees optimum protection against UV rays and the effects of light.

Precision-fit connectors ensure airtight connections. Ready for use right away, this milk pipe offers the ideal solution for optimum milk hygiene every time.

HP1 compatible with : E6, D6, ENA 8, ENA Micro, WE8

HP2 compatible with : Giga 5, Giga 6, Giga X8c (old version), Giga X7, Giga W3

HP3 compatible with : E8, J6, J8, S8, Z6, Z8, Z10

See more

See less

Regular price

Sale price

59.95 $

Unit price

per

The glass milk container makes an indispensable addition for all coffee lovers who like to spoil their family and guests from time to time with a trendy flat white, latte macchiato or cappuccino.

Regular price

Sale price

99.00 $

Unit price

per

Controlling your automatic coffee machine via your smartphone or tablet is now easier than ever before thanks to JURA Smart Connect, which also enables communication with smart accessories and offers brand new programming options.

Regular price

Sale price

450.00 $

Unit price

per

Coffee tastes its best when served hot. That's why all professionals work with correctly pre-warmed cups as a matter of principle. If hot coffee is poured into cold porcelain cups, a lot of heat is lost. Too much, in fact.In pre-warmed cups, however, the mouthwatering aroma is released in its entirety. With the elegant, slim cup warmer, JURA offers the ideal accessory for any automatic speciality coffee machine. Two heating elements constantly keep the cups at a temperature of approximately 55°C – ideal for preparing a fiery espresso or a cappuccino topped with milk foam.

See more

See less
See more products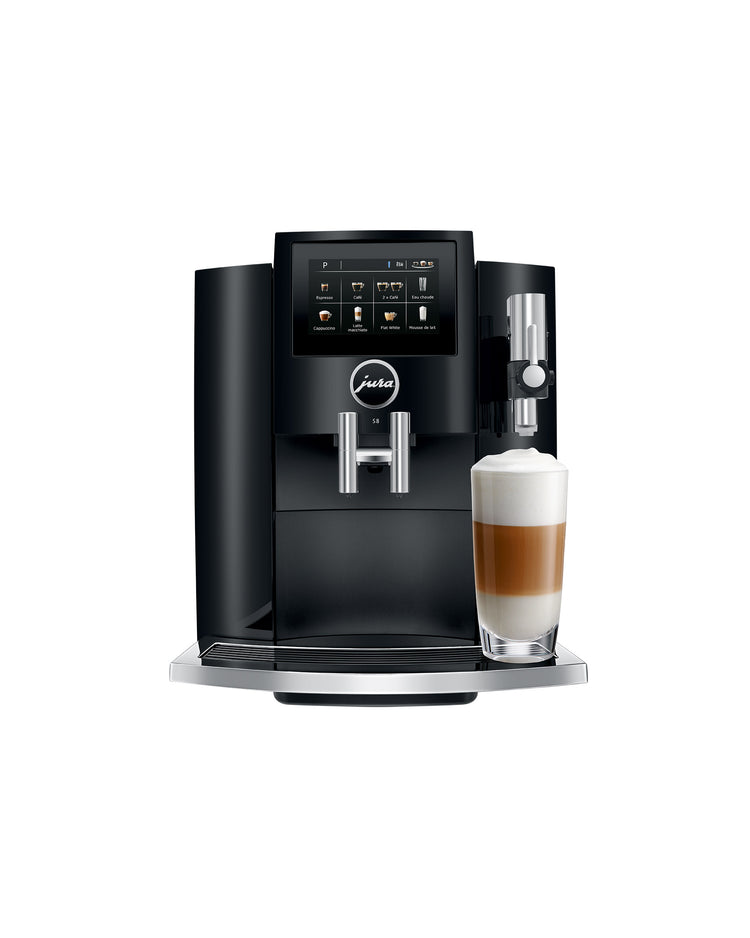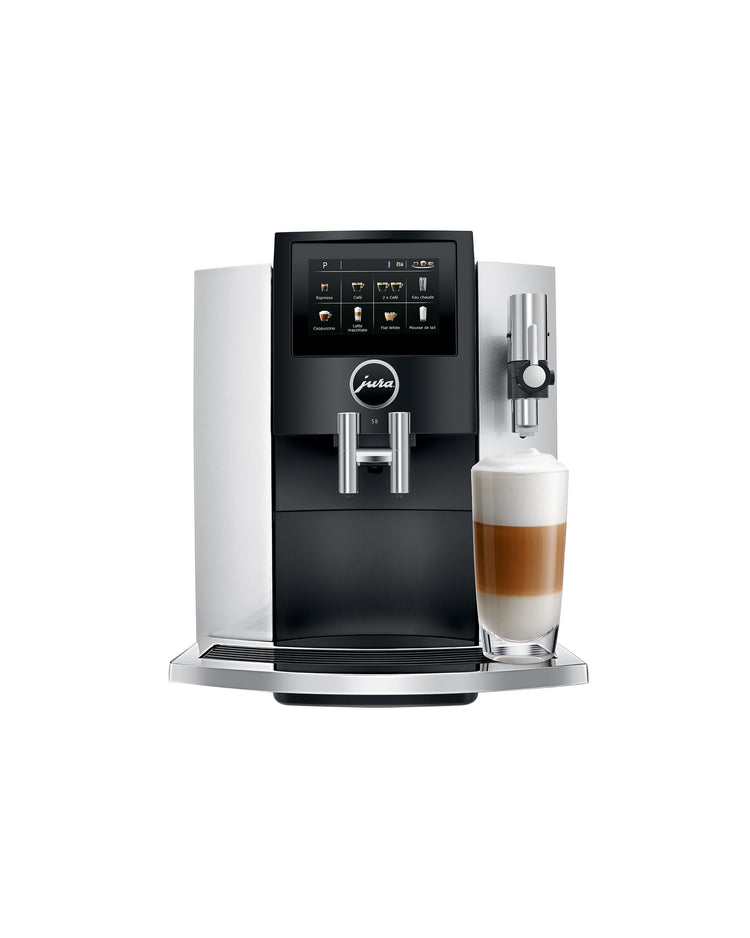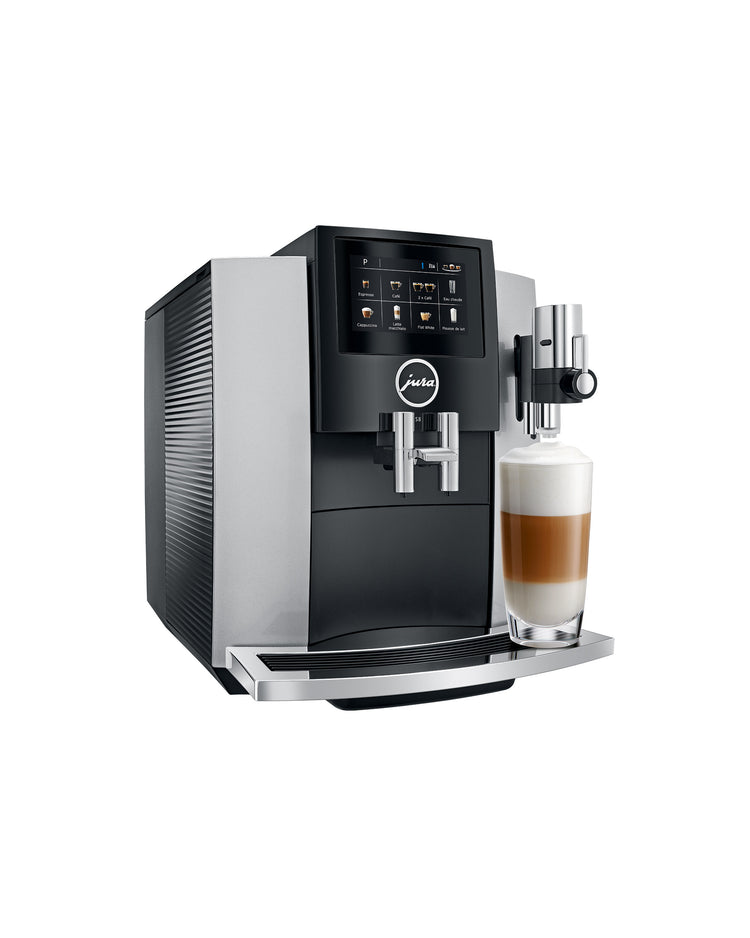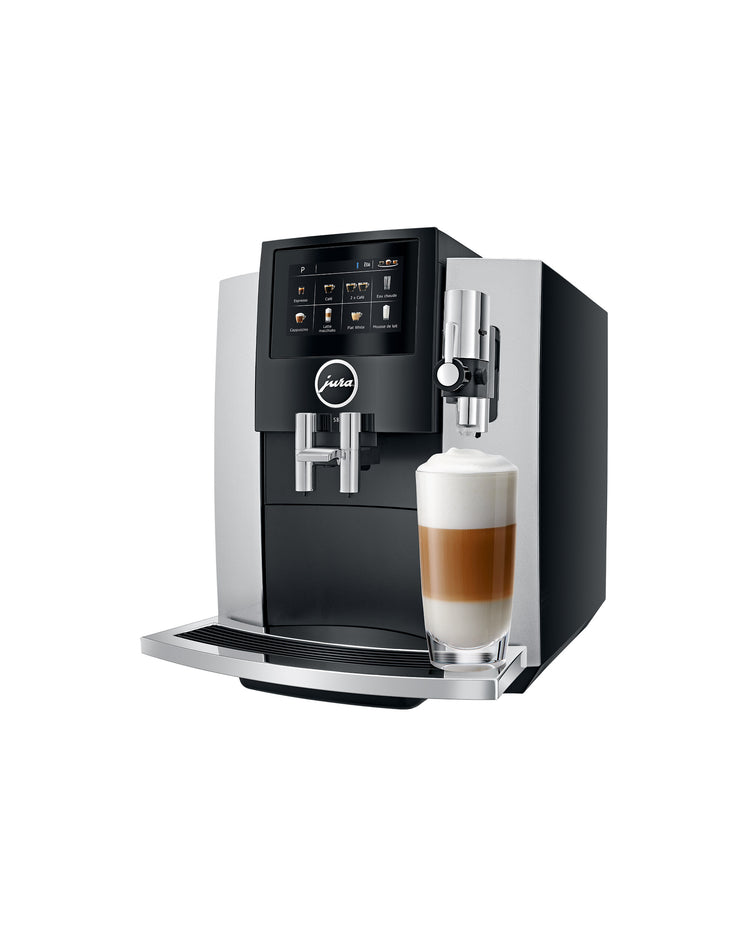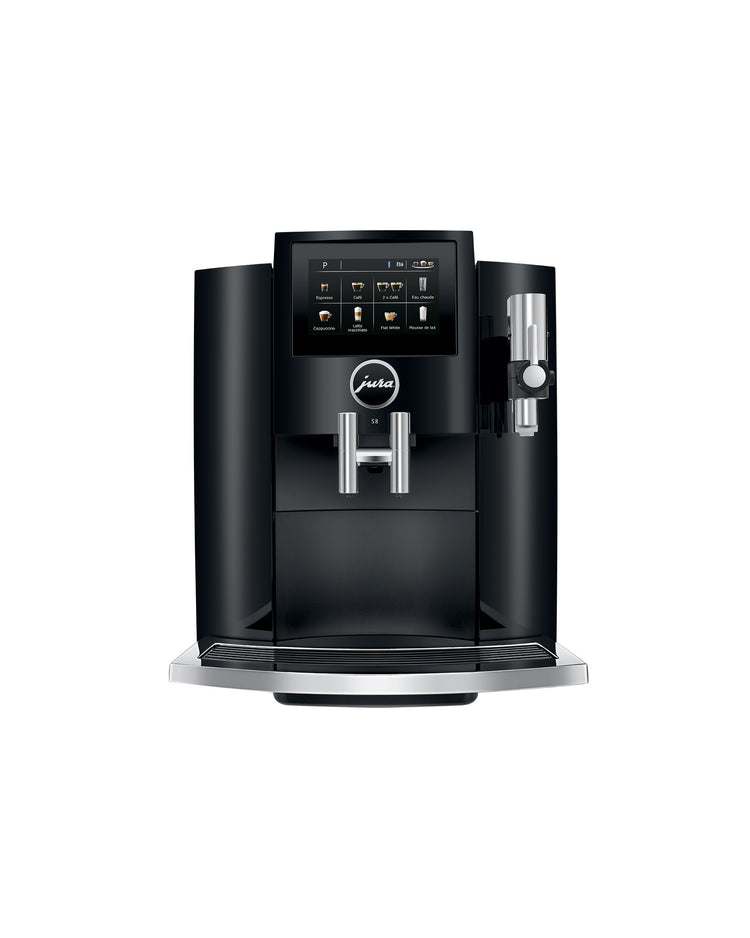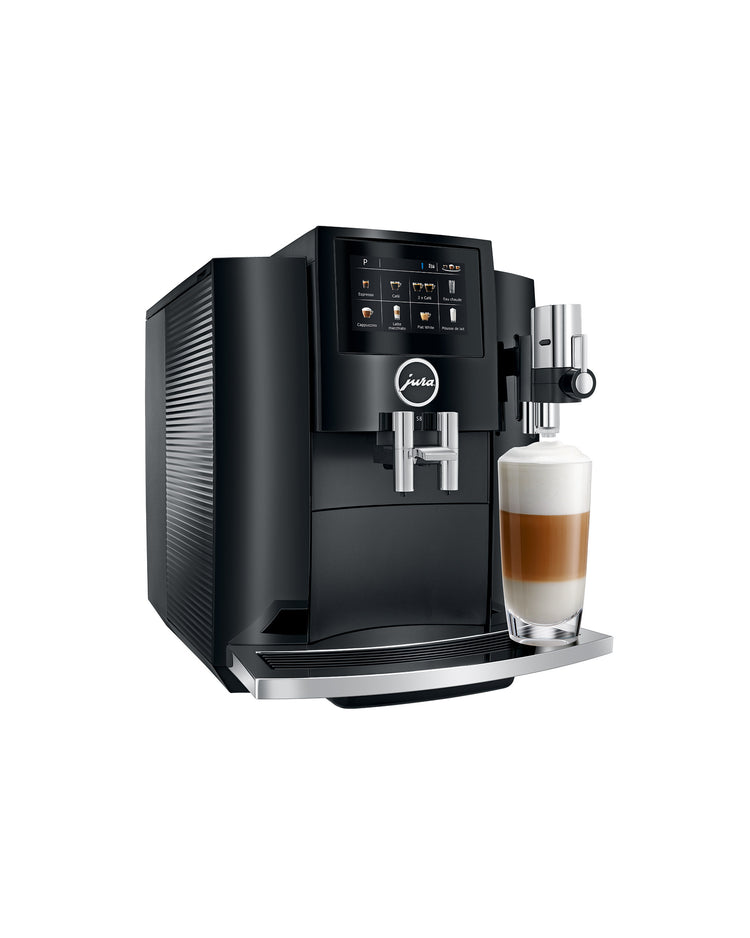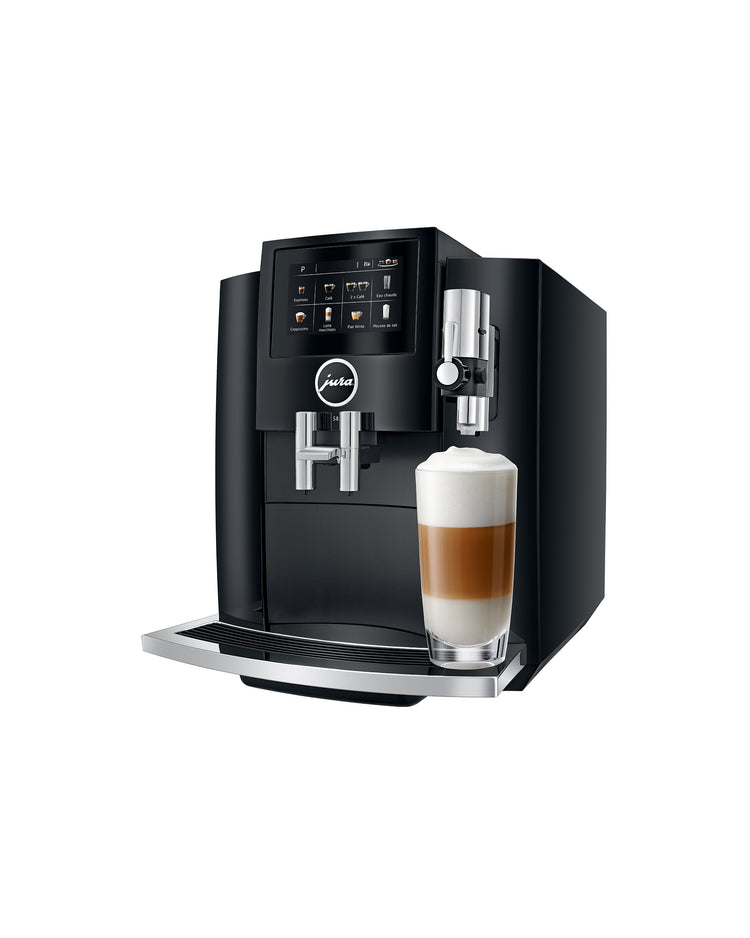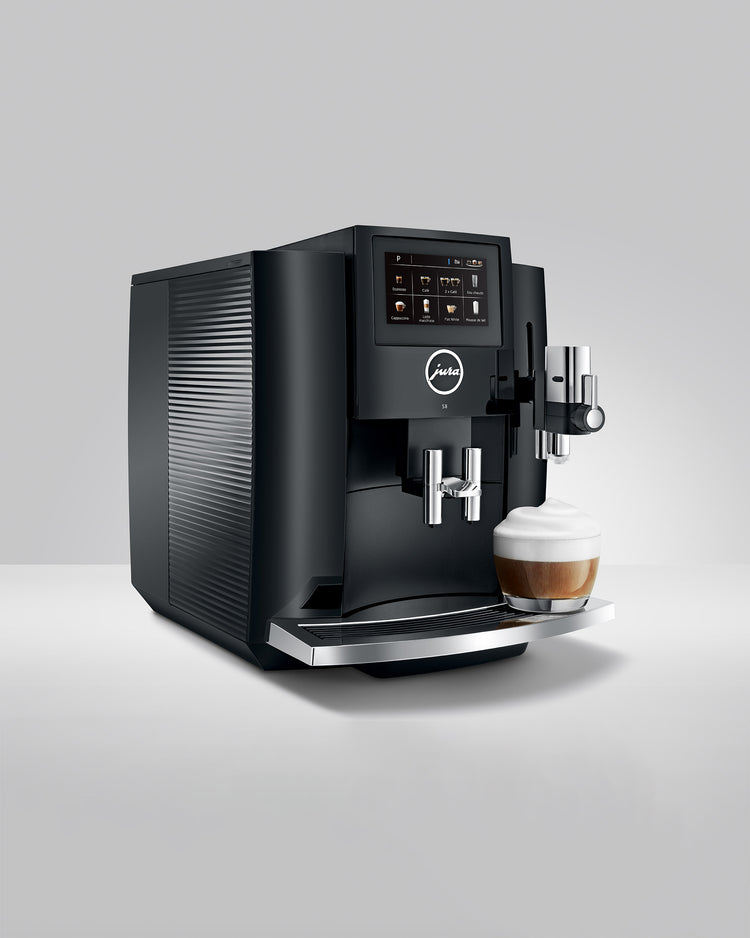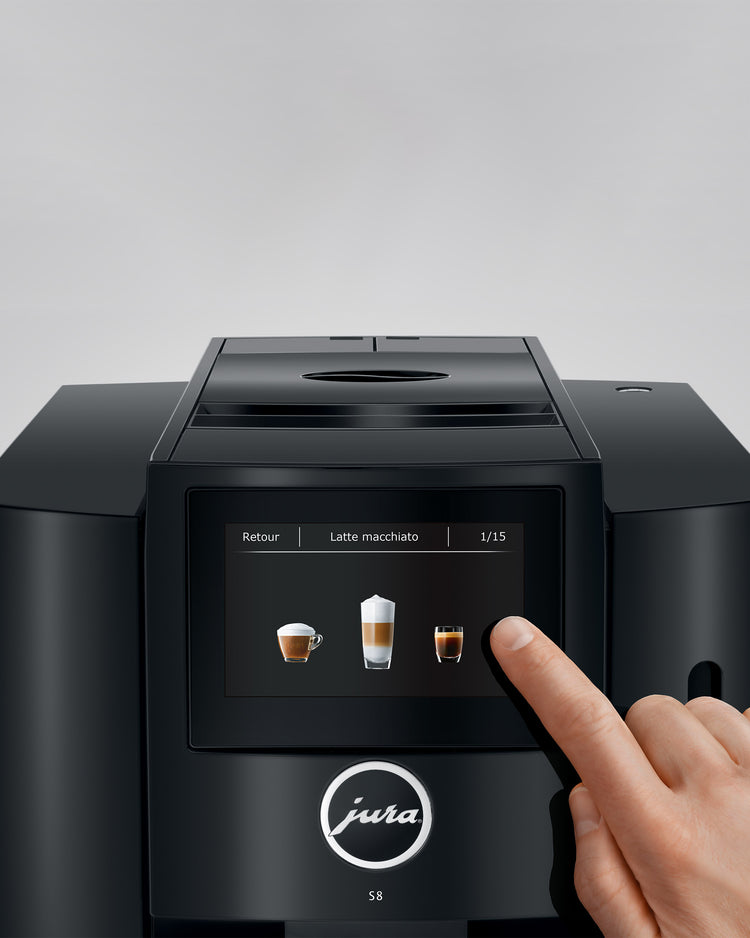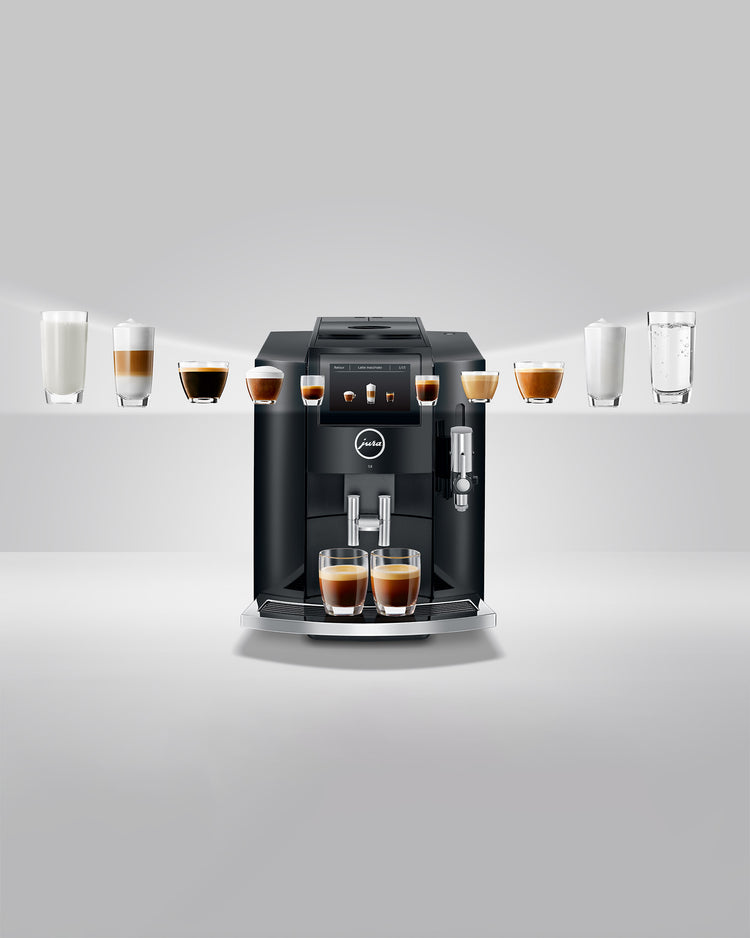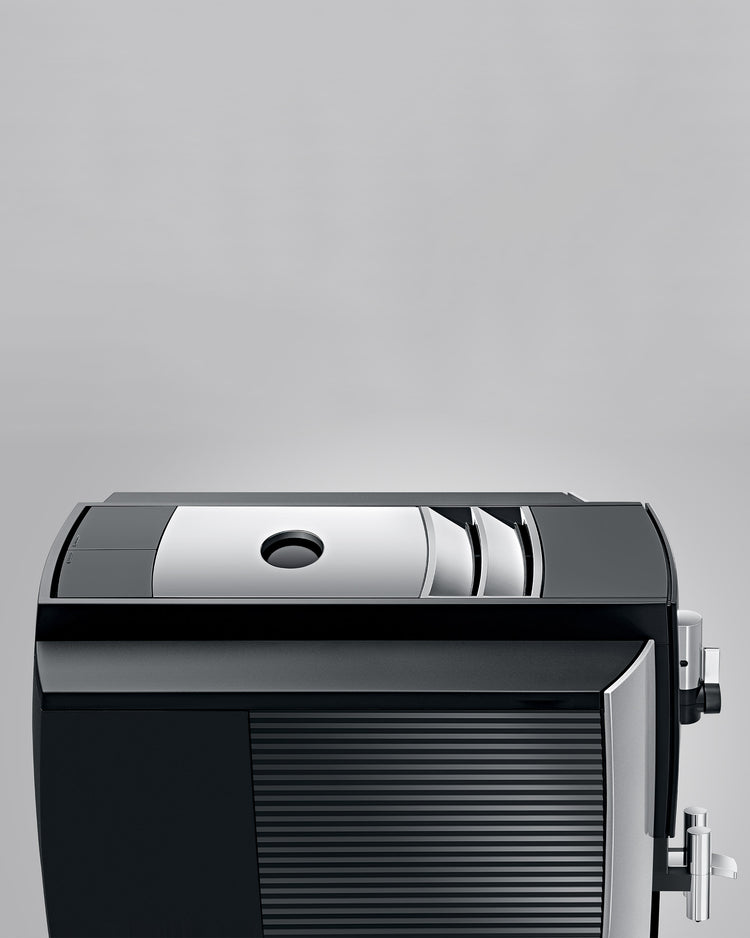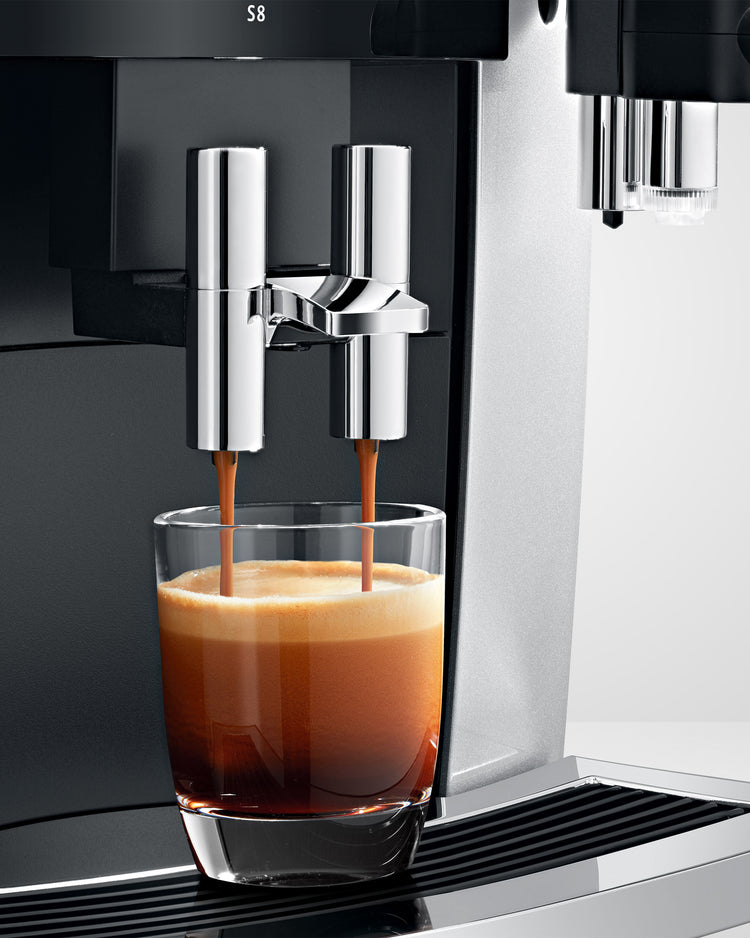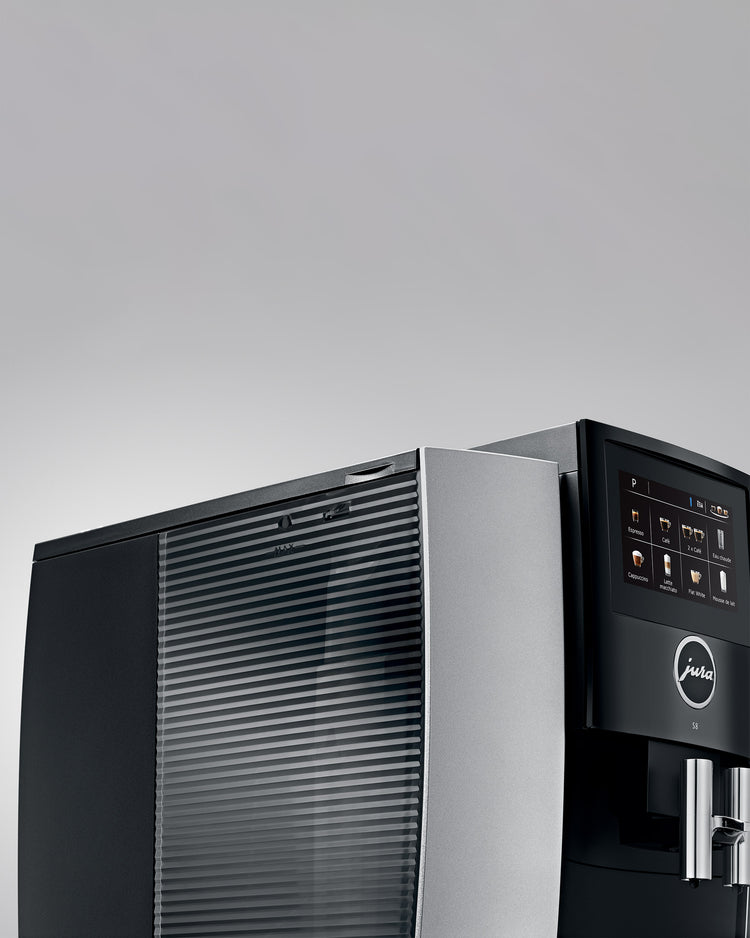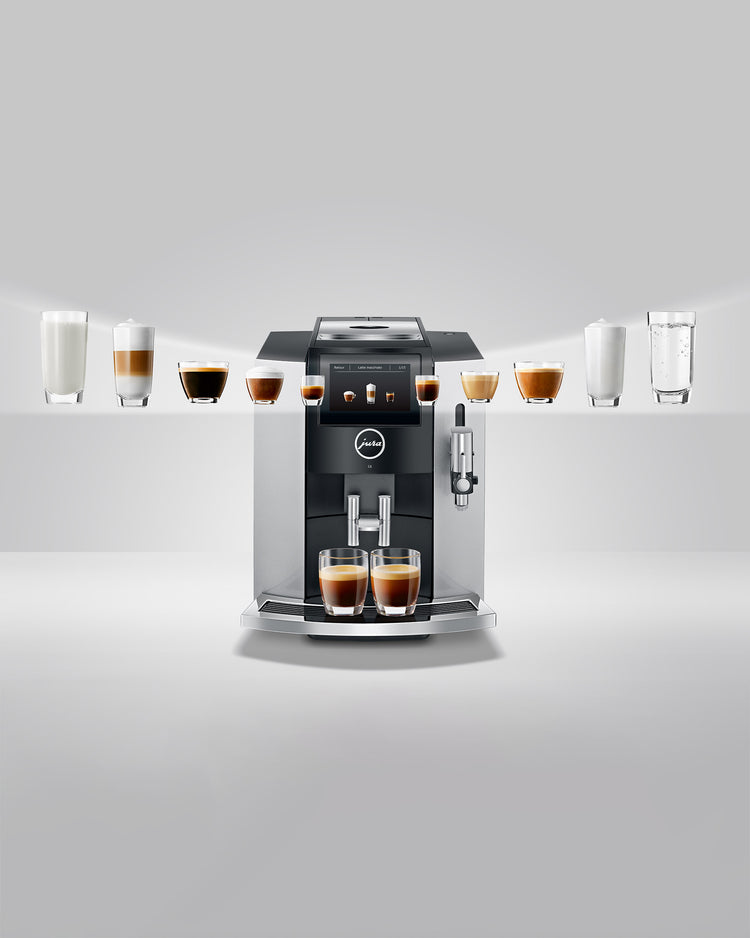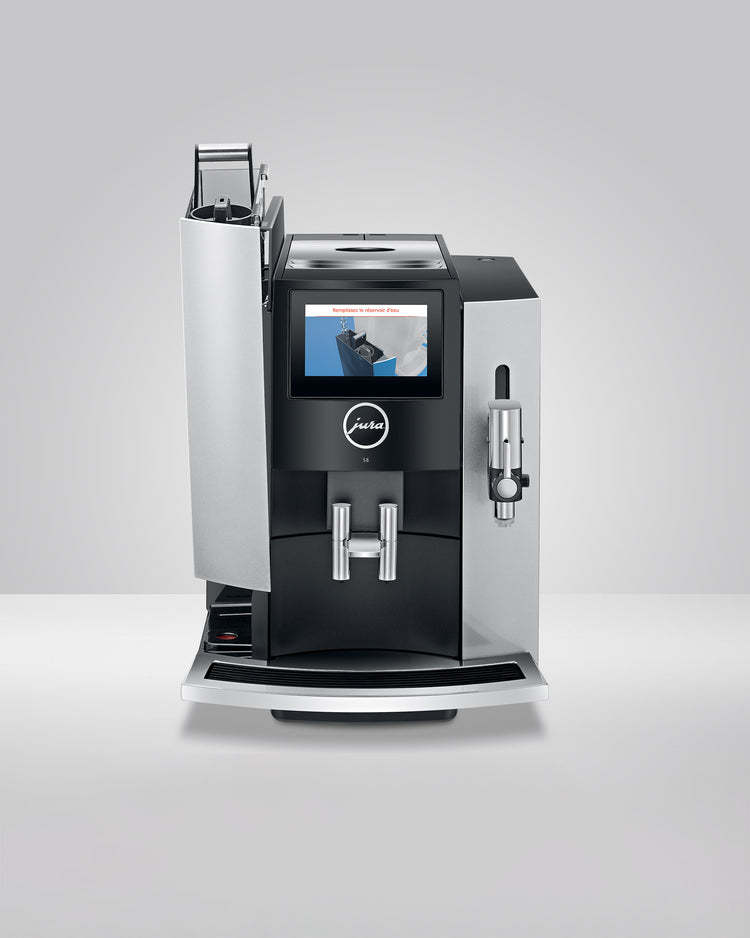 Wide choice, compact design
With its clear cut, sculptural design, the stylish S line exudes quality and precision in every way. It combines the best of the compact class with elements of the premium segment, including a hint of the GIGA

The impressive range of specialities and the stunning result in the cup satisfy even the most demanding coffee connoisseurs. The operating concept is based on simplicity and intelligence. The JURA S line creates a new segment in coffee machines: the premium mid-segment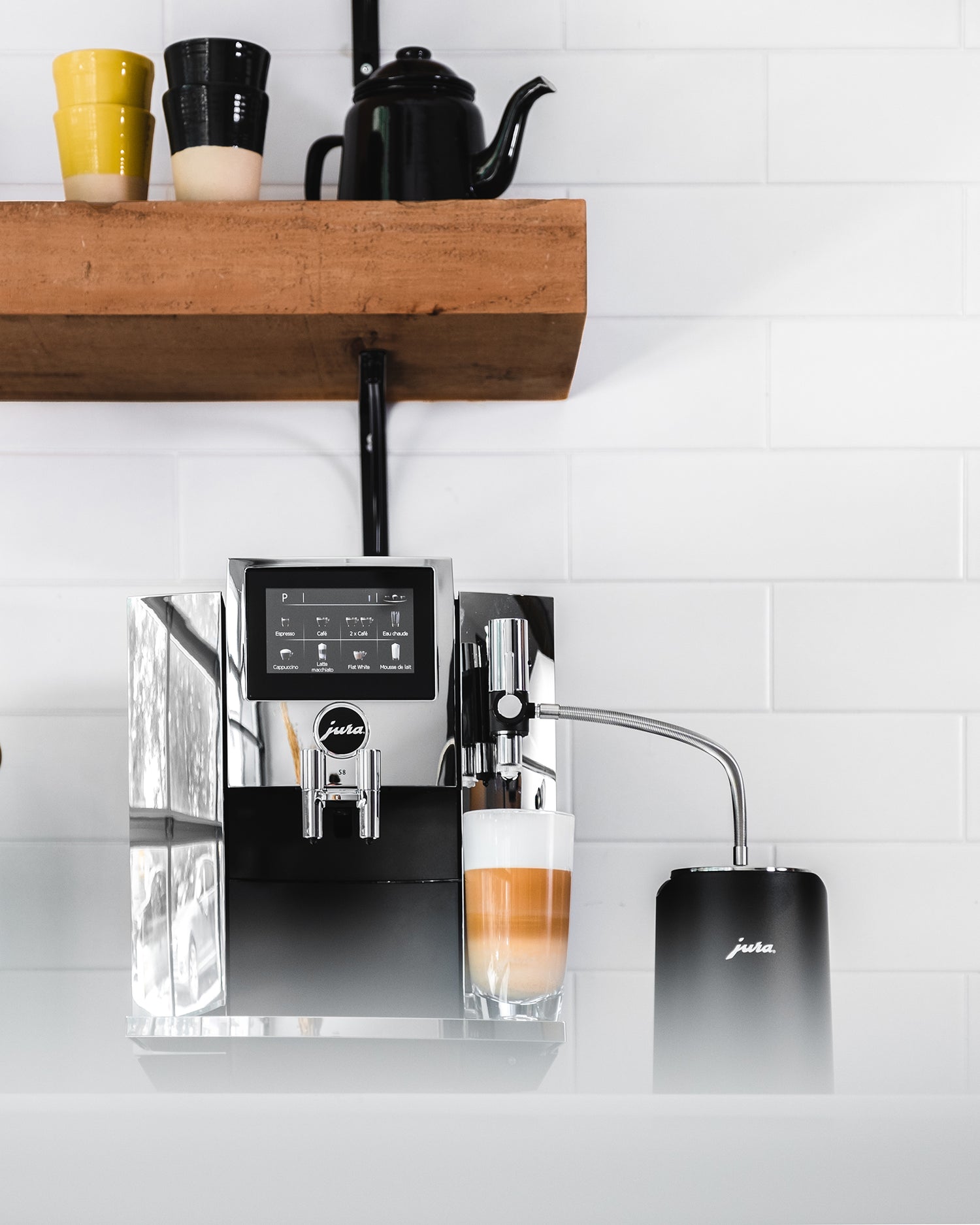 Le plaisir absolu du café sous toutes ses formes
The stylish S8 creates the full range of specialities from espresso to latte macchiato to a masterful standard of quality. With just a touch on the colour touchscreen display, one of 15 different specialities flows into the cup. This is thanks to several outstanding innovations.The AromaG3 grinder is now even more precise and twice as fast, yet preserves all the delicious aroma of the coffee beans.

The Pulse Extraction Process (P.E.P.®) ensures the optimum extraction time for short specialities and delivers a taste explosion for espresso and ristretto. Trend specialities finished with milk and milk foam are brought to perfection thanks to fine foam technology.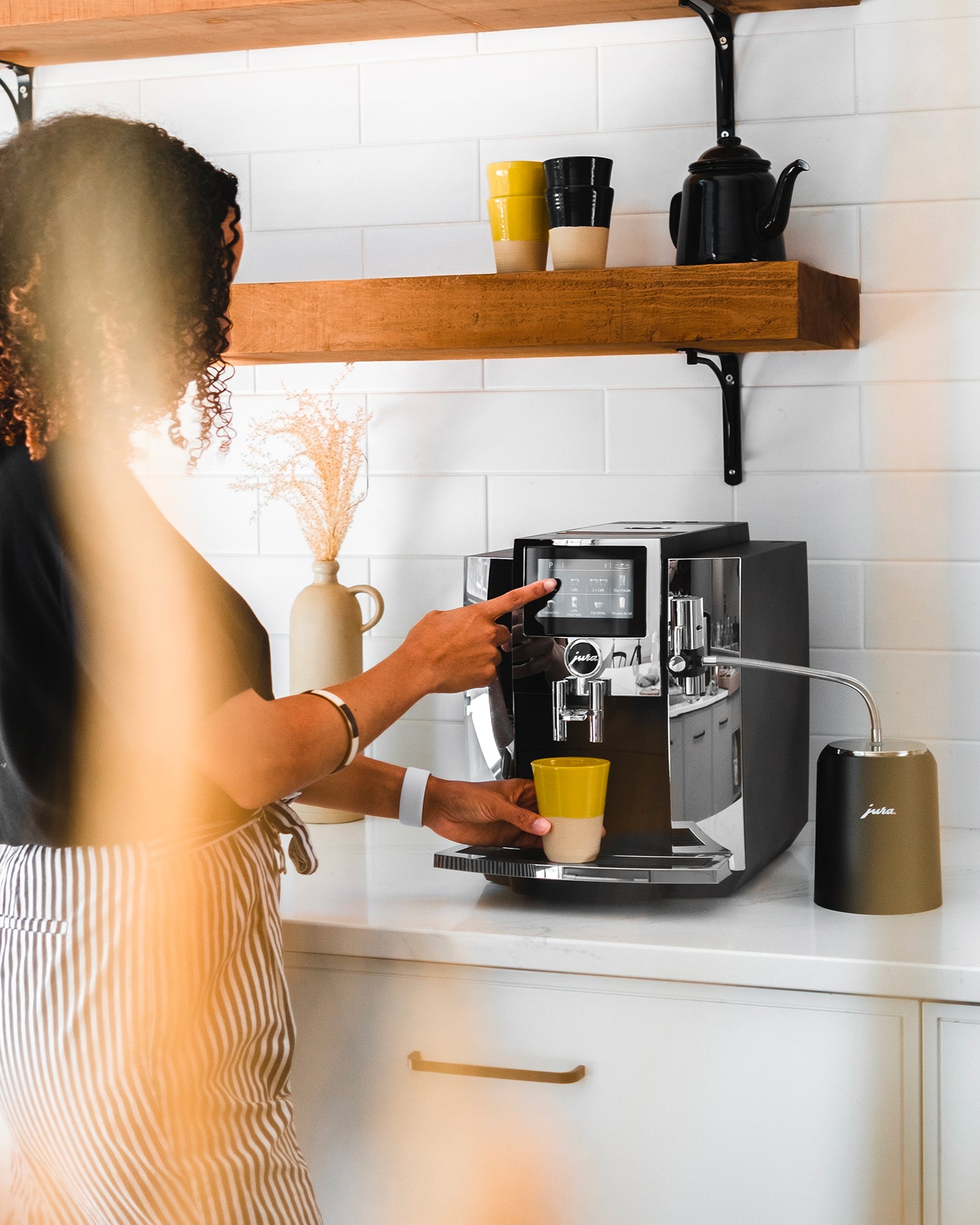 Quand le confort d'utilisation redéfinit la tendance
The integrated 4.3" high-resolution colour touchscreen display makes the machine incredibly simple to operate. A gentle touch with your fingertip on the screen, and your favourite beverage flows into the cup. The innovative operating concept with an eye-catching screen succeeds because it is so clear, simple and modern.

Graphics and animations show every step of preparation, guiding the user through the process. The concept is designed to help you find what you want quickly. Individual preferences can be programmed in a few easy steps, allowing you to rename, move, copy or duplicate products in no time.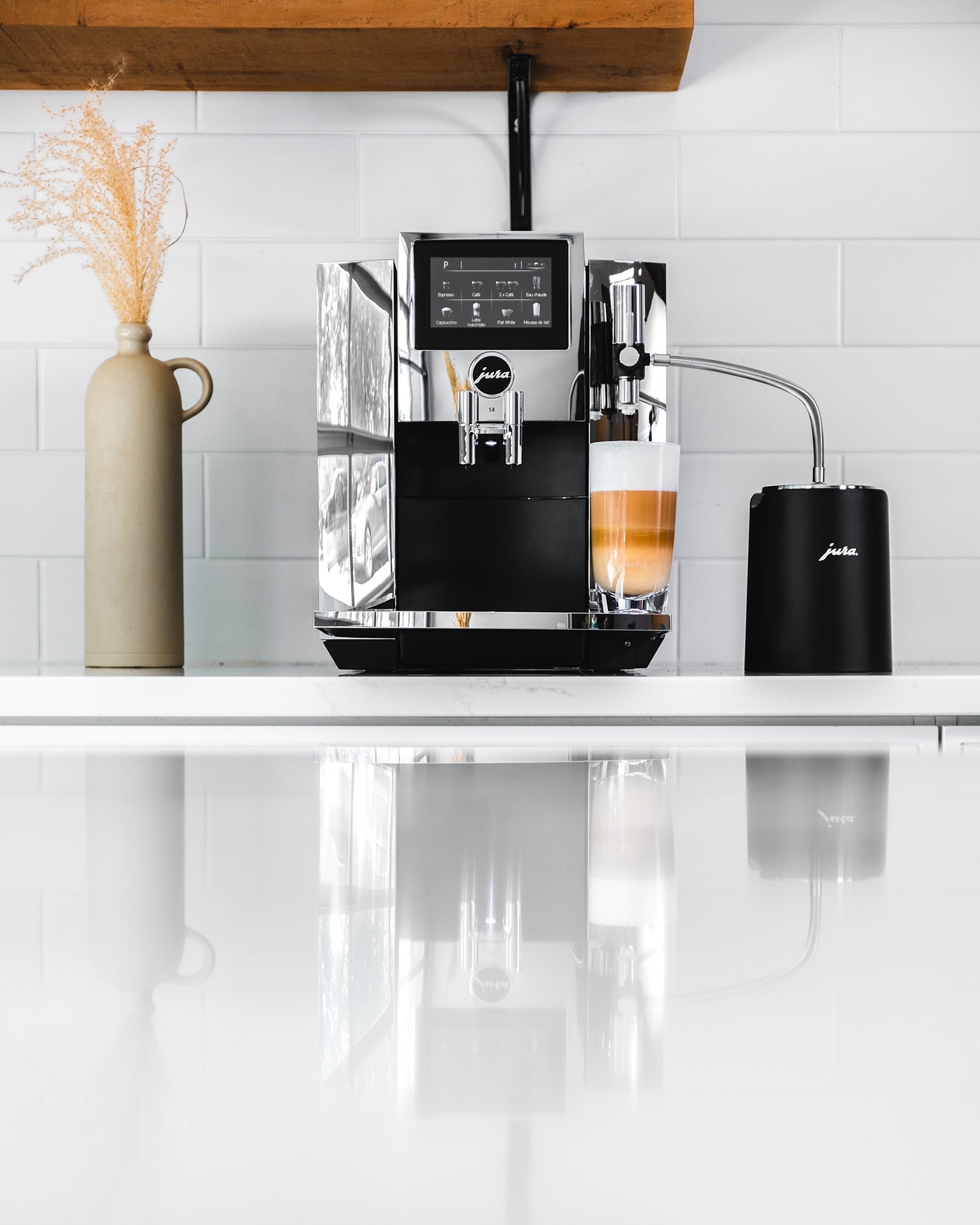 De la mousse de lait par animation
Characteristic JURA design reflects precision and quality down to the smallest detail. The new professional fine foam frother on the S8 is made from the highest quality materials and has a stunning look and feel.

Specially designed for the preparation of speciality coffees with milk and milk foam, it makes latte macchiato and other beverages with the very best fine-textured foam – every time. Graphics and modern animations on the display make it easier than ever to use.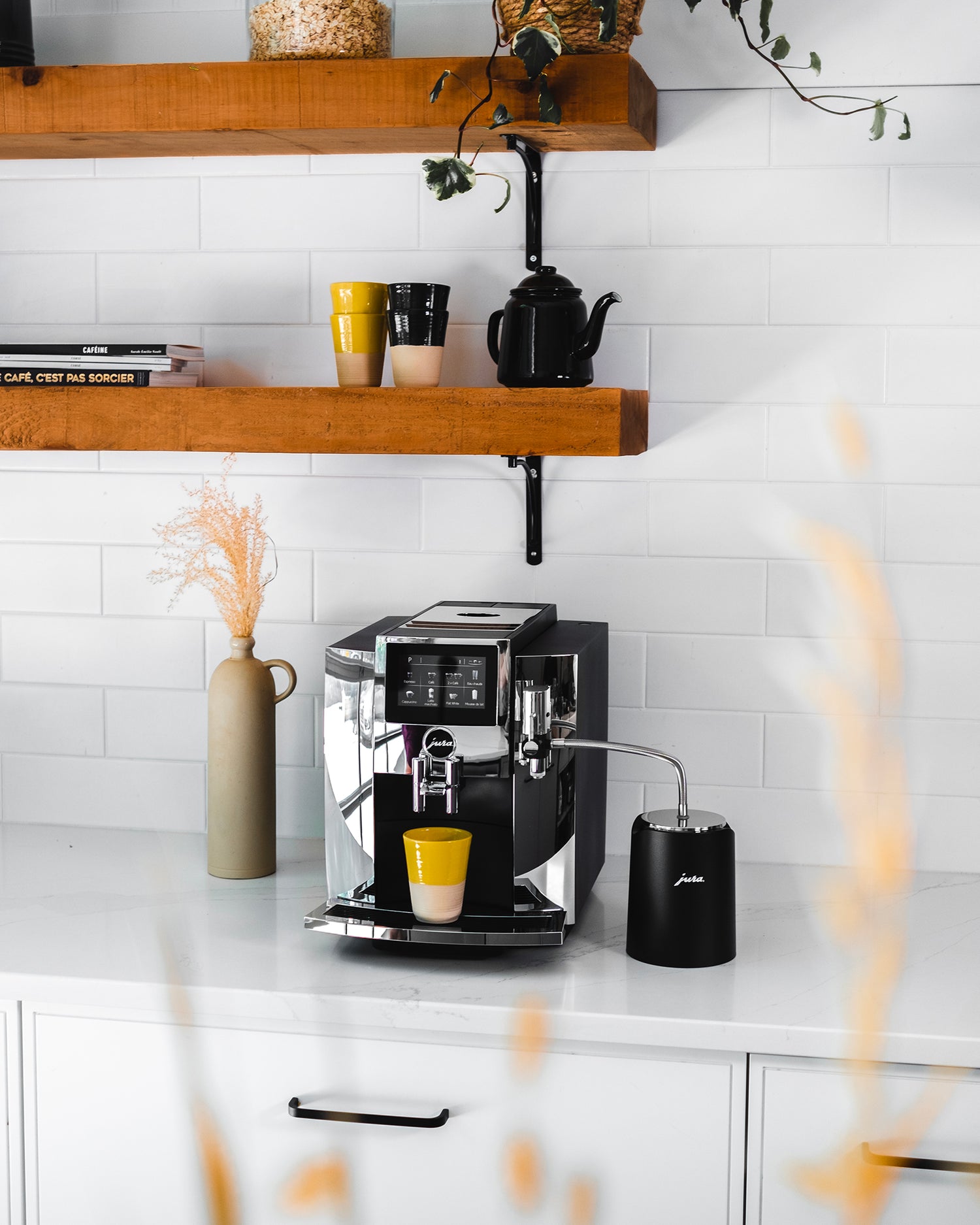 Un design remarquable fait de détails uniques
Careful attention to detail maintenance definitely puts the stylish design of the S8 in a class of its own. The high-quality, grooved water tank with a handle made of real metal and the heavy, chrome-plated cup grille add subtle accents.

The cover of the bean container, made of hand-polished die-cast zinc*, embodies the quality of the complete product. Details and thoughtful touches give the S8 a unique feel which is sure to please those who appreciate good design.
*Hand-polished die-cast zinc on Chrome and Moonlight silver models, aroma preservation cover on the piano black model.
Vidéo de présentation de la machine espresso Jura S8
données techniques
Design et matériaux

Technologies standard de commande et de programmation

Spécialités de café

Standards

Standards énergétiques

In figures

STANDARDS D'HYGIÈNE

Avantages Spécifiques