JURA E4 espresso machine
Regular price

Sale price

1,595.00 $

Unit price

per
It's here – the ideal full-size coffee machine for those who want to focus on the essentials: coffee made to perfection.
Produits complémentaires
Regular price

Sale price

39.95 $

Unit price

per

In recent years, in Quebec and around the world, we have witnessed an unprecedented craze for coffee.

People of all generations are passionate about its cultivation, its quality and the different ways of preparation. Here is a unique book that offers both coffee-based recipes and others that beautifully accompany this beverage that is part of the daily lives of millions of people: CAFÉ - LE CONNAÎTRE, LE CUISINER, L' APRRÉCIER by Kareen Grondin and Didier Reolon.

See more

See less

Regular price

Sale price

42.95 $

Unit price

per

Encased in a high-quality stainless steel coil spring, the milk pipe connects the milk container to the milk spout and makes the perfect finishing touch to the elegant design of your coffee machine.

The opaque casing of high-quality material guarantees optimum protection against UV rays and the effects of light.

Precision-fit connectors ensure airtight connections. Ready for use right away, this milk pipe offers the ideal solution for optimum milk hygiene every time.

HP1 compatible with : E6, D6, ENA 8, ENA Micro, WE8

HP2 compatible with : Giga 5, Giga 6, Giga X8c (old version), Giga X7, Giga W3

HP3 compatible with : E8, J6, J8, S8, Z6, Z8, Z10

See more

See less

Regular price

Sale price

59.95 $

Unit price

per

The glass milk container makes an indispensable addition for all coffee lovers who like to spoil their family and guests from time to time with a trendy flat white, latte macchiato or cappuccino.

Regular price

Sale price

99.00 $

Unit price

per

Controlling your automatic coffee machine via your smartphone or tablet is now easier than ever before thanks to JURA Smart Connect, which also enables communication with smart accessories and offers brand new programming options.

Regular price

Sale price

450.00 $

Unit price

per

Coffee tastes its best when served hot. That's why all professionals work with correctly pre-warmed cups as a matter of principle. If hot coffee is poured into cold porcelain cups, a lot of heat is lost. Too much, in fact.In pre-warmed cups, however, the mouthwatering aroma is released in its entirety. With the elegant, slim cup warmer, JURA offers the ideal accessory for any automatic speciality coffee machine. Two heating elements constantly keep the cups at a temperature of approximately 55°C – ideal for preparing a fiery espresso or a cappuccino topped with milk foam.

See more

See less
See more products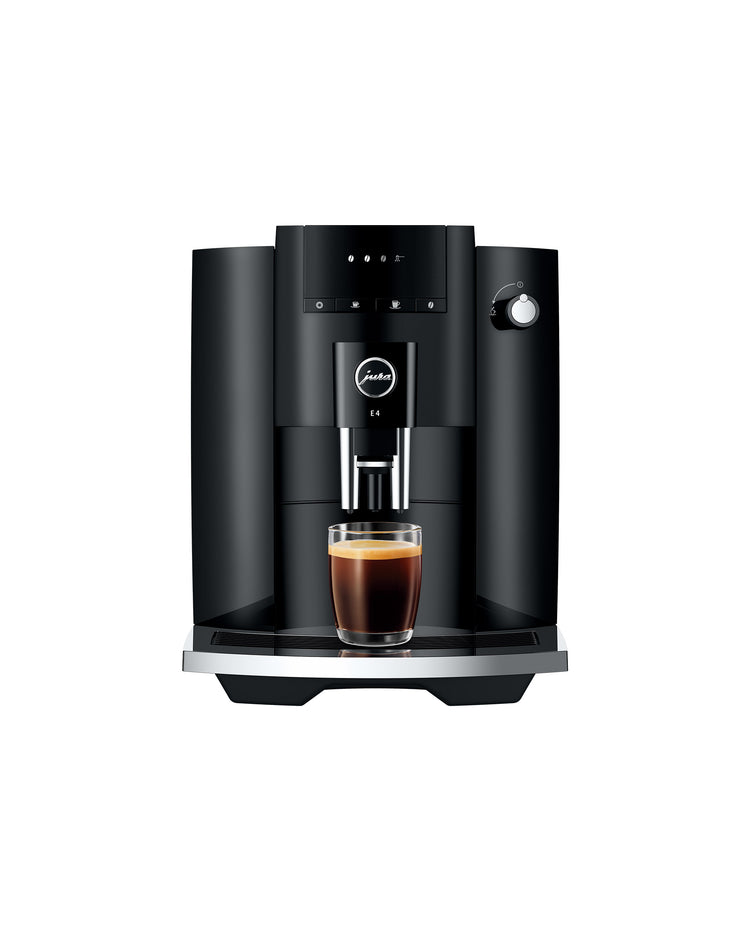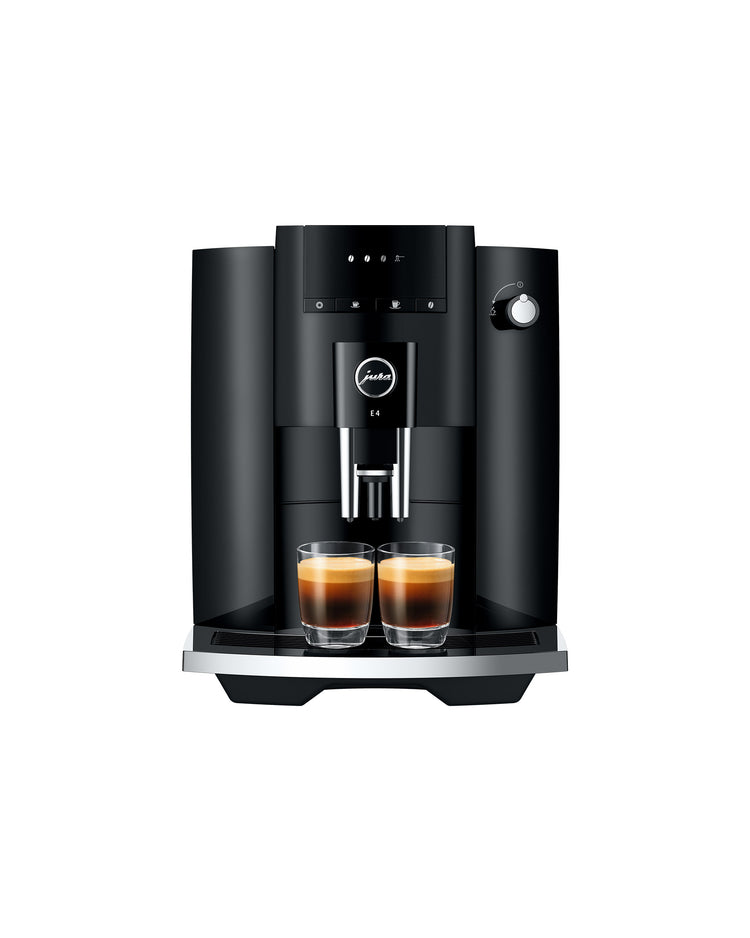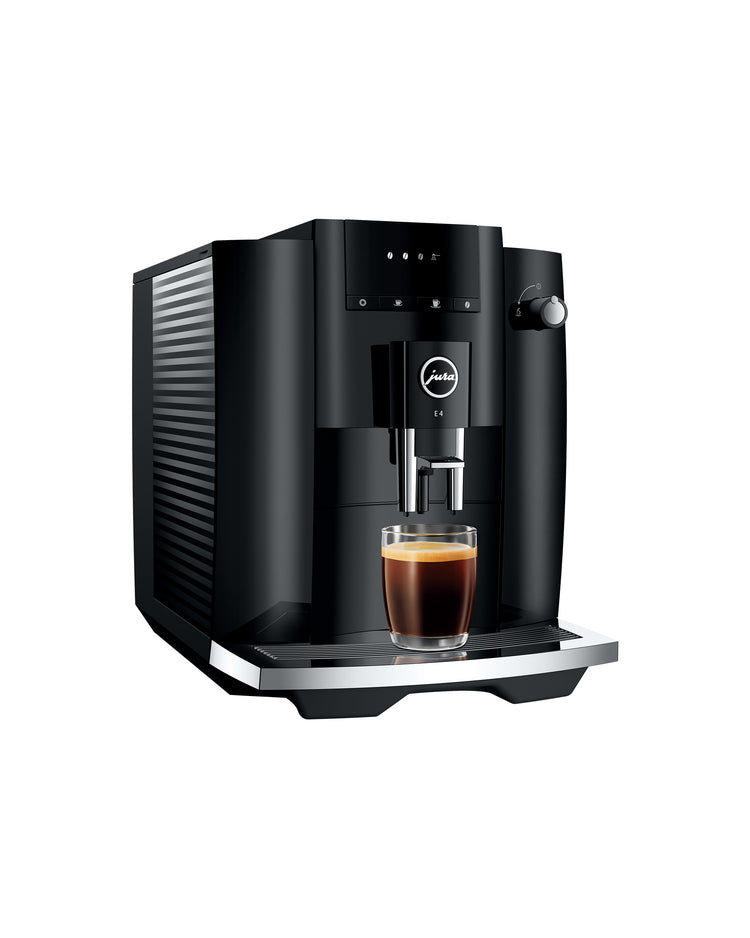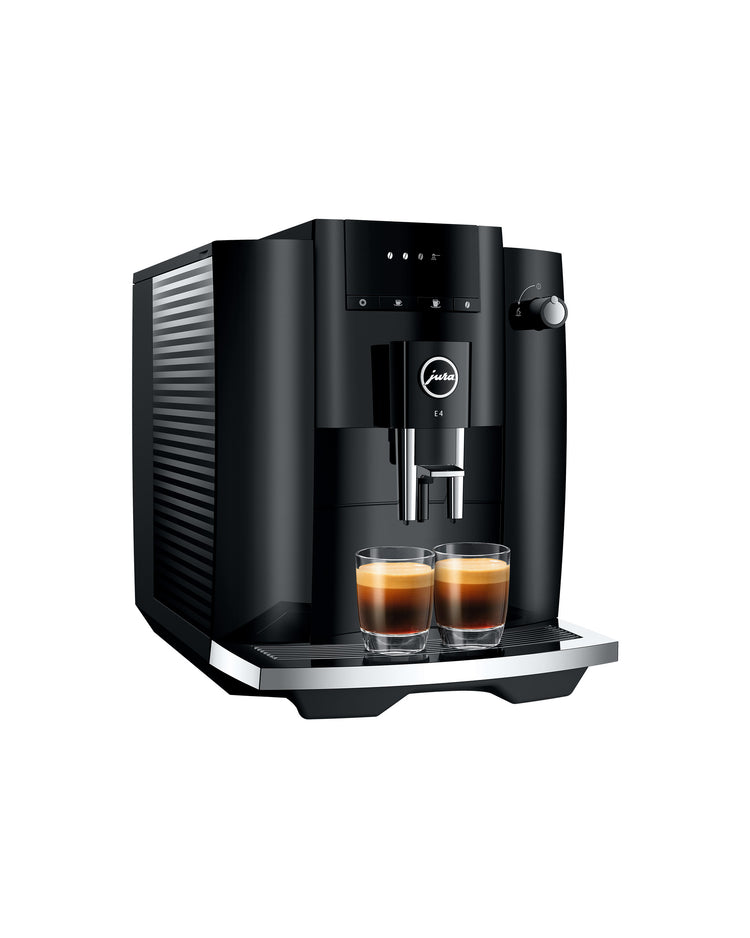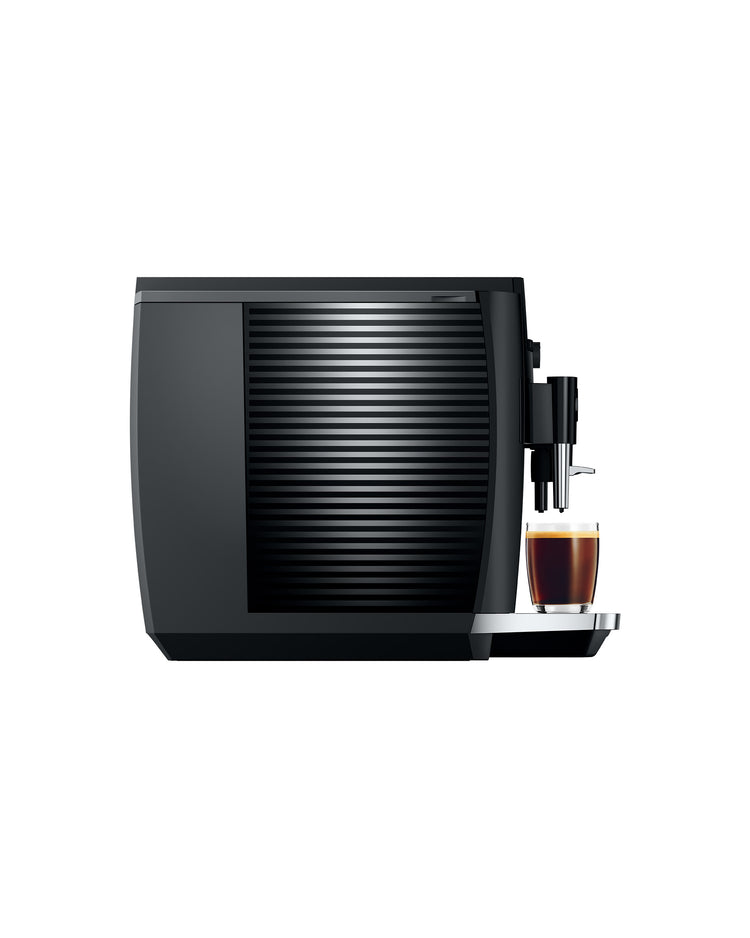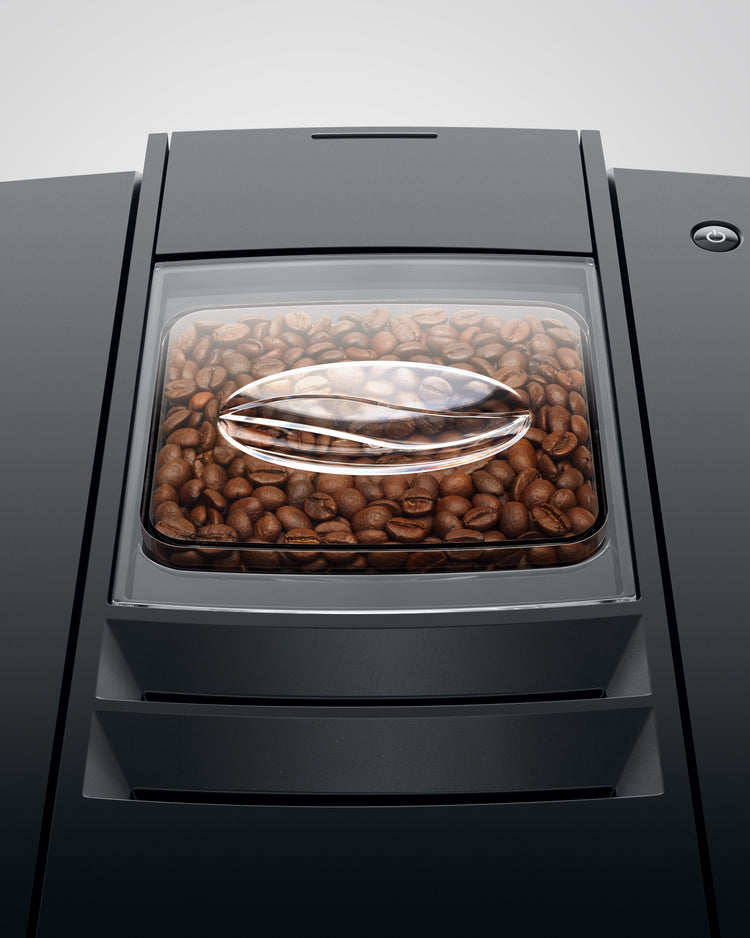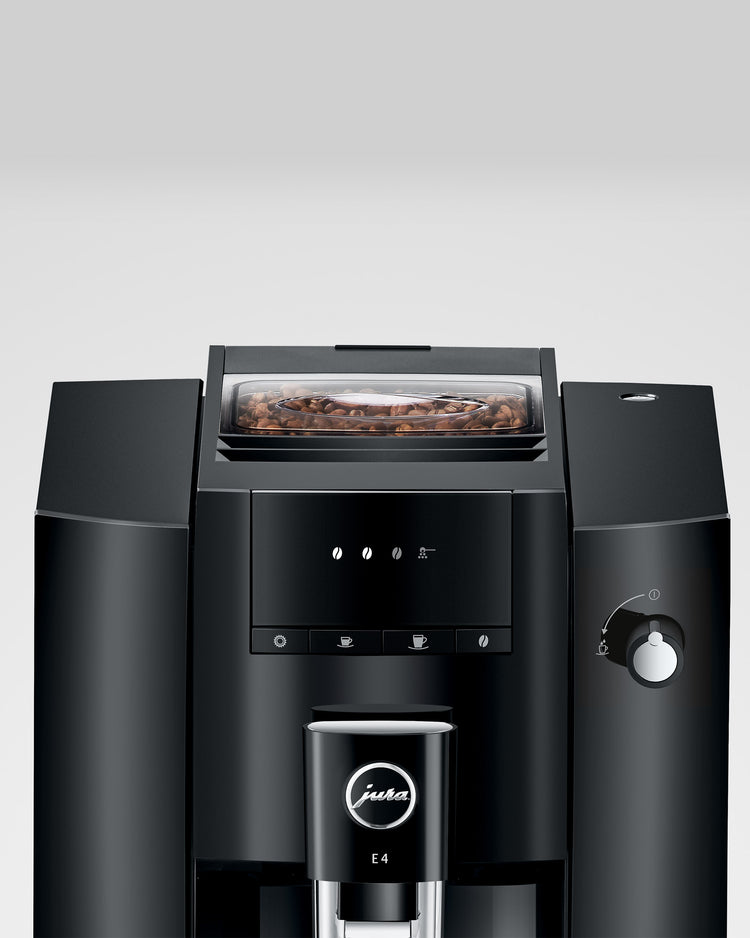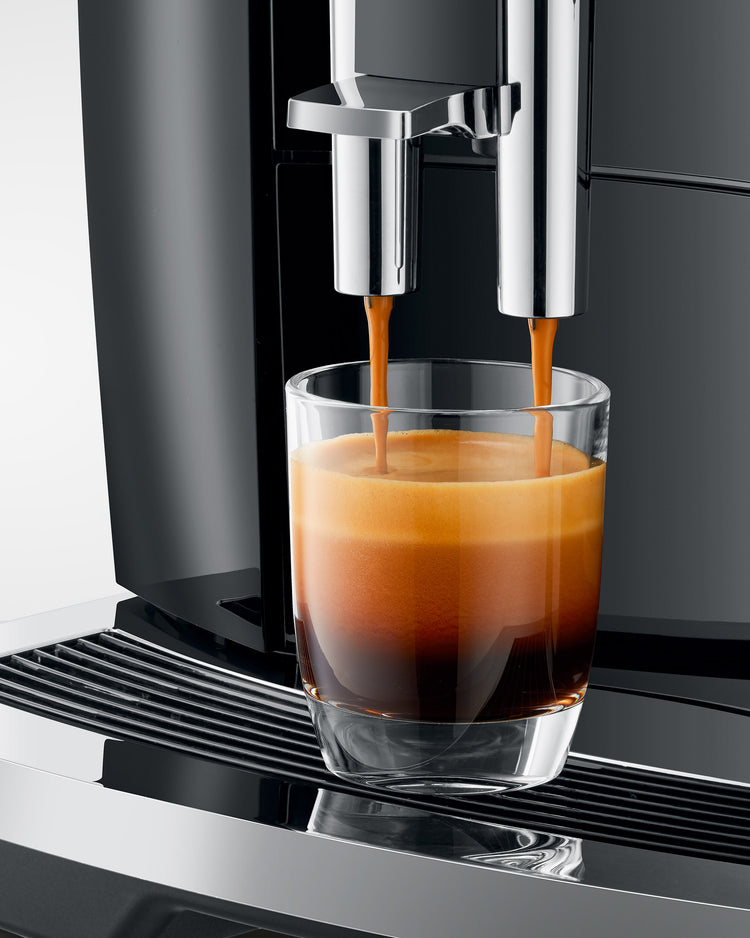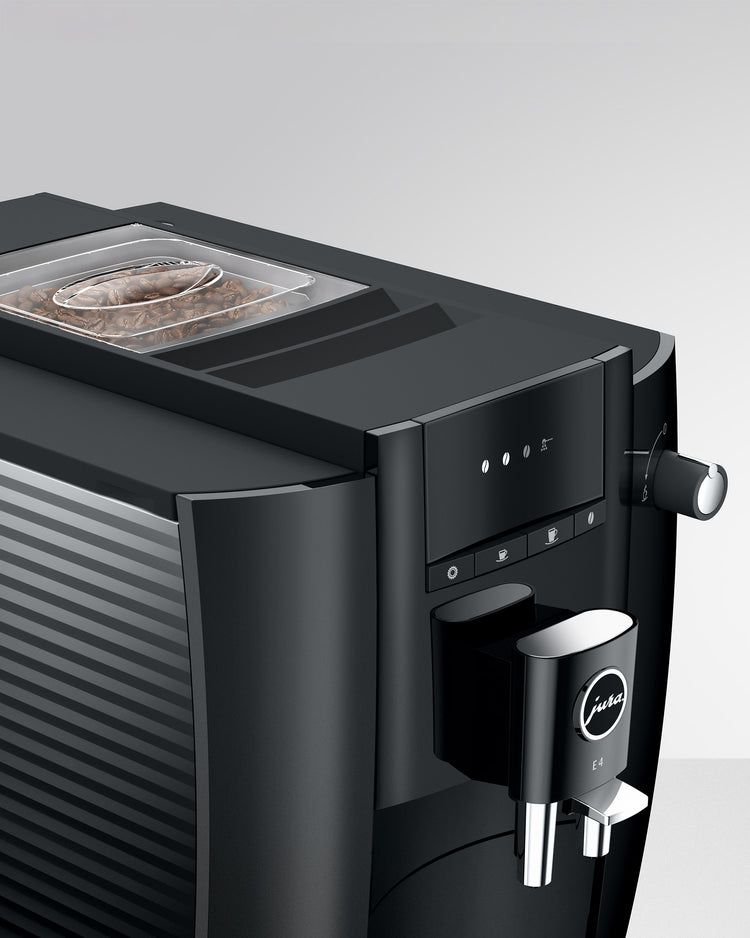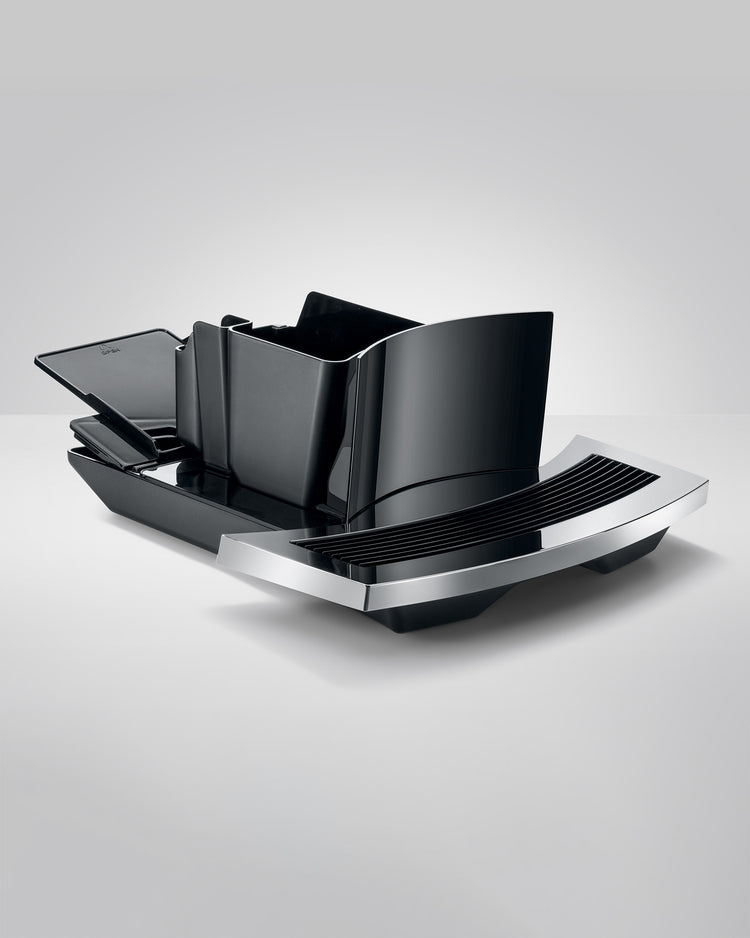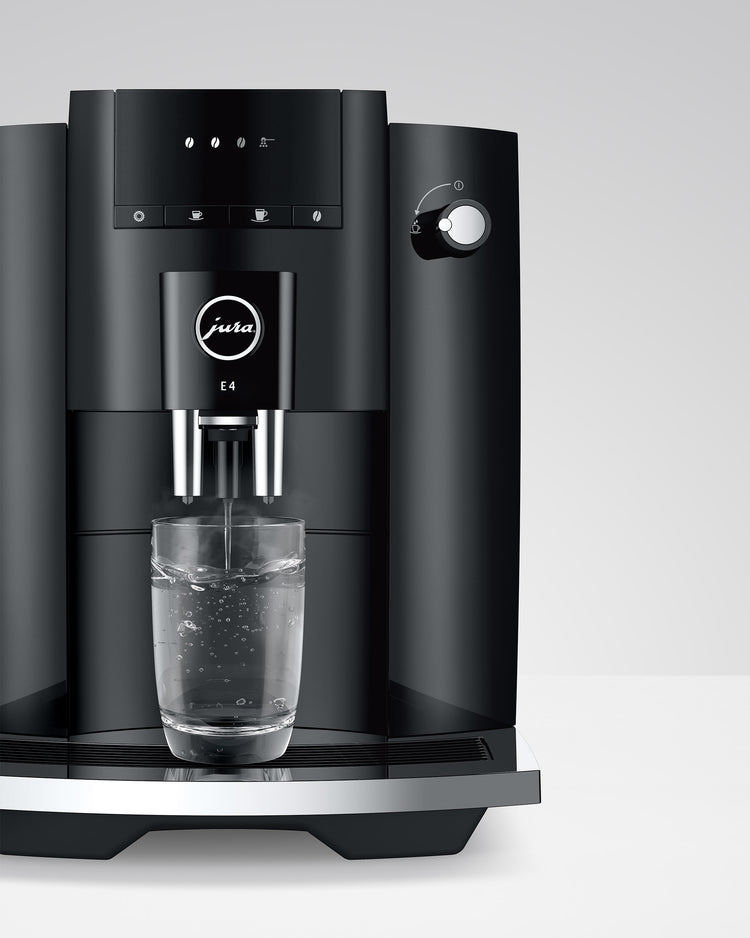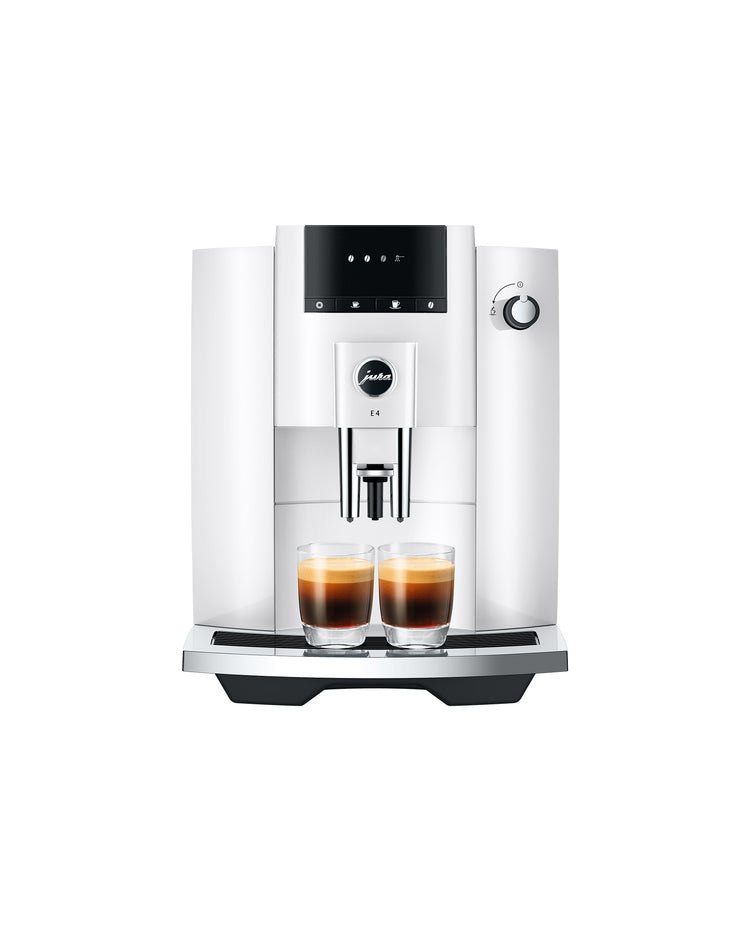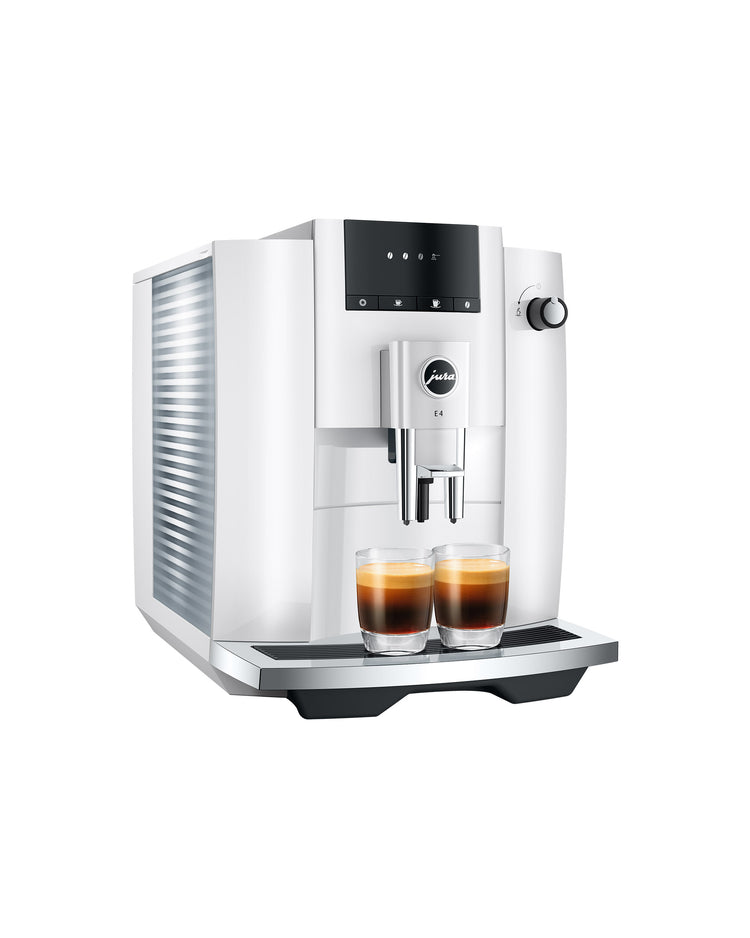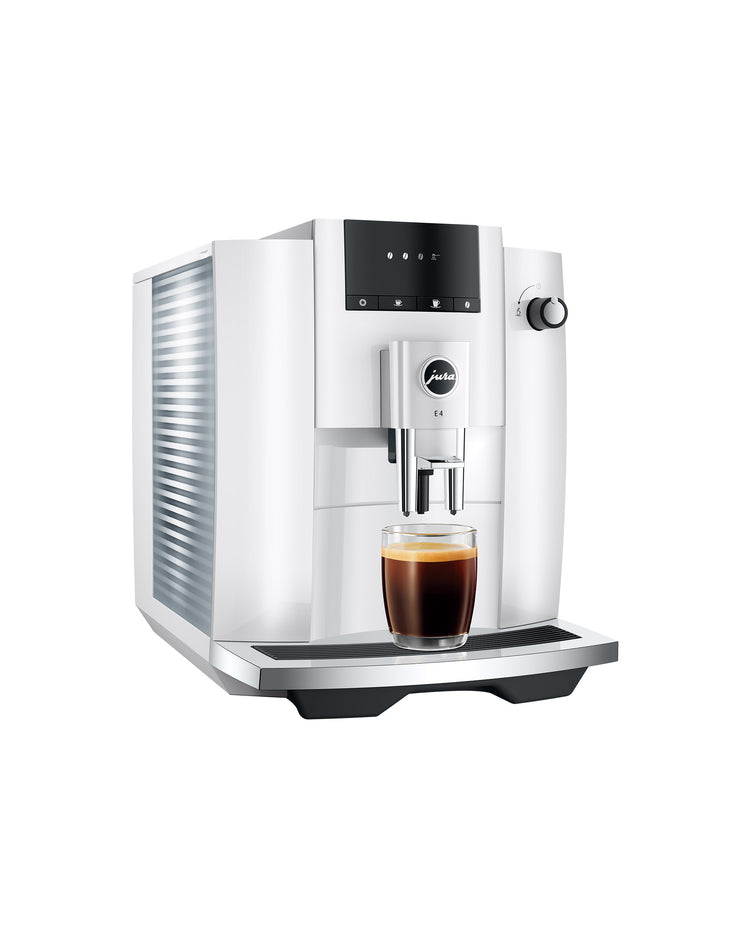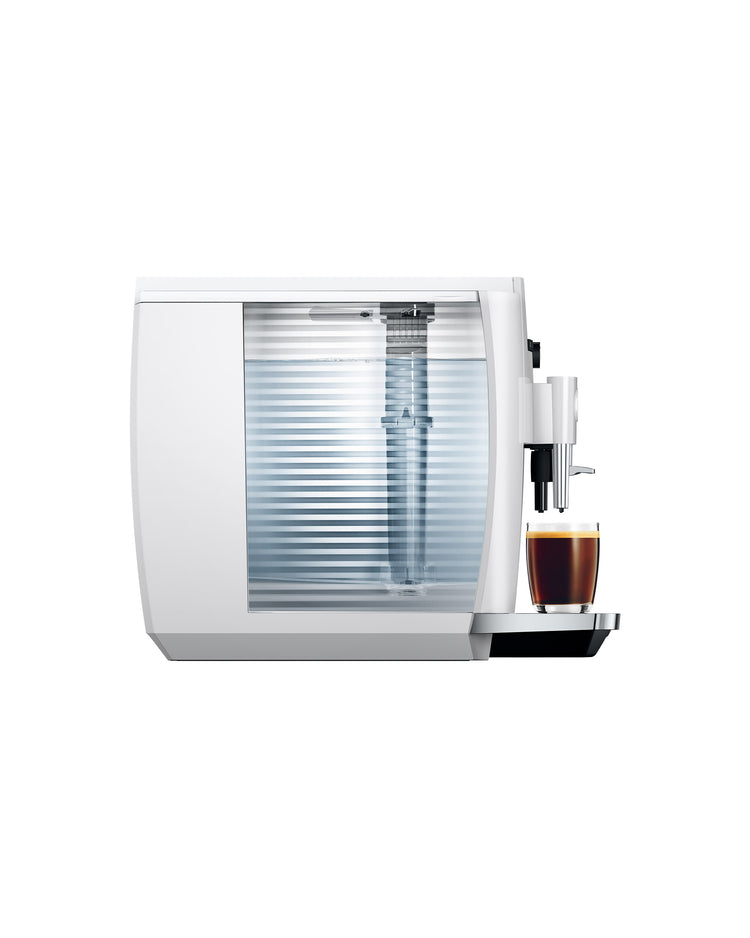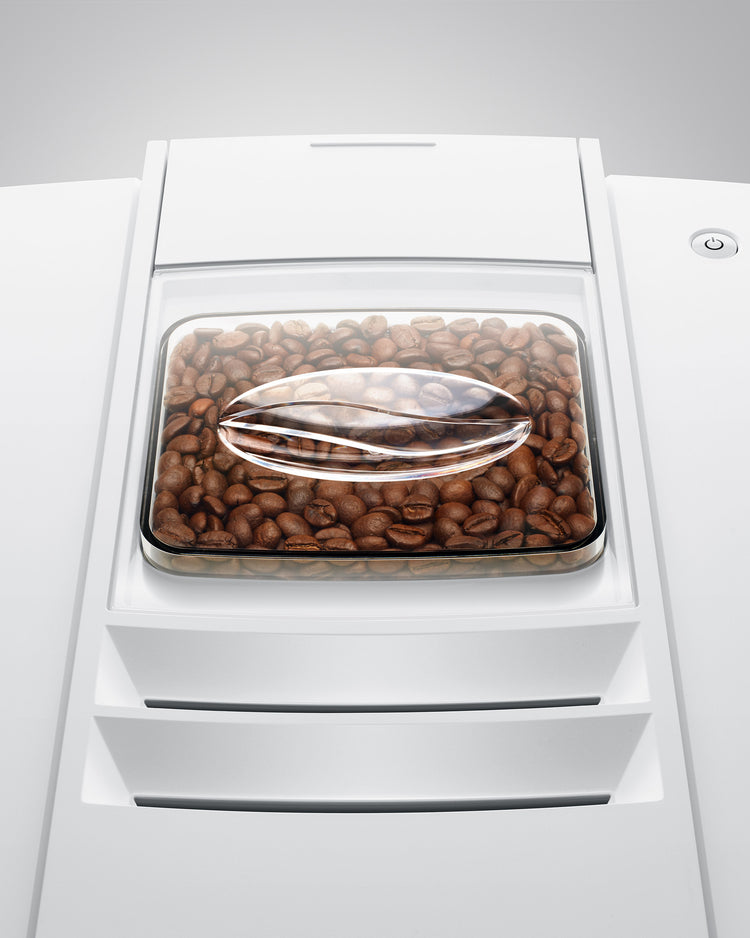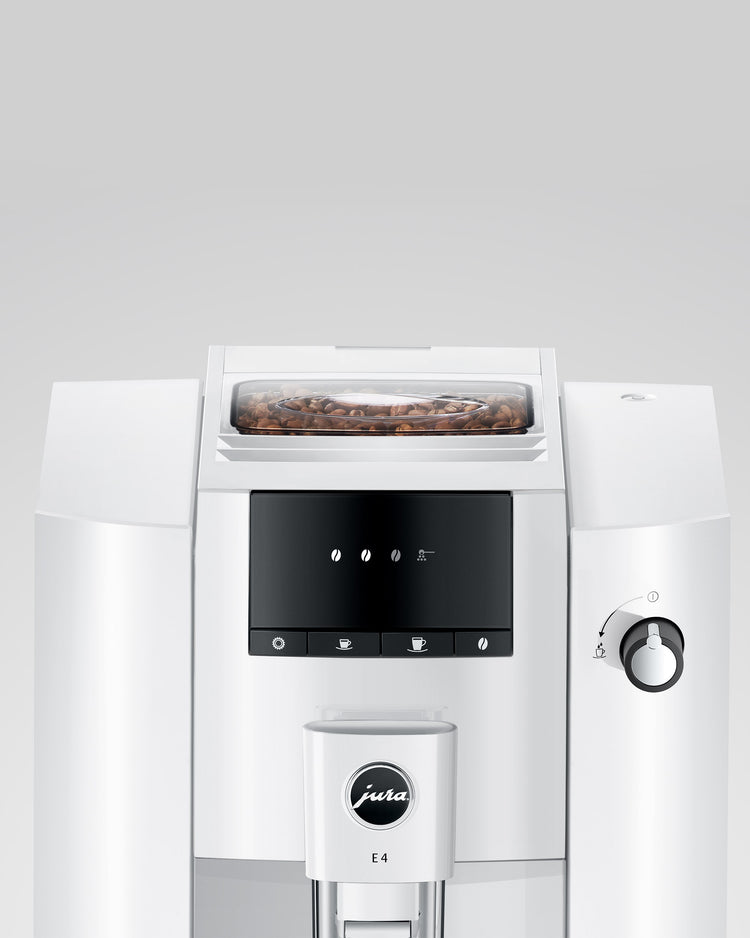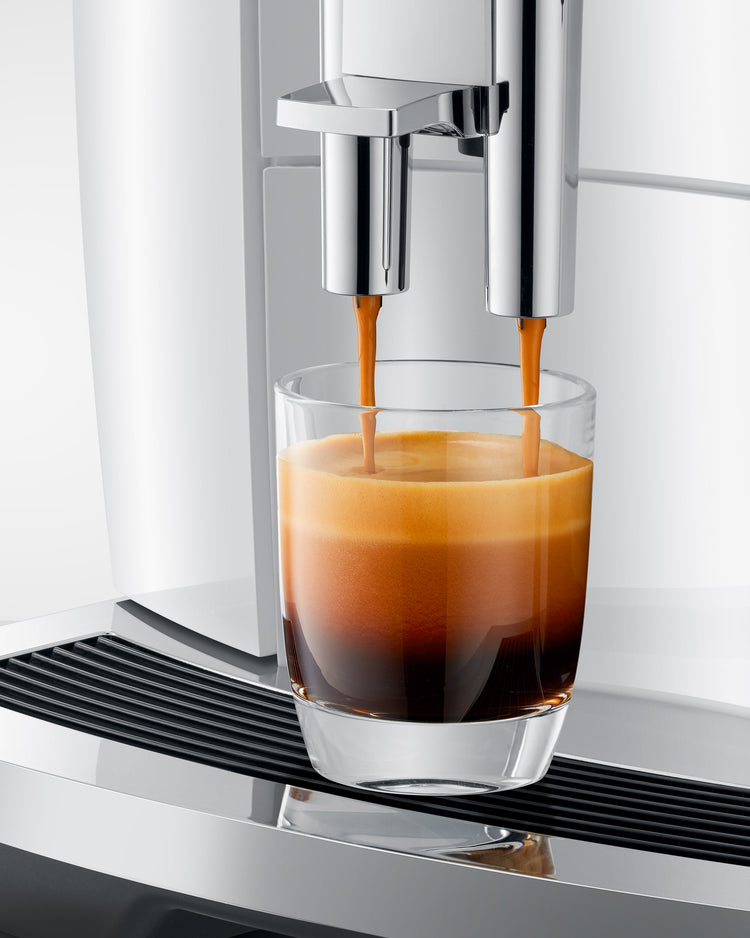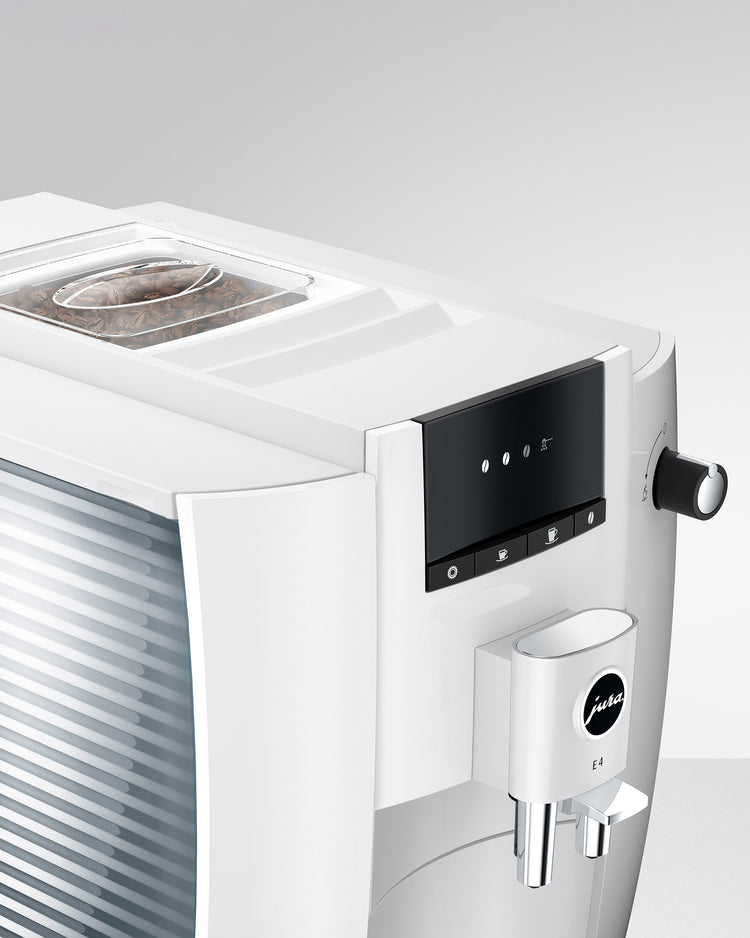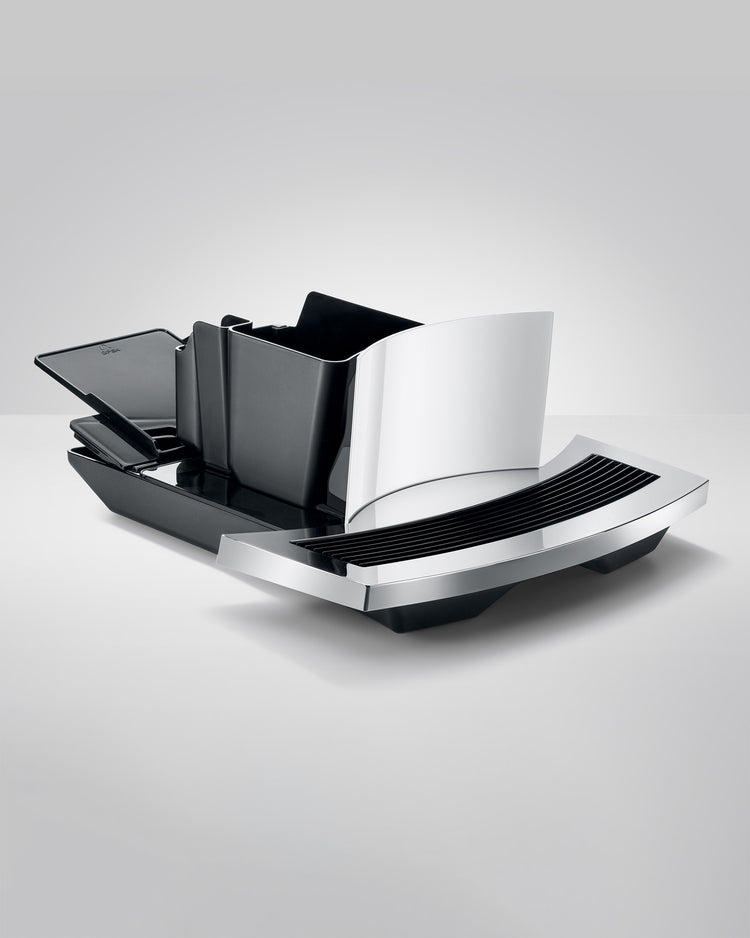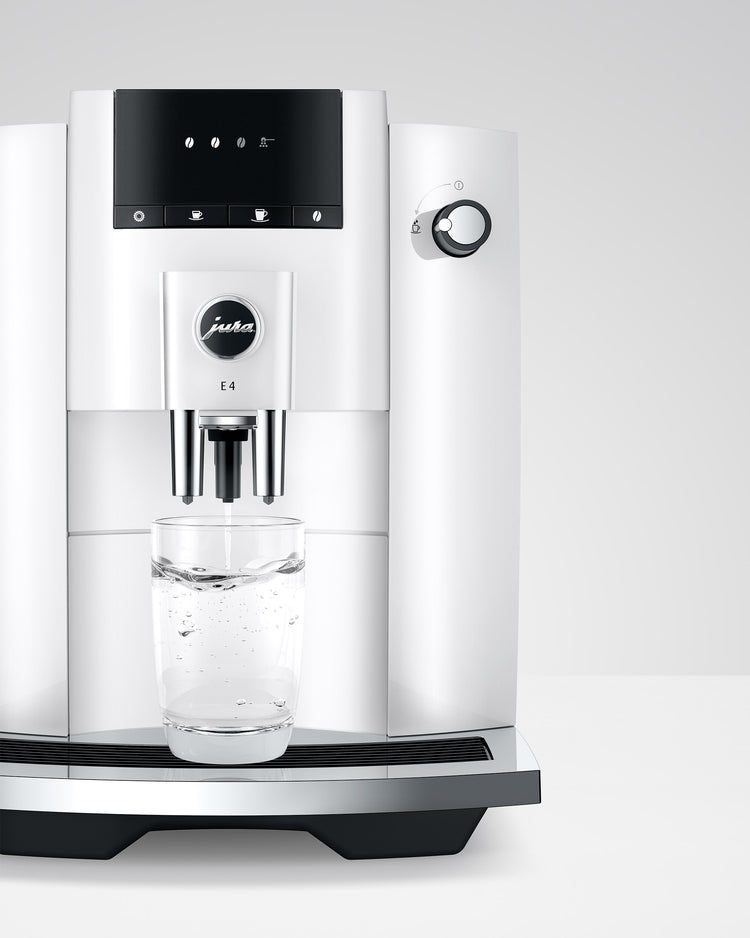 La vraie nature du café
The E4 is especially suitable for making black coffee specialities. The Professional Aroma Grinder, the eighth-generation brewing unit and the 3D brewing process all help to create a full-bodied aroma. Always freshly ground, not capsuled. There are three intensity levels to choose from. The intuitive symbol display allows the user to select the required option with just one touch.
The functions also include hot water preparation. As with its features, the E4 is also pared back to the essentials when it comes to design. Crafted with maximum precision, the minimalist lines emphasise its premium quality.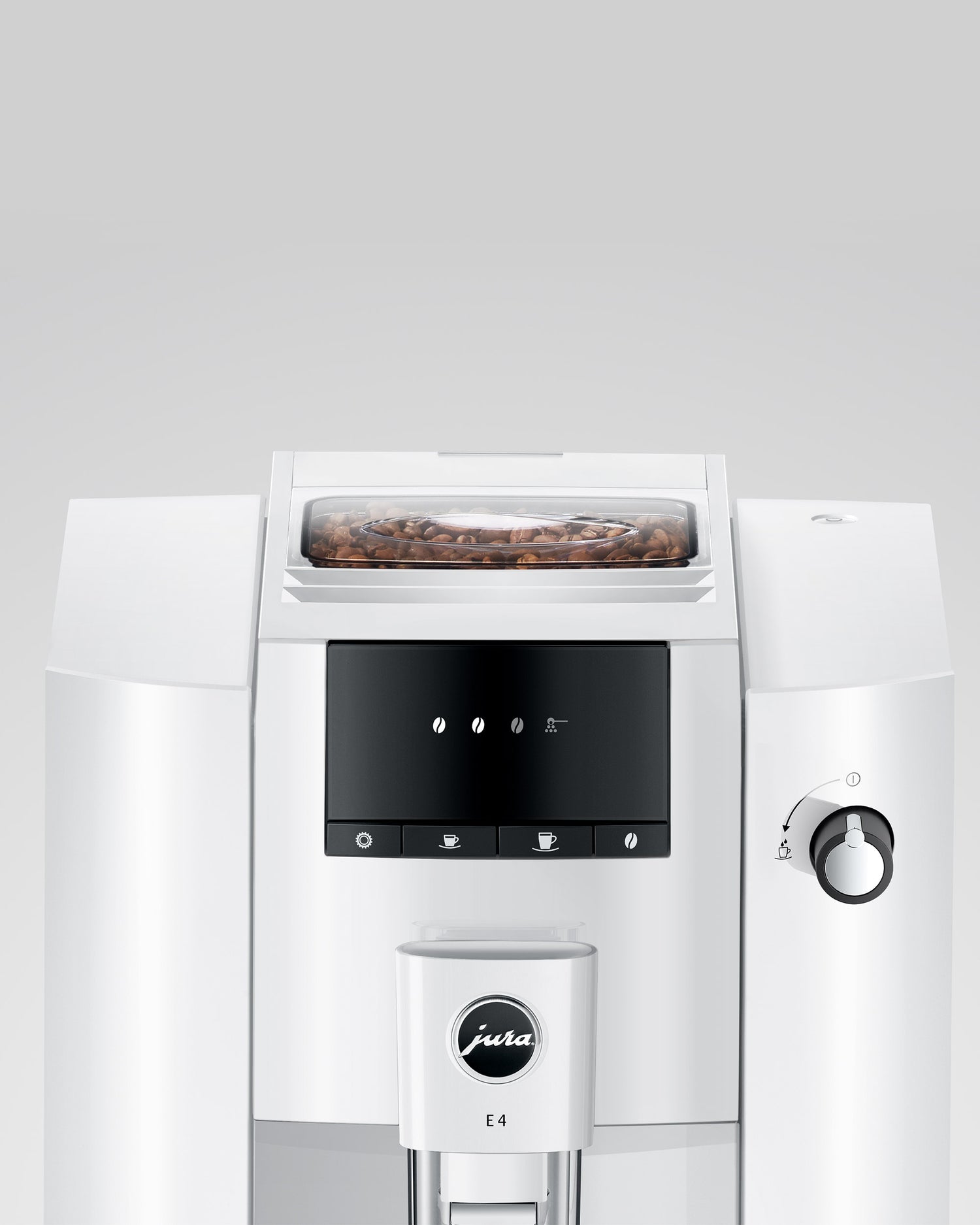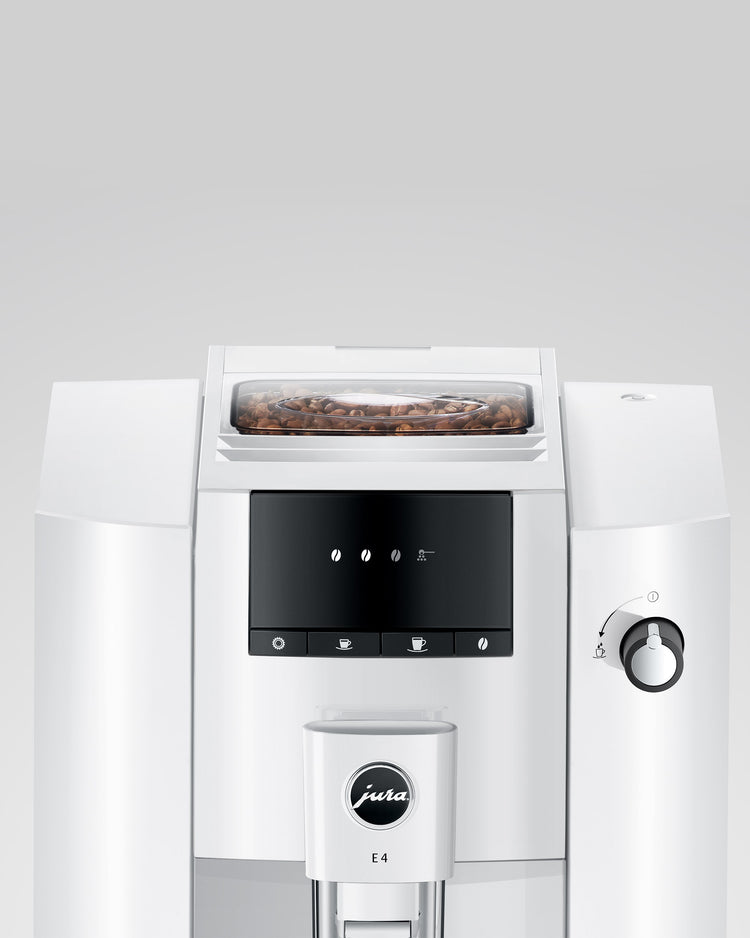 Simplicité d'utilisation
Maximum flavour, minimum complexity. Preselection functions allow the user to define their own personal aroma preferences, so one touch of a button is all it takes to prepare the perfect cup of coffee. It couldn't be easier.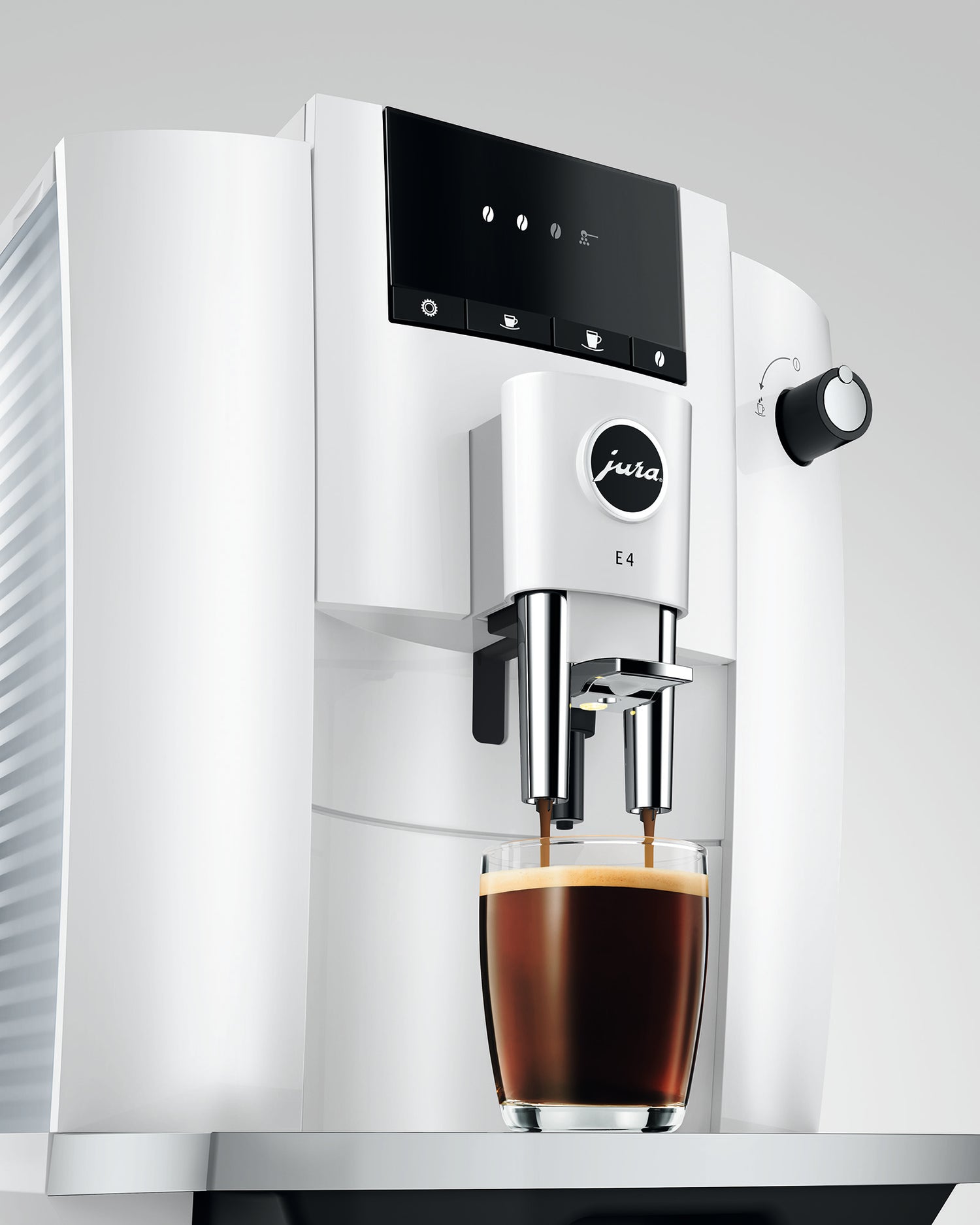 Fraîchement moulu, pas en capsule
The defining features of the Professional Aroma Grinder include 12.2%* more aroma and consistently high grind quality over its entire service life. Combined with the eighth-generation brewing unit and the 3D brewing process, the result in the cup is truly sublime coffee. The E4 prepares double products in two cycles. This results in maximum aroma, because the user can take advantage of the variable brewing unit's full range of 5 to 16 grams of ground coffee for both cups.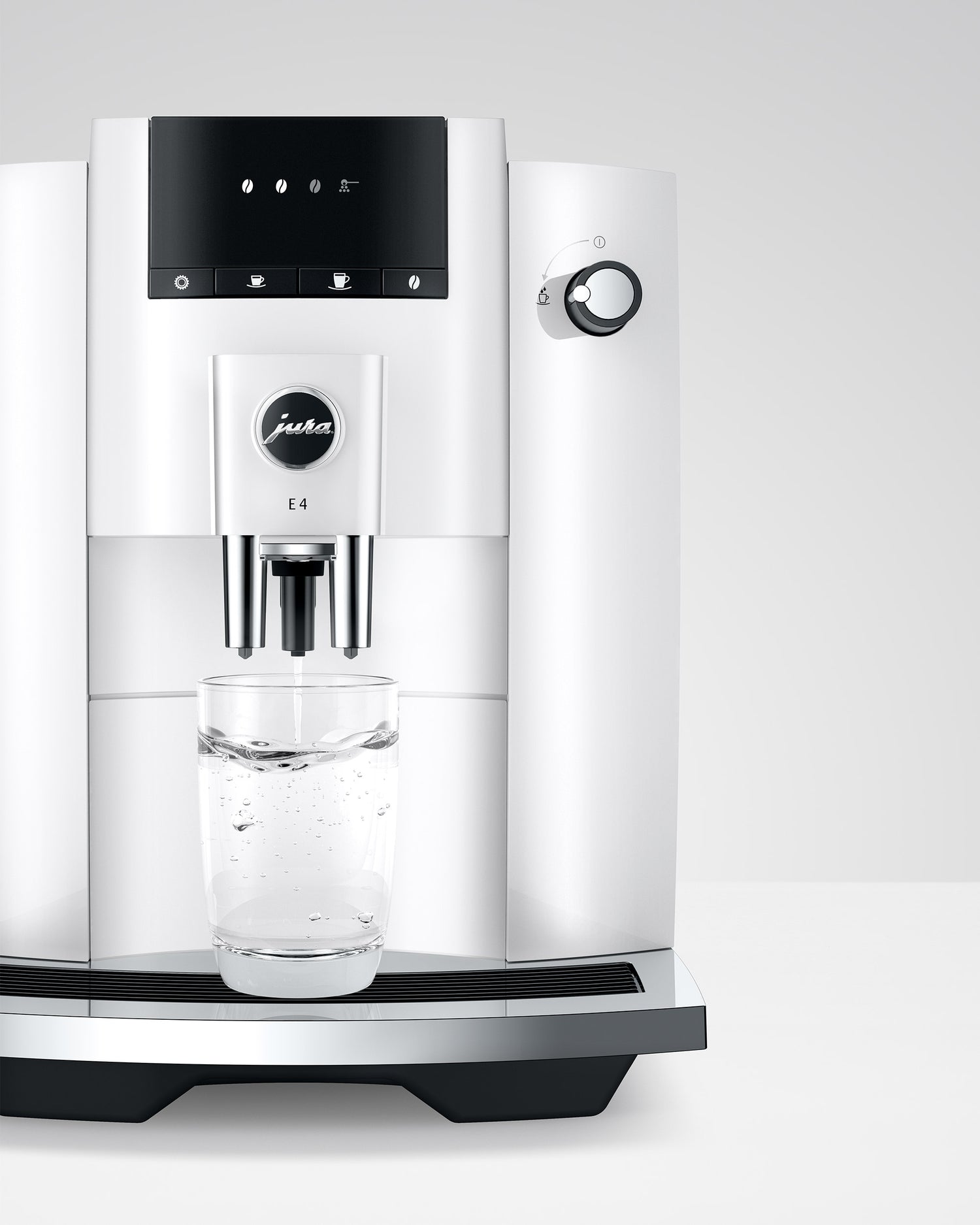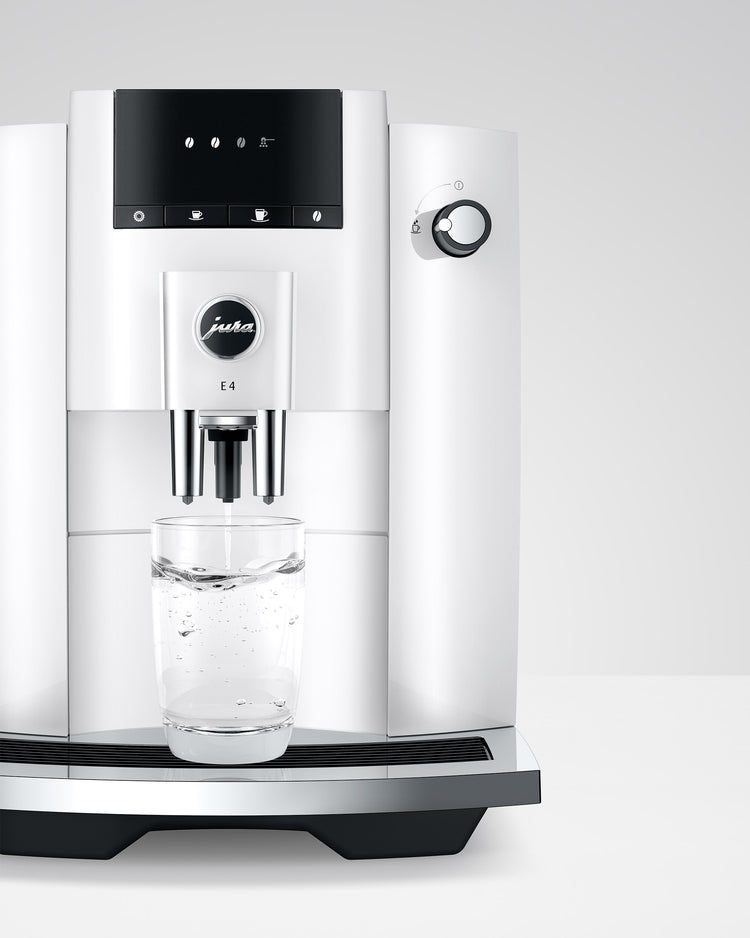 De l'eau chaude en un rien de temps
Fancy a cup of tea for a change? No problem. Simply turn the switch to start hot water preparation and up to 300 ml of hot water will flow into the cup in no time at all.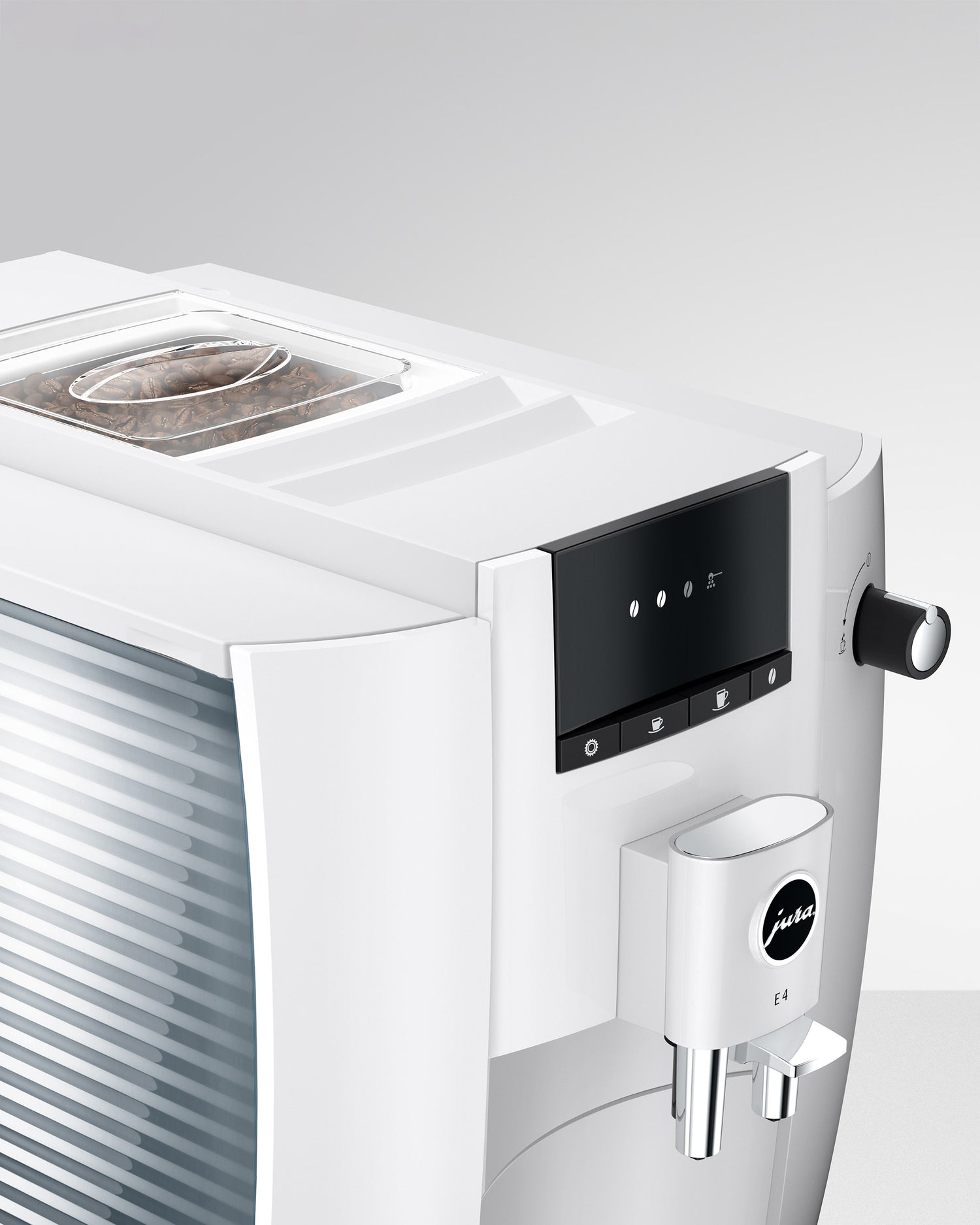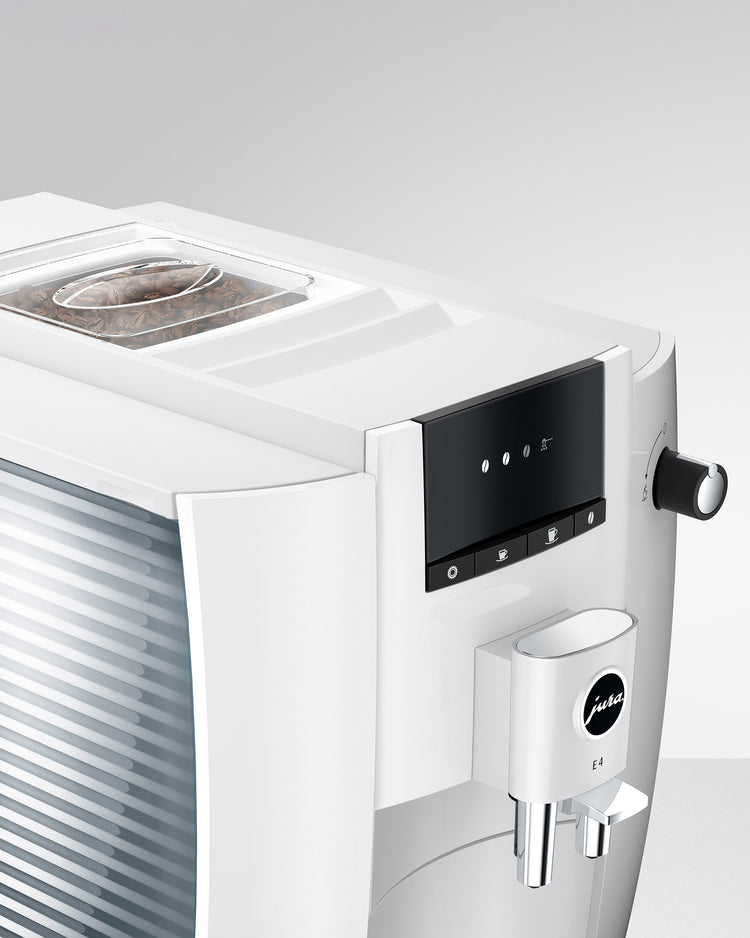 Un design harmonieux
The E4 reflects the characteristic design of JURA coffee machines, with clean lines and surfaces. Crafted with maximum precision, the minimalist lines emphasise the premium quality of the machine. The use of colours follows the same minimalist approach. While the complete body of the machine is in understated Piano Black, chrome-plated details add accents and set off the finished coffee to perfection.
Vidéo de présentation de la machine espresso JURA E4
données techniques
Réglages et possibilités de programmation

Technologies standard de commande et de programmation

Spécialités de café

Standards

Standards énergétiques

In figures

HYGIENE STANDARDS

Specific benefits