JURA E8 espresso machine
Regular price

Sale price

2,795.00 $

Unit price

per
The latest generation of JURA's most successful coffee machine model boasts a reinterpreted design and a range of benefits previously found only in the premium class.
COMPLEMENTARY PRODUCTS
Regular price

Sale price

39.95 $

Unit price

per

In recent years, in Quebec and around the world, we have witnessed an unprecedented craze for coffee.

People of all generations are passionate about its cultivation, its quality and the different ways of preparation. Here is a unique book that offers both coffee-based recipes and others that beautifully accompany this beverage that is part of the daily lives of millions of people: CAFÉ - LE CONNAÎTRE, LE CUISINER, L' APRRÉCIER by Kareen Grondin and Didier Reolon.

See more

See less

Regular price

Sale price

42.95 $

Unit price

per

Encased in a high-quality stainless steel coil spring, the milk pipe connects the milk container to the milk spout and makes the perfect finishing touch to the elegant design of your coffee machine.

The opaque casing of high-quality material guarantees optimum protection against UV rays and the effects of light.

Precision-fit connectors ensure airtight connections. Ready for use right away, this milk pipe offers the ideal solution for optimum milk hygiene every time.

HP1 compatible with : E6, D6, ENA 8, ENA Micro, WE8

HP2 compatible with : Giga 5, Giga 6, Giga X8c (old version), Giga X7, Giga W3

HP3 compatible with : E8, J6, J8, S8, Z6, Z8, Z10

See more

See less

Regular price

Sale price

59.95 $

Unit price

per

The glass milk container makes an indispensable addition for all coffee lovers who like to spoil their family and guests from time to time with a trendy flat white, latte macchiato or cappuccino.

Regular price

Sale price

99.00 $

Unit price

per

Controlling your automatic coffee machine via your smartphone or tablet is now easier than ever before thanks to JURA Smart Connect, which also enables communication with smart accessories and offers brand new programming options.

Regular price

Sale price

450.00 $

Unit price

per

Coffee tastes its best when served hot. That's why all professionals work with correctly pre-warmed cups as a matter of principle. If hot coffee is poured into cold porcelain cups, a lot of heat is lost. Too much, in fact.In pre-warmed cups, however, the mouthwatering aroma is released in its entirety. With the elegant, slim cup warmer, JURA offers the ideal accessory for any automatic speciality coffee machine. Two heating elements constantly keep the cups at a temperature of approximately 55°C – ideal for preparing a fiery espresso or a cappuccino topped with milk foam.

See more

See less
See more products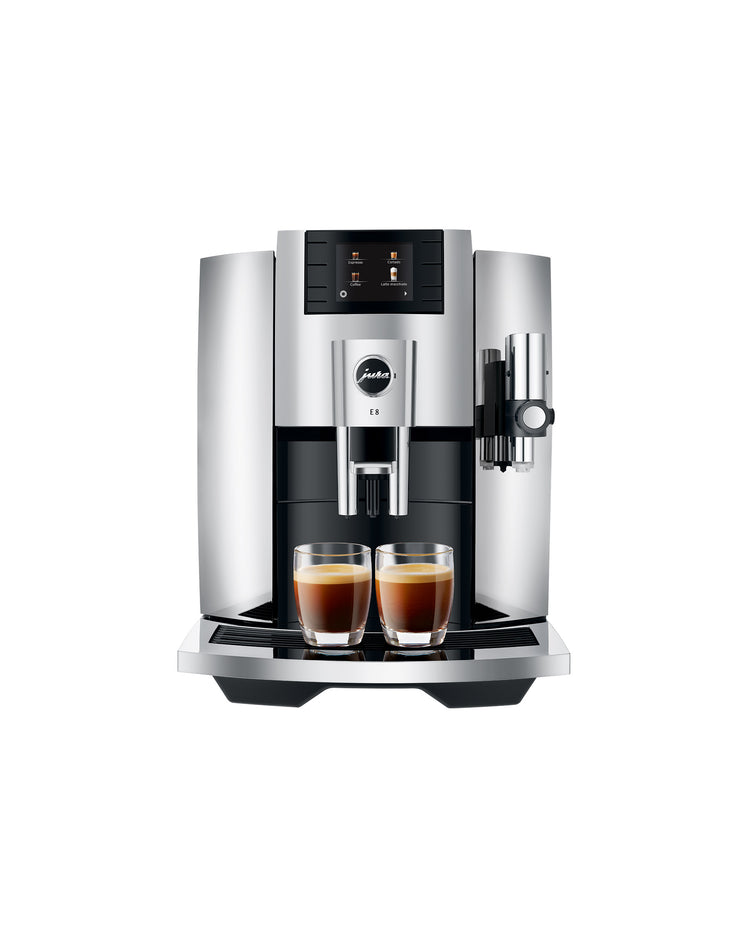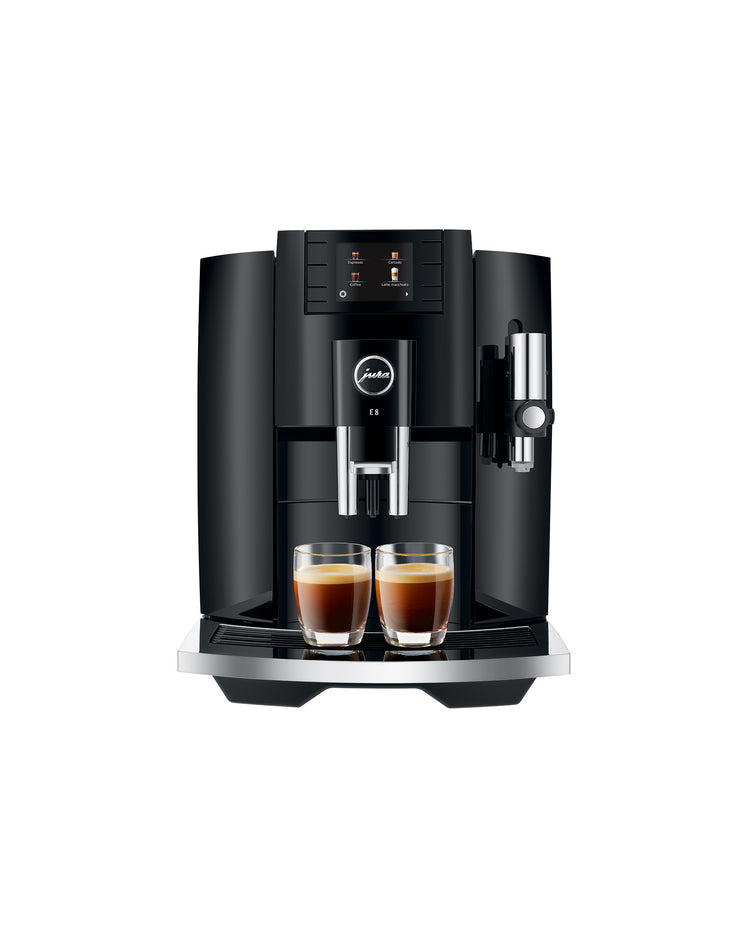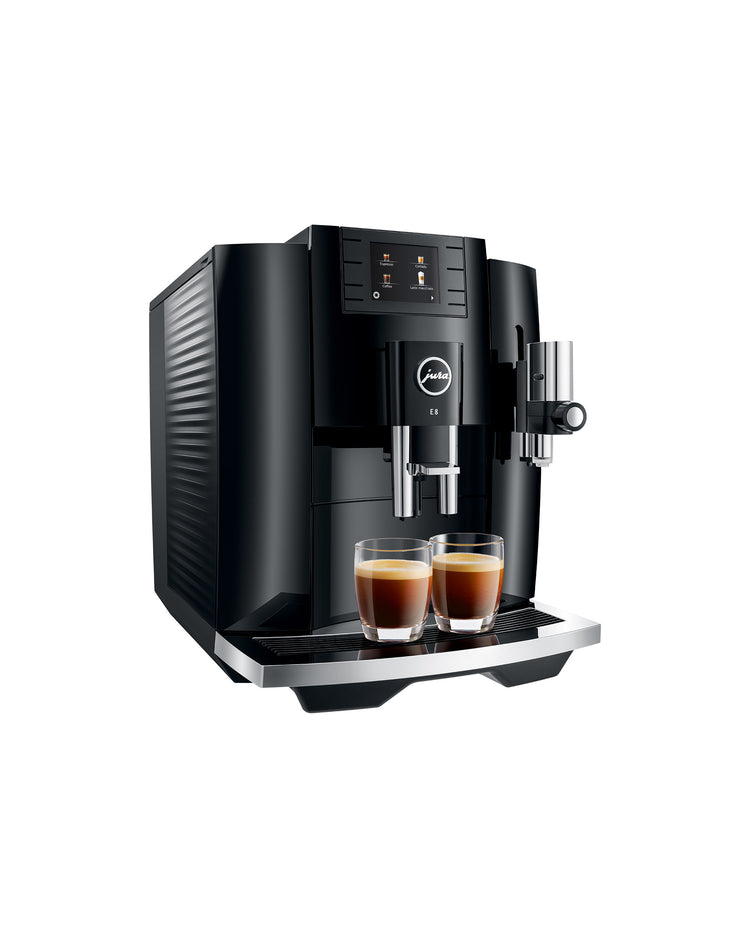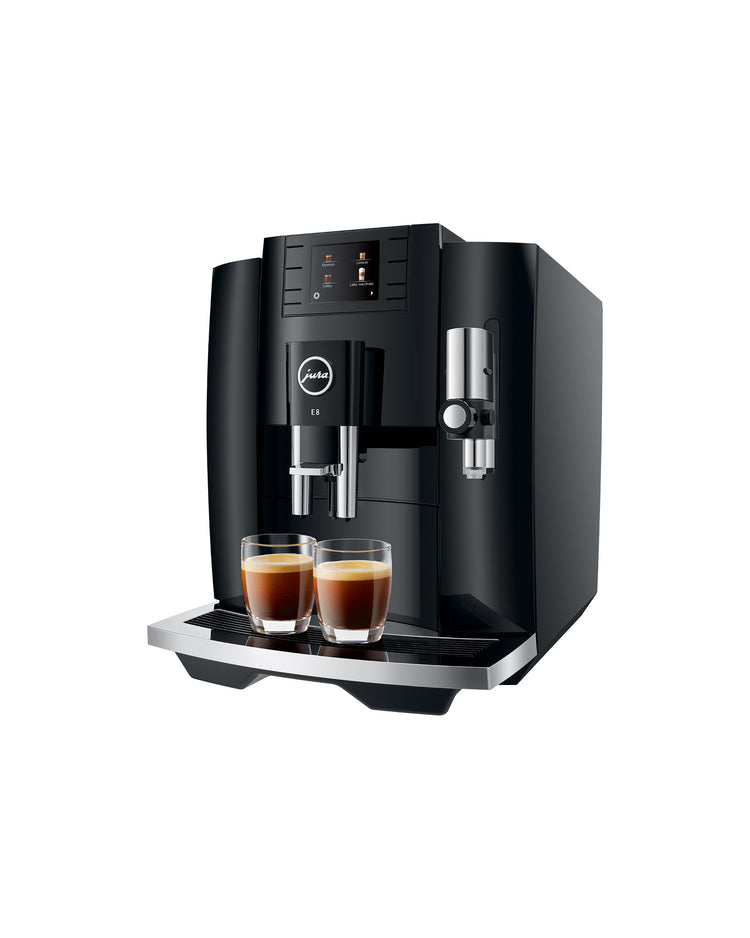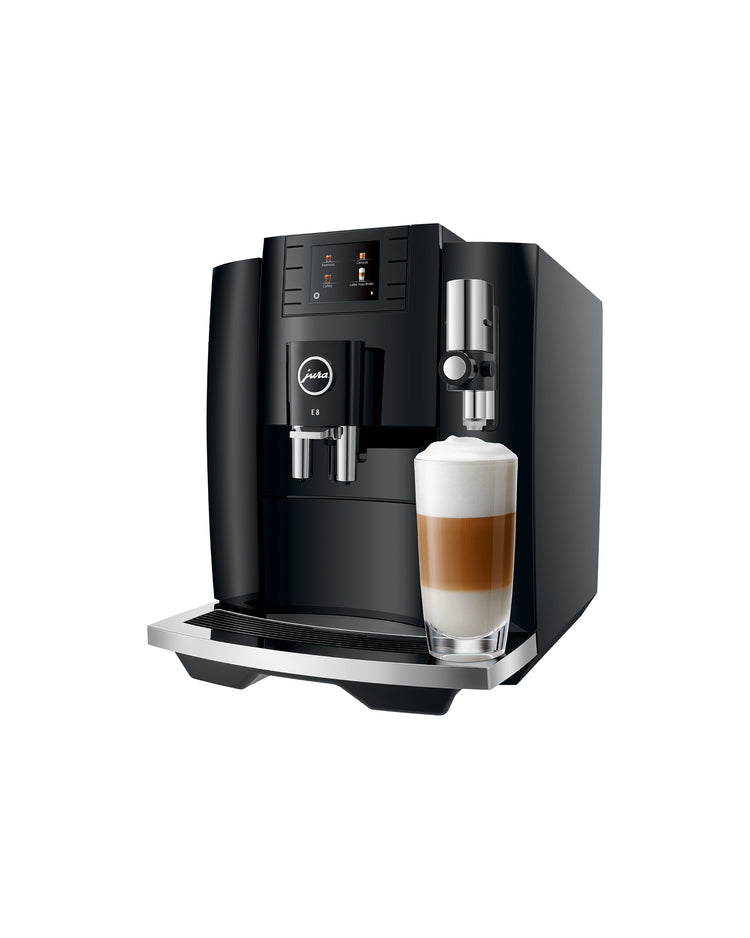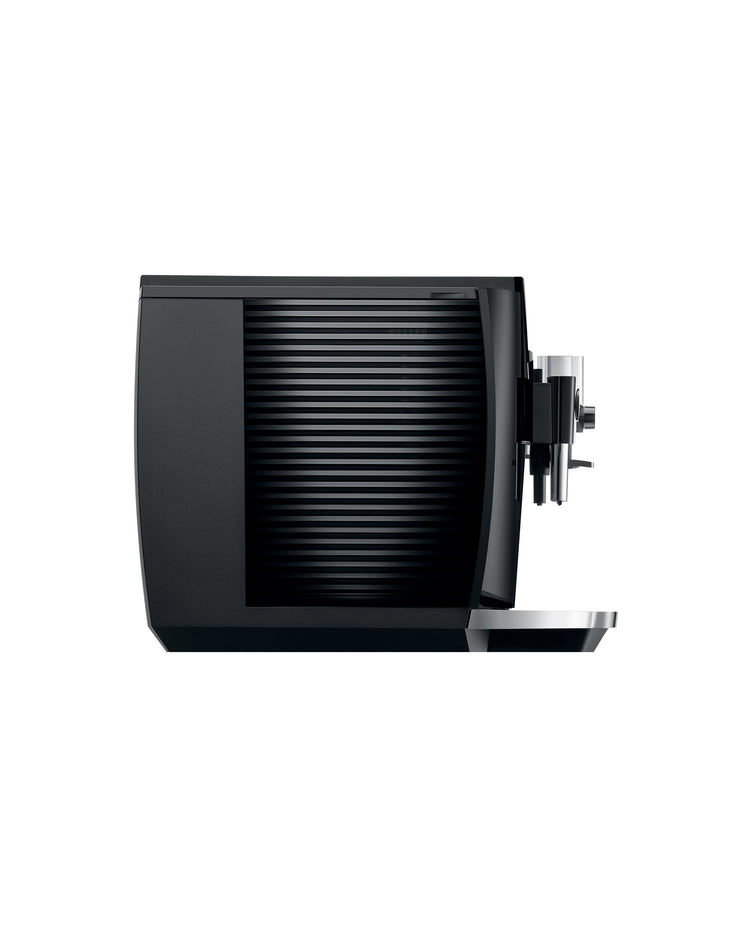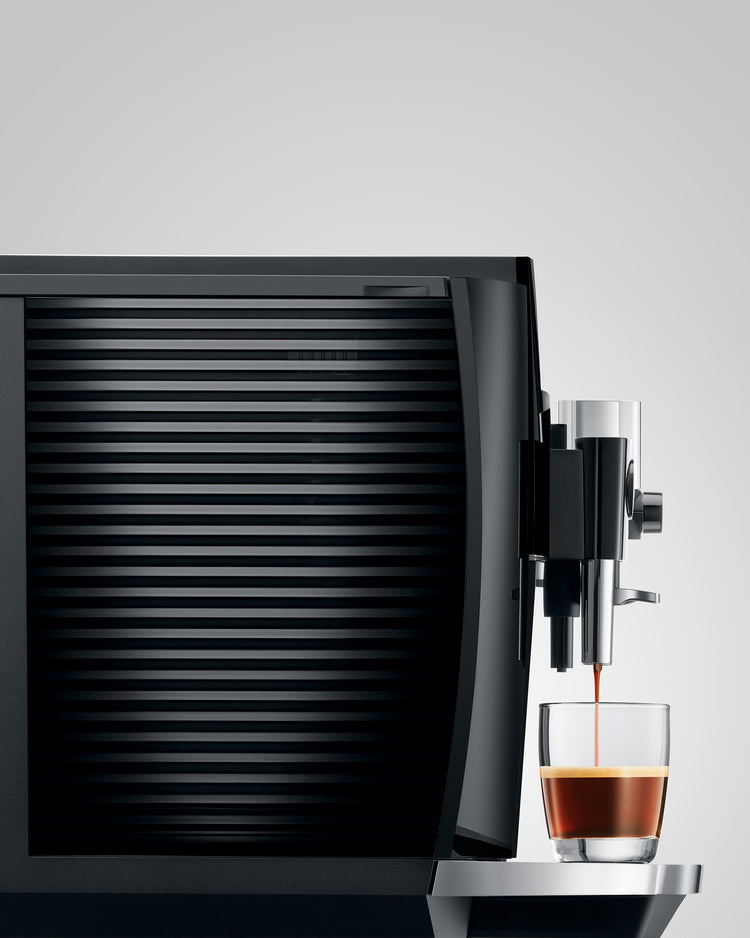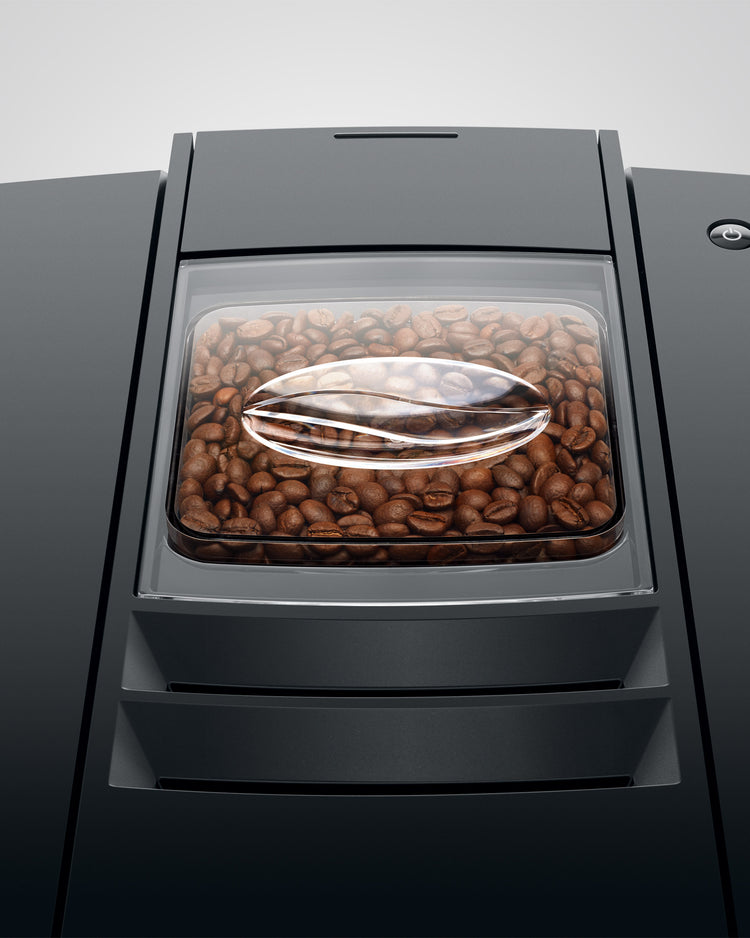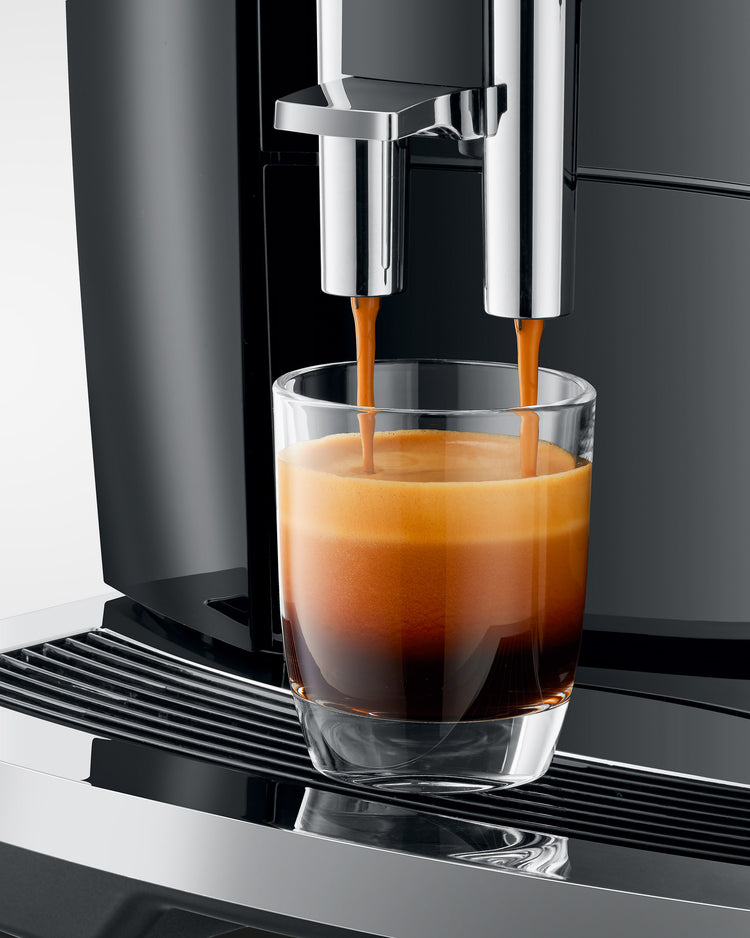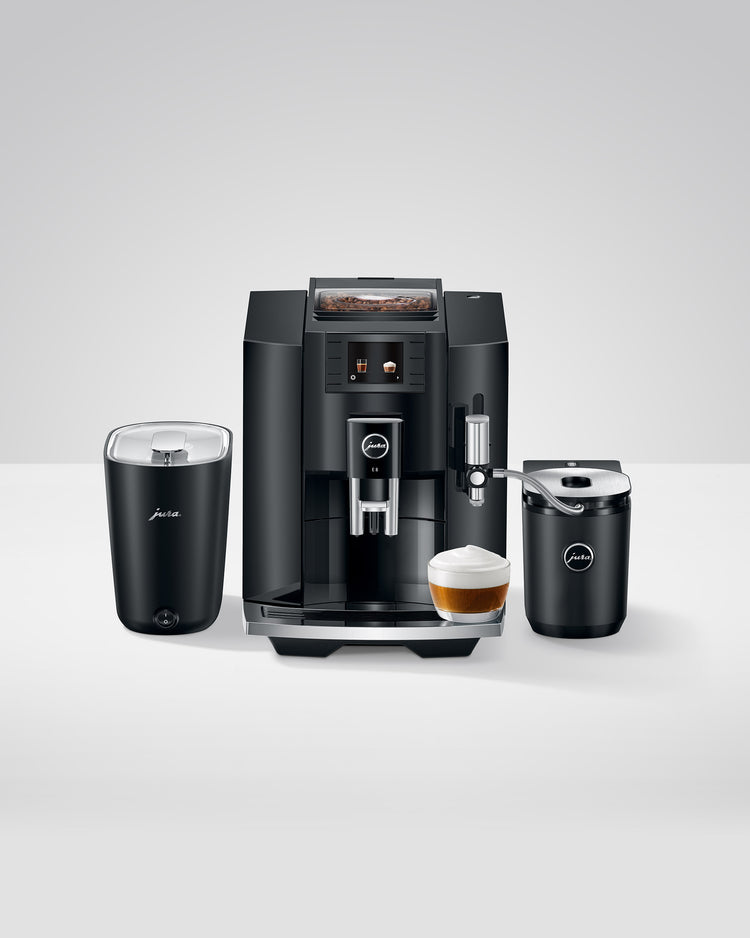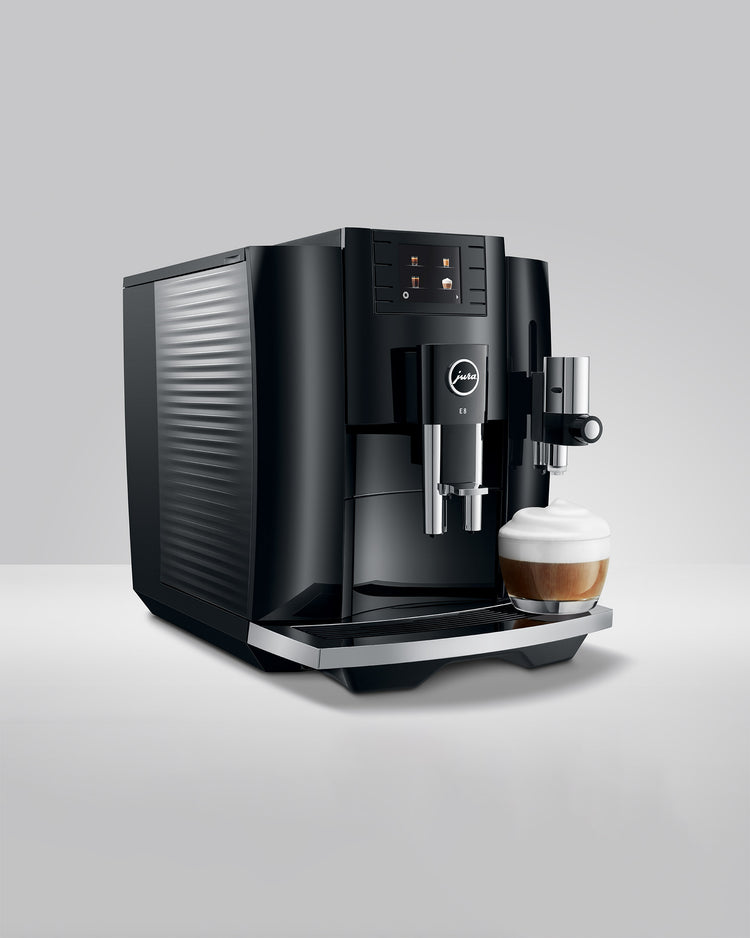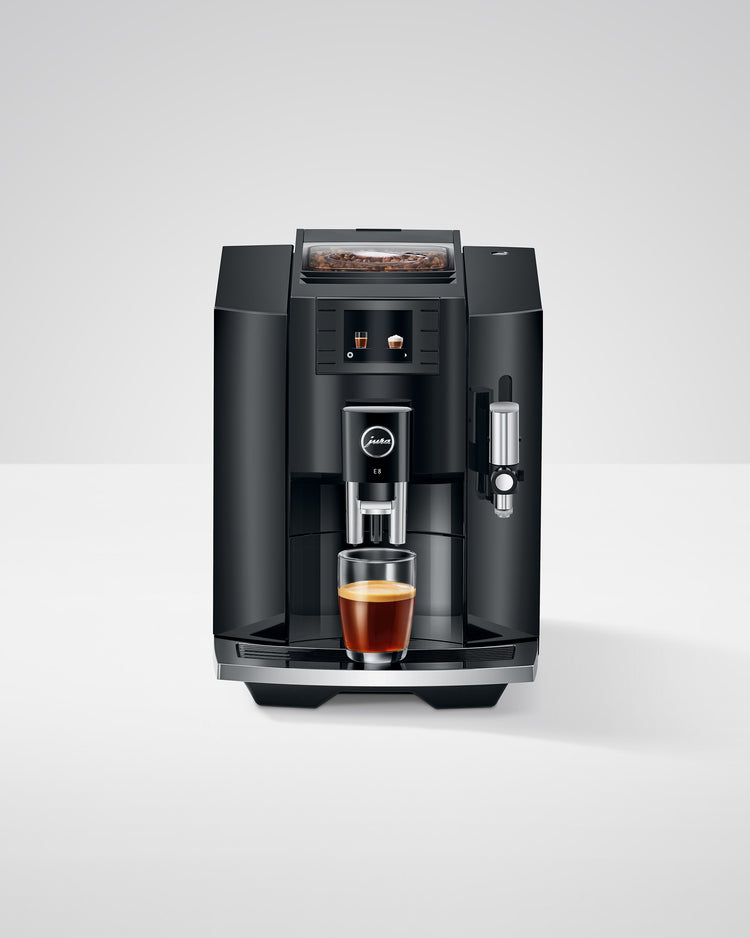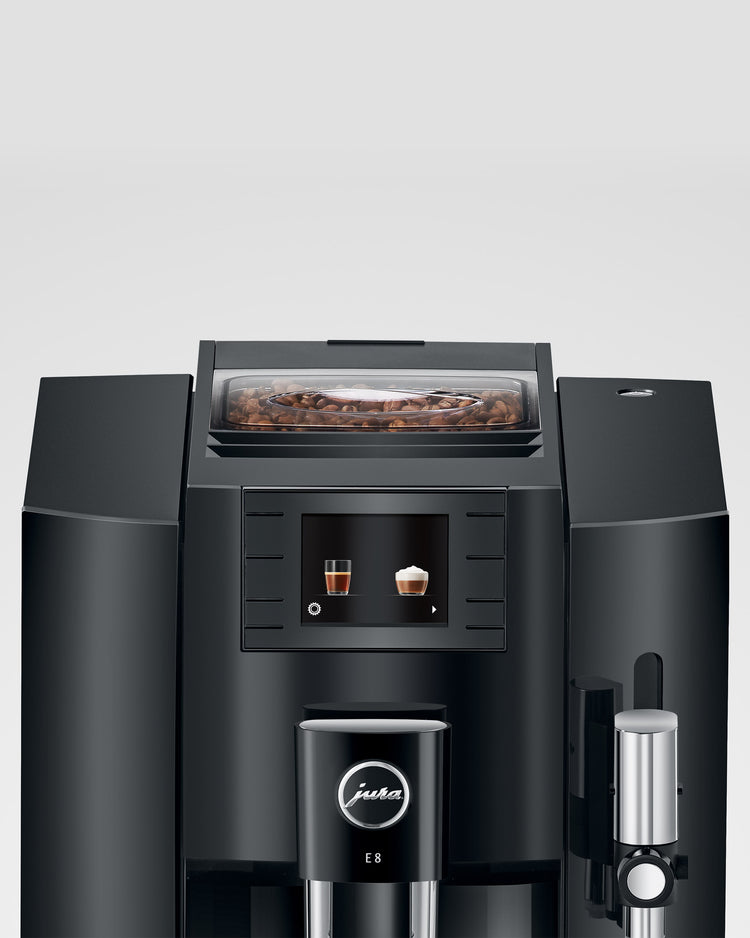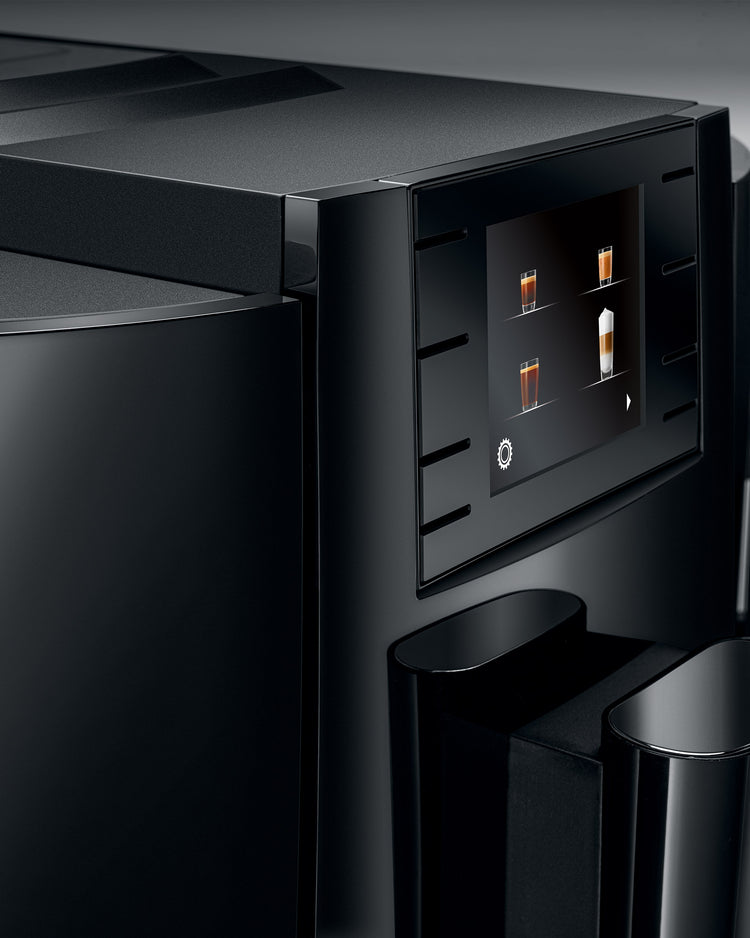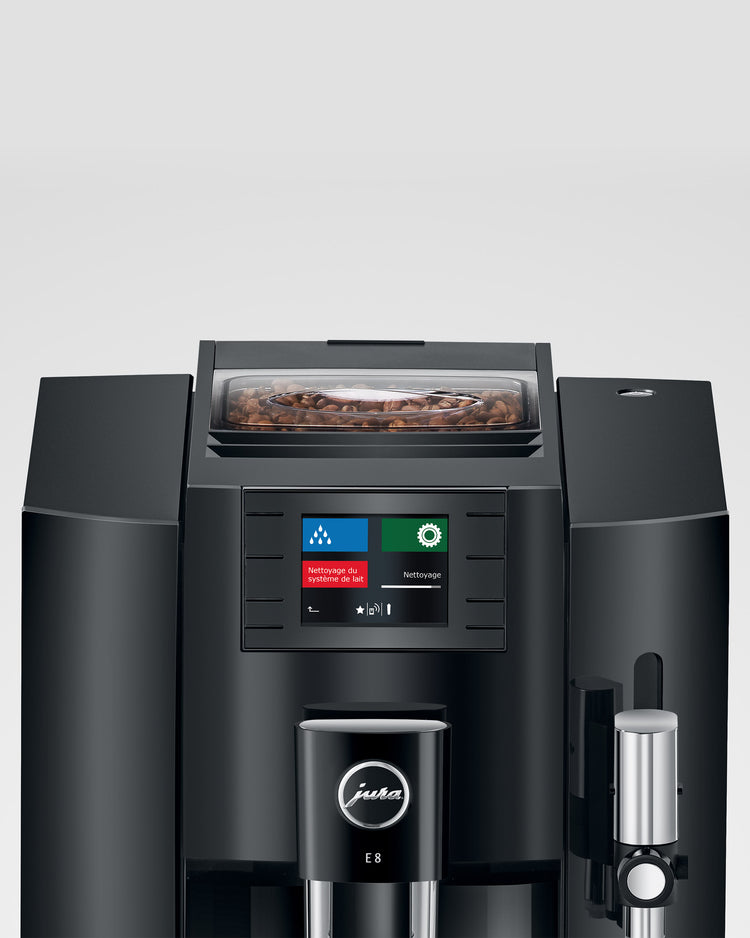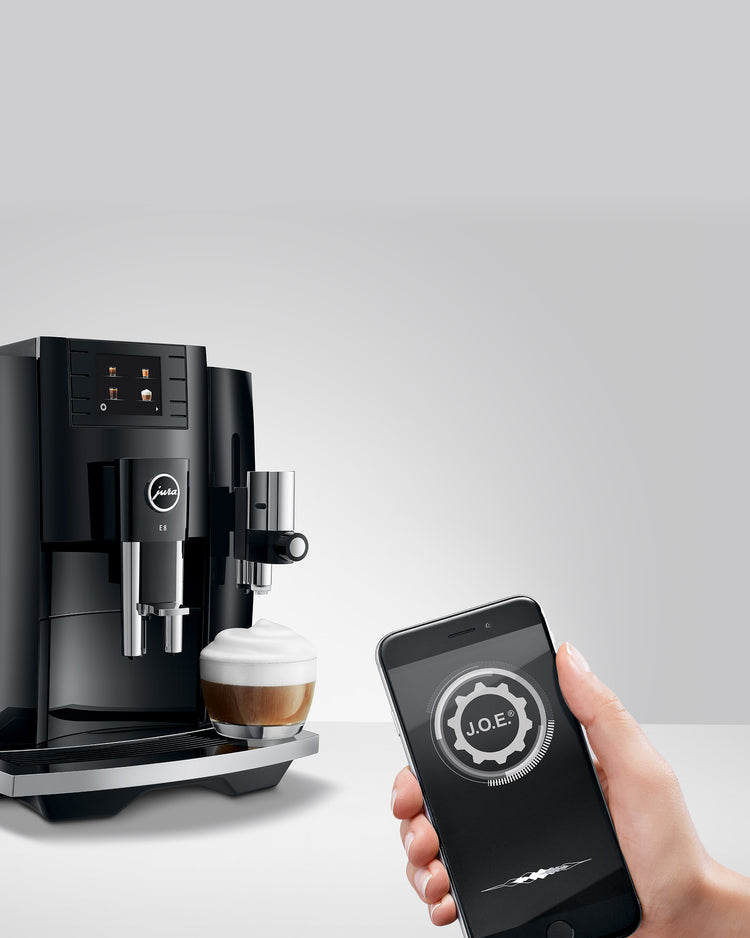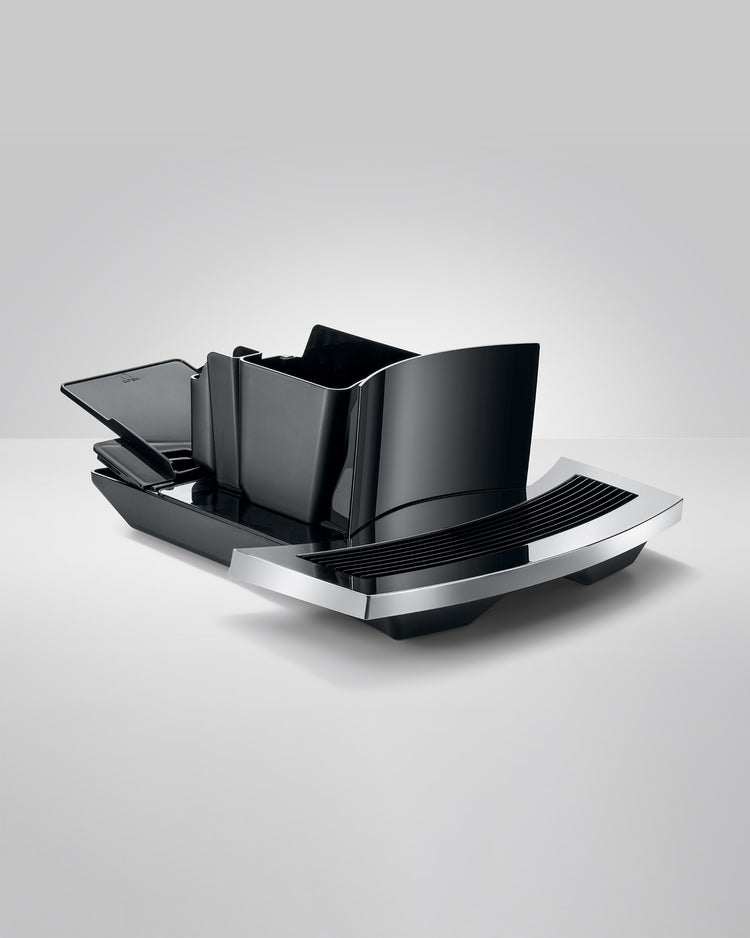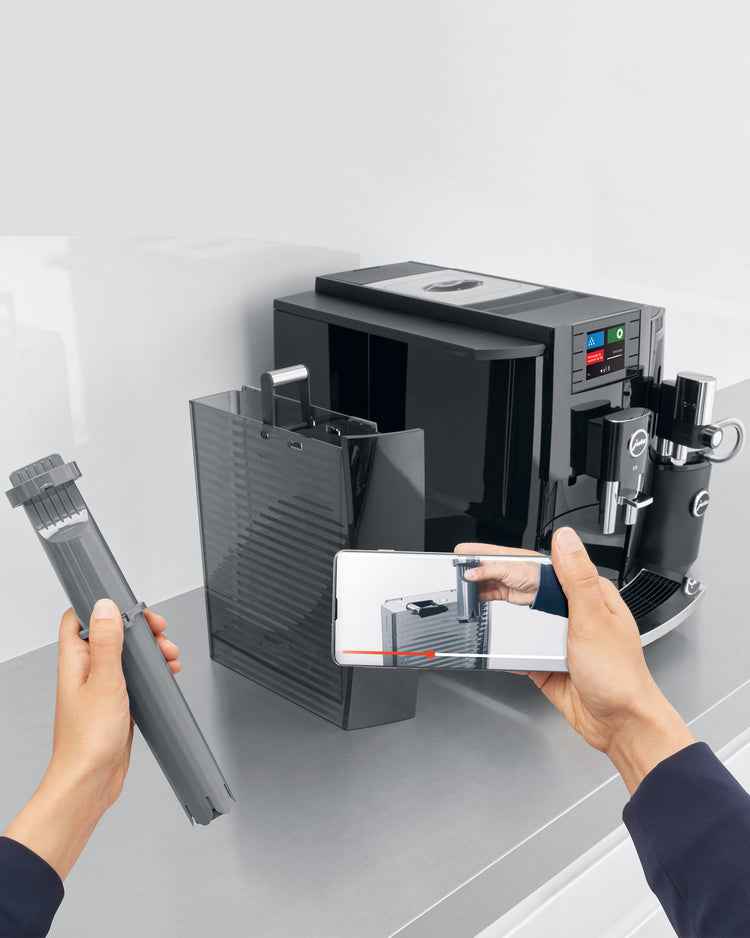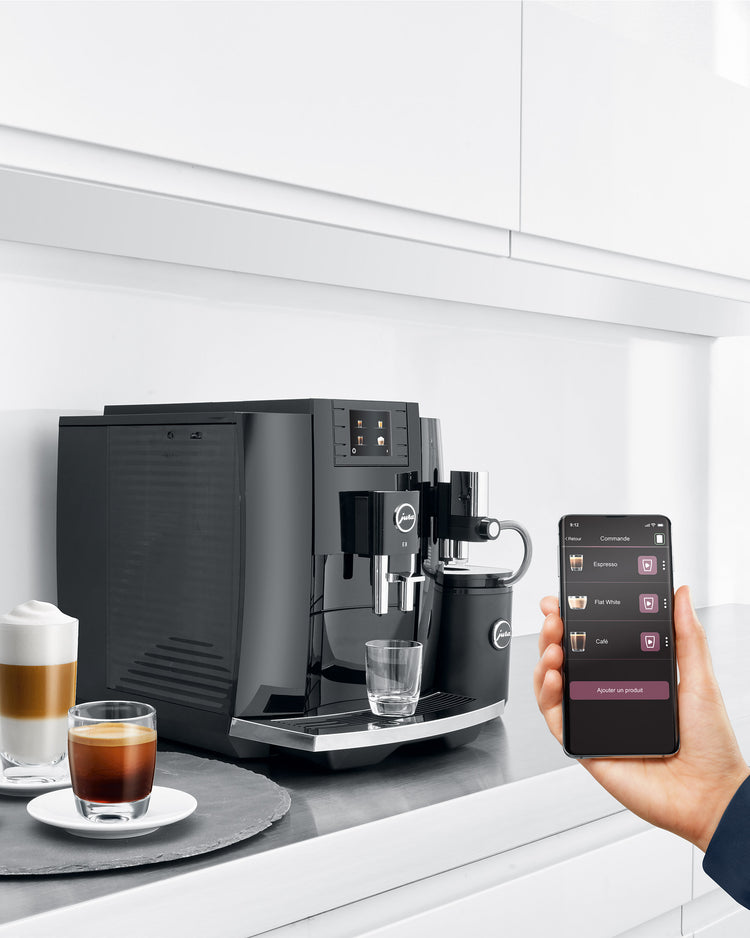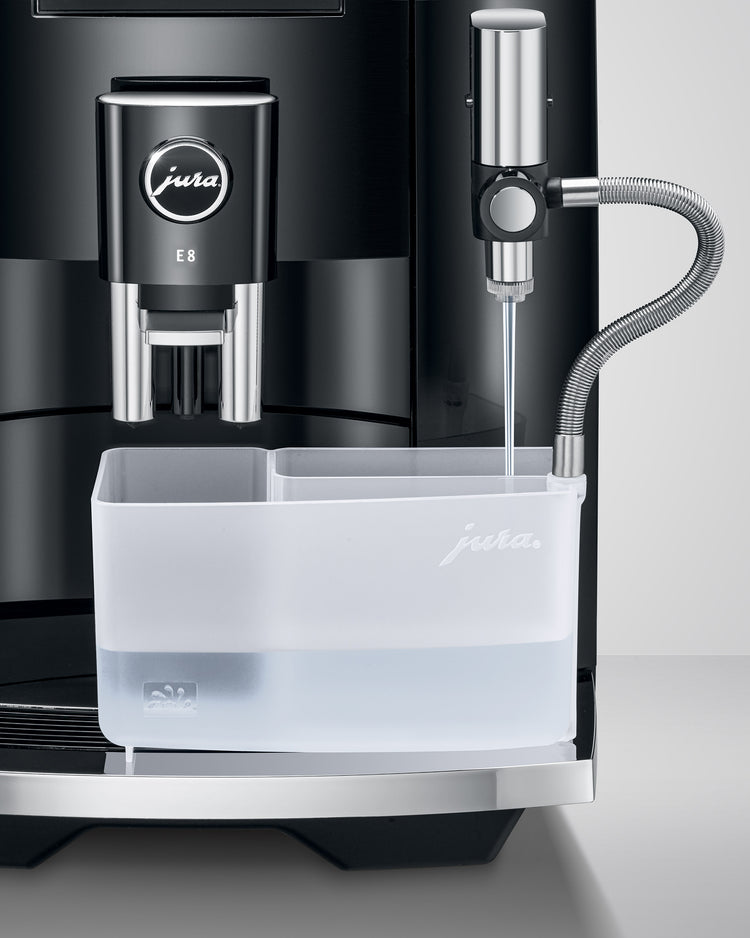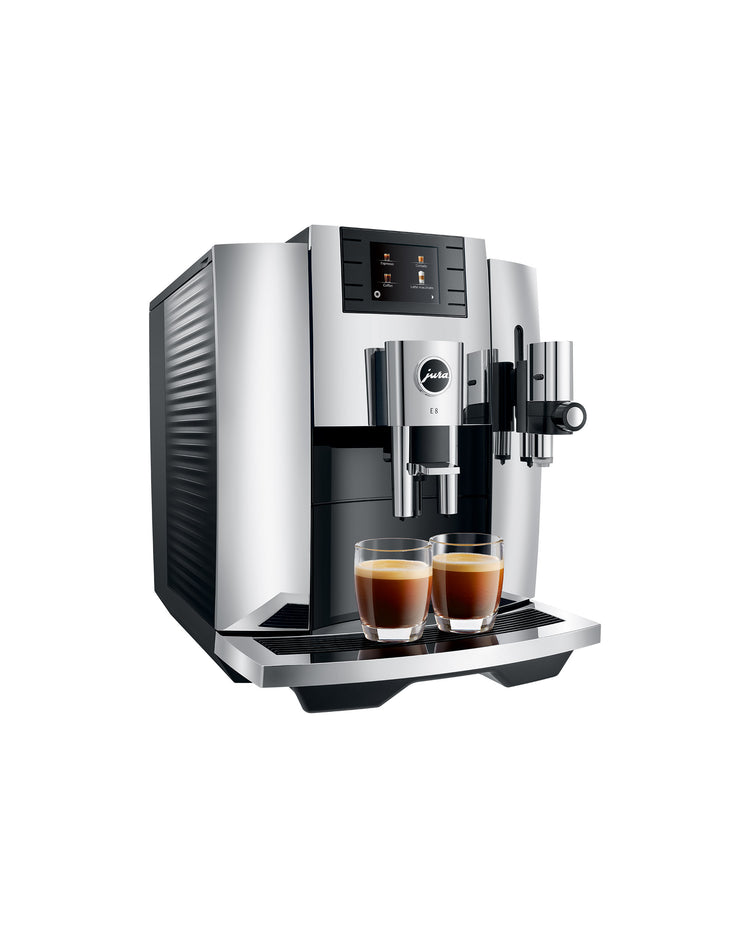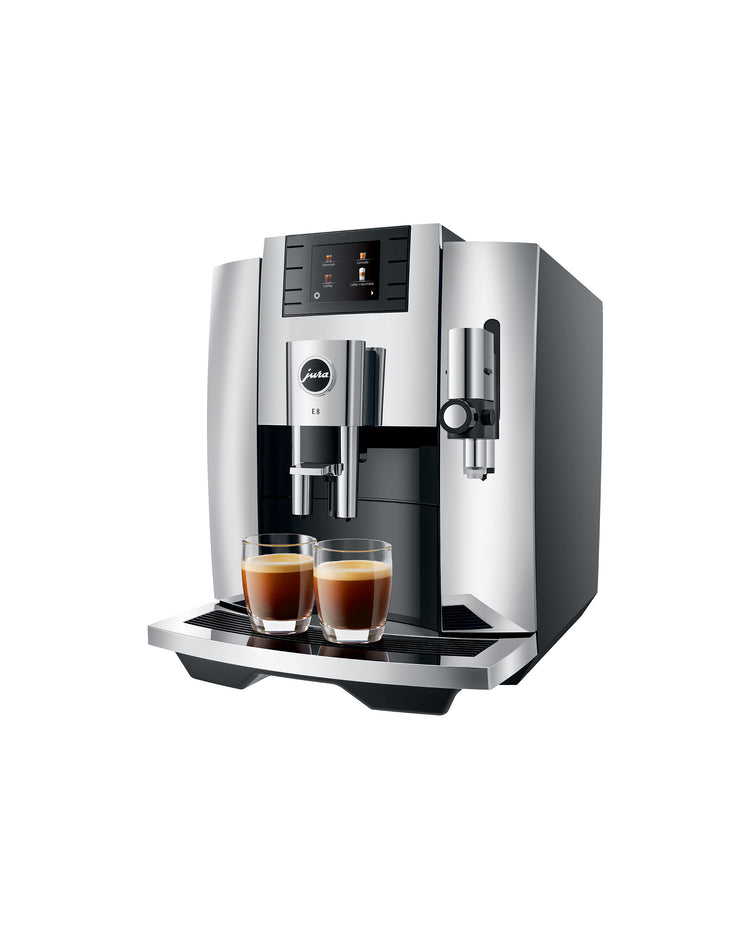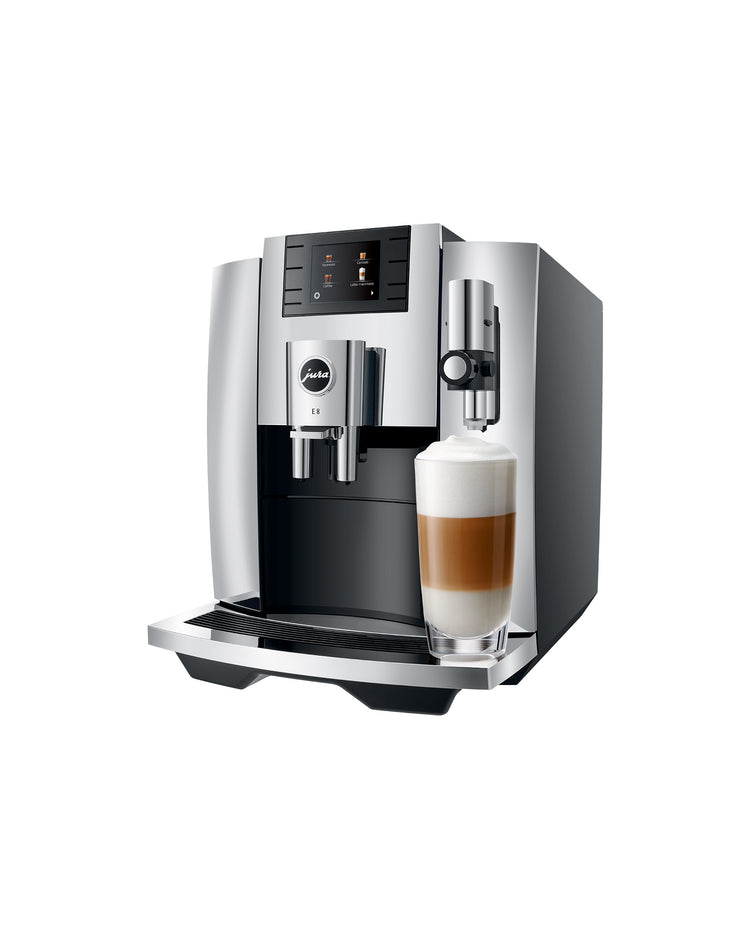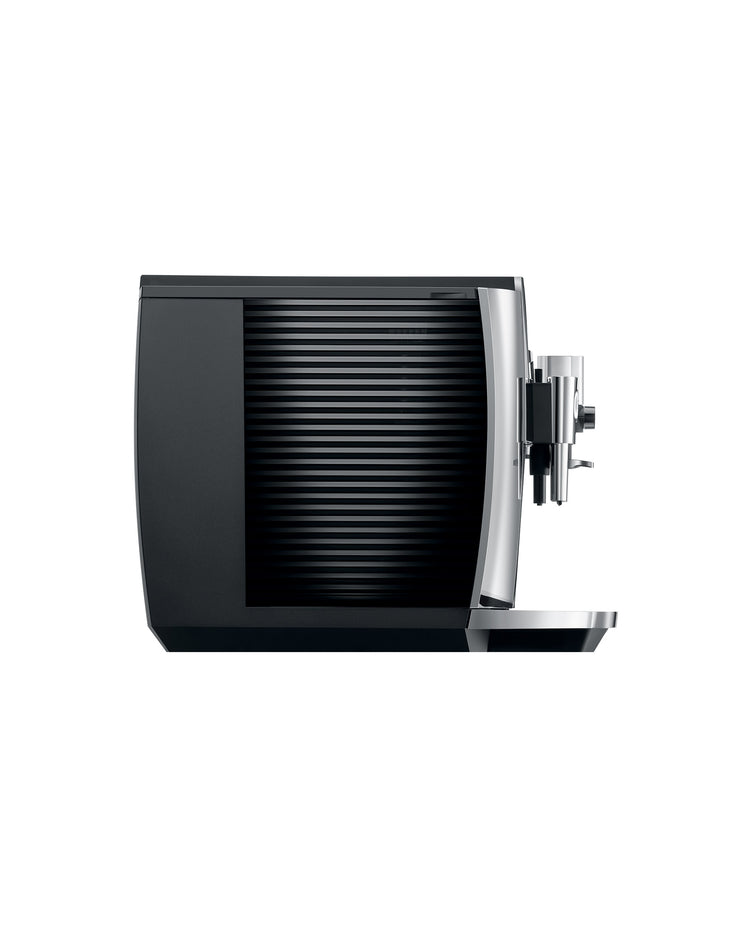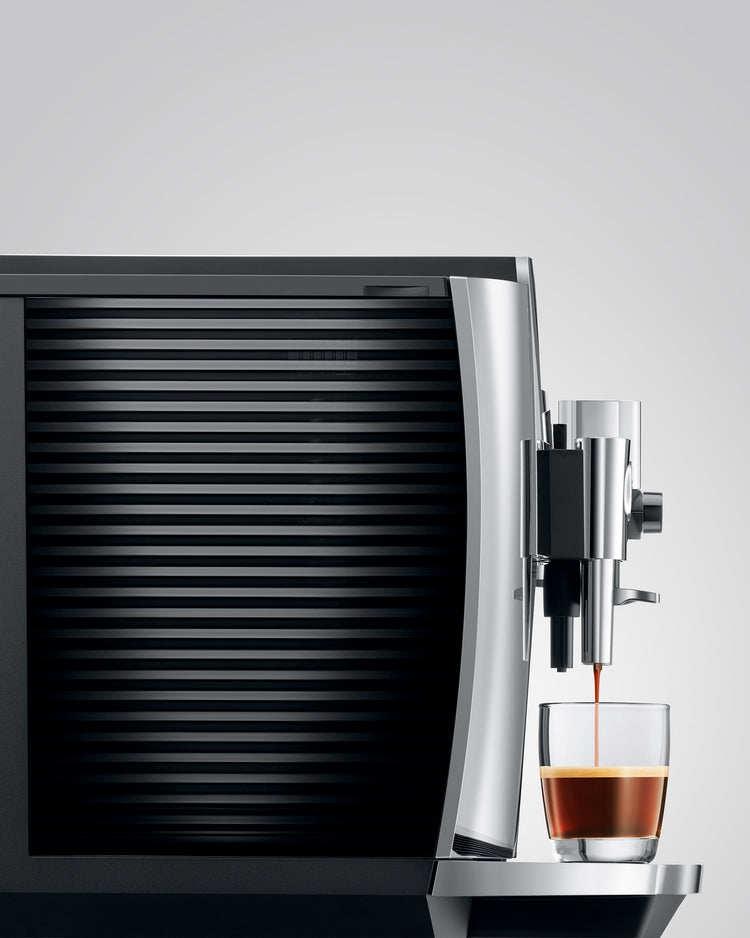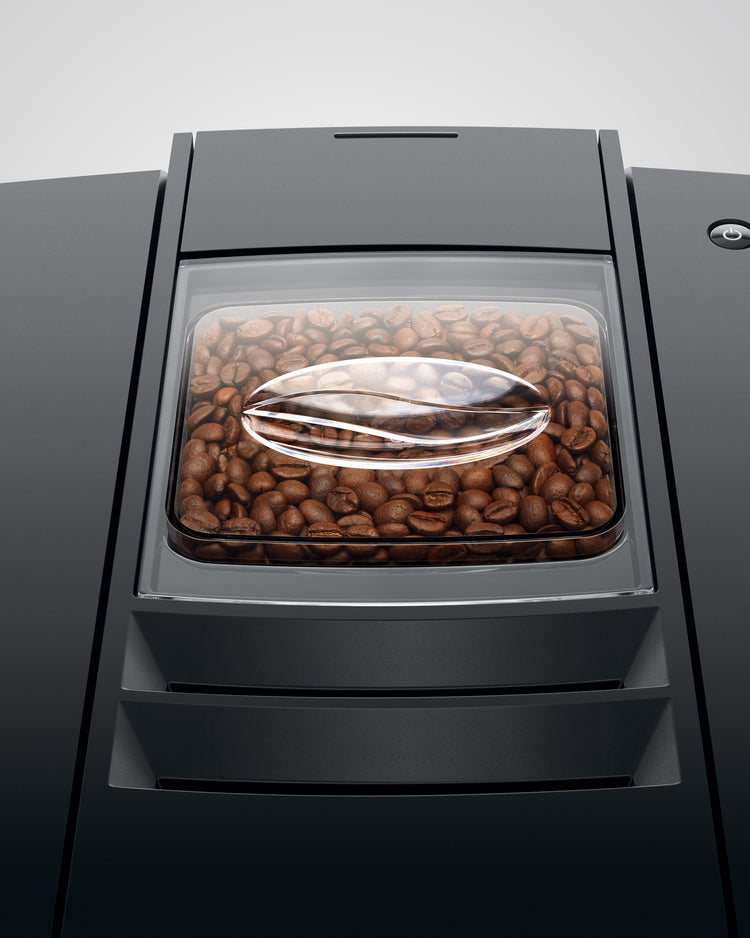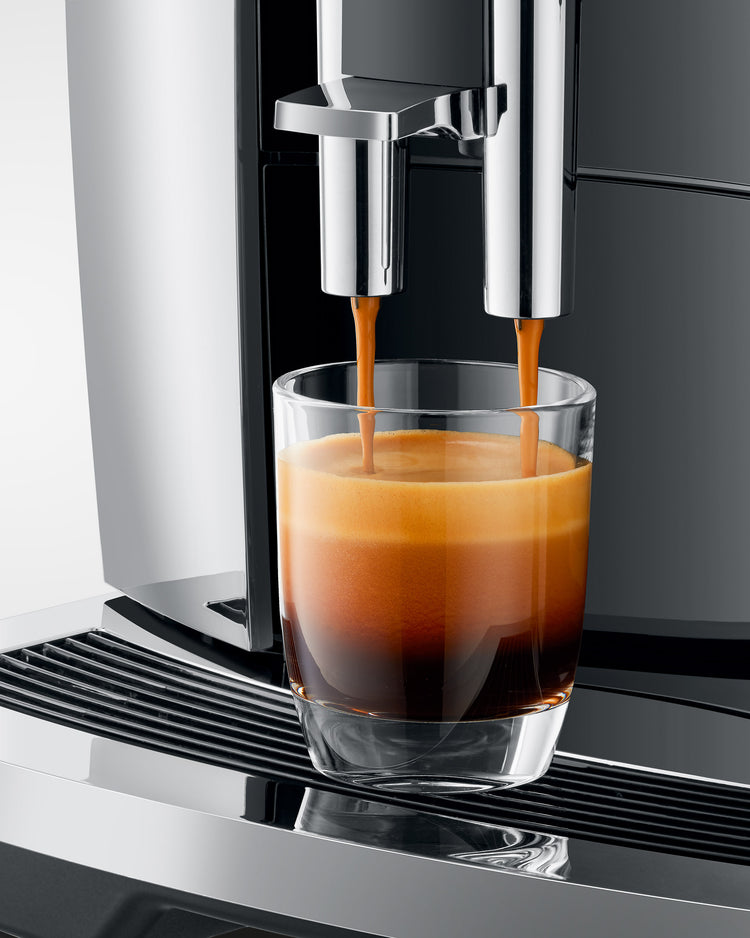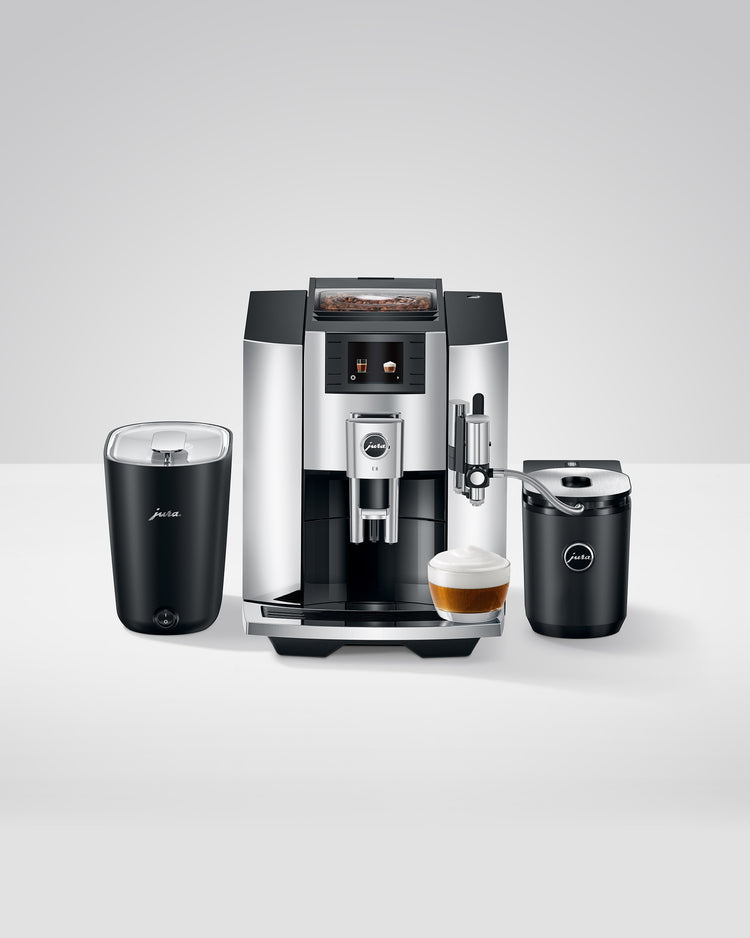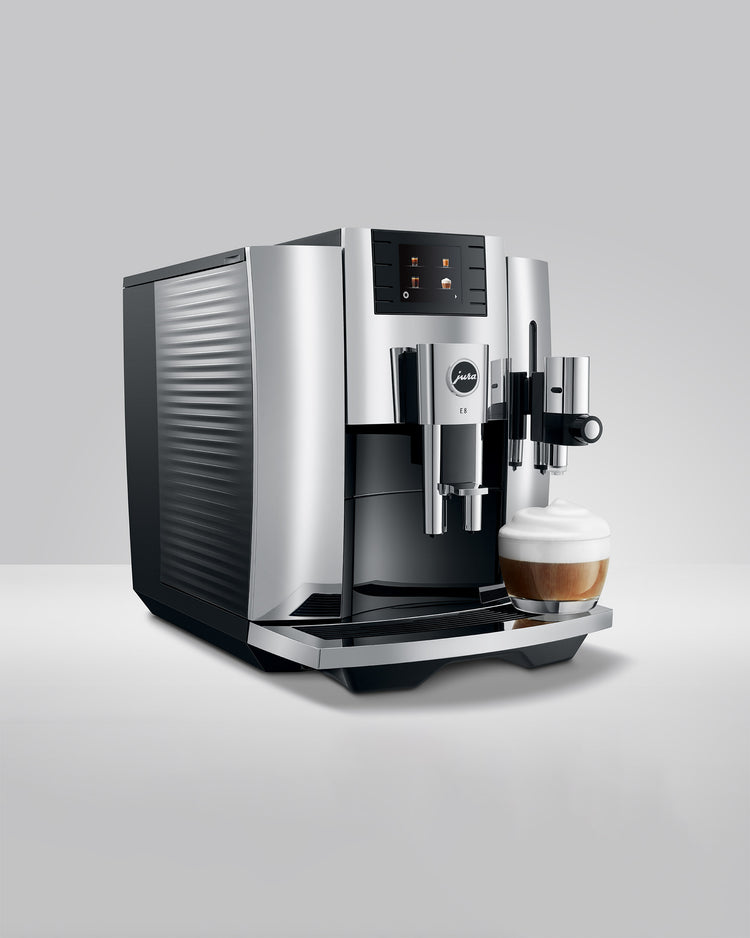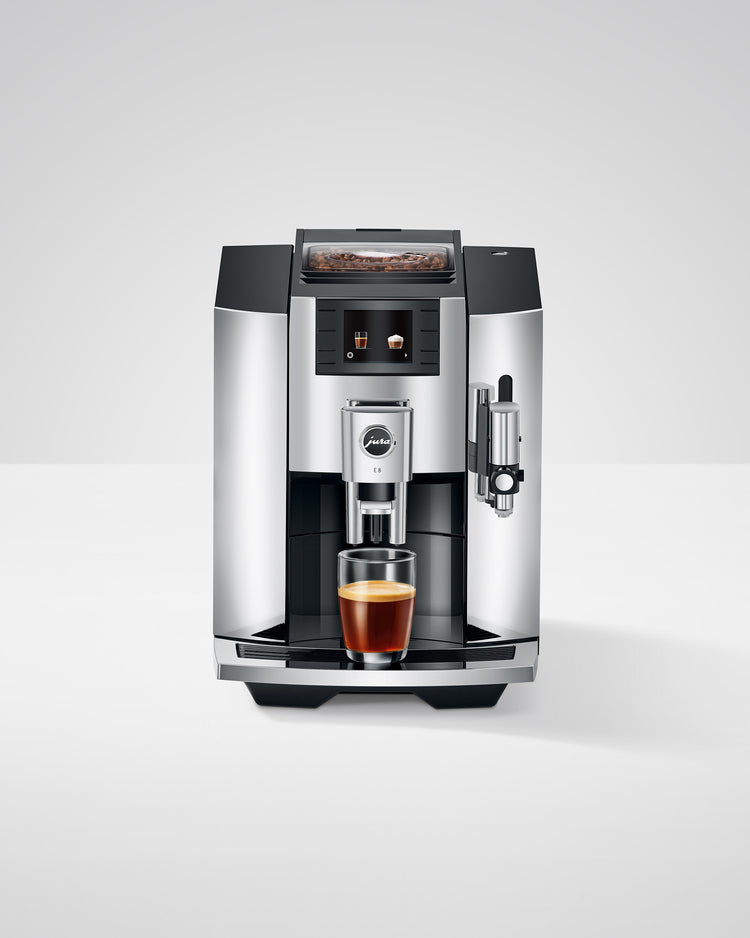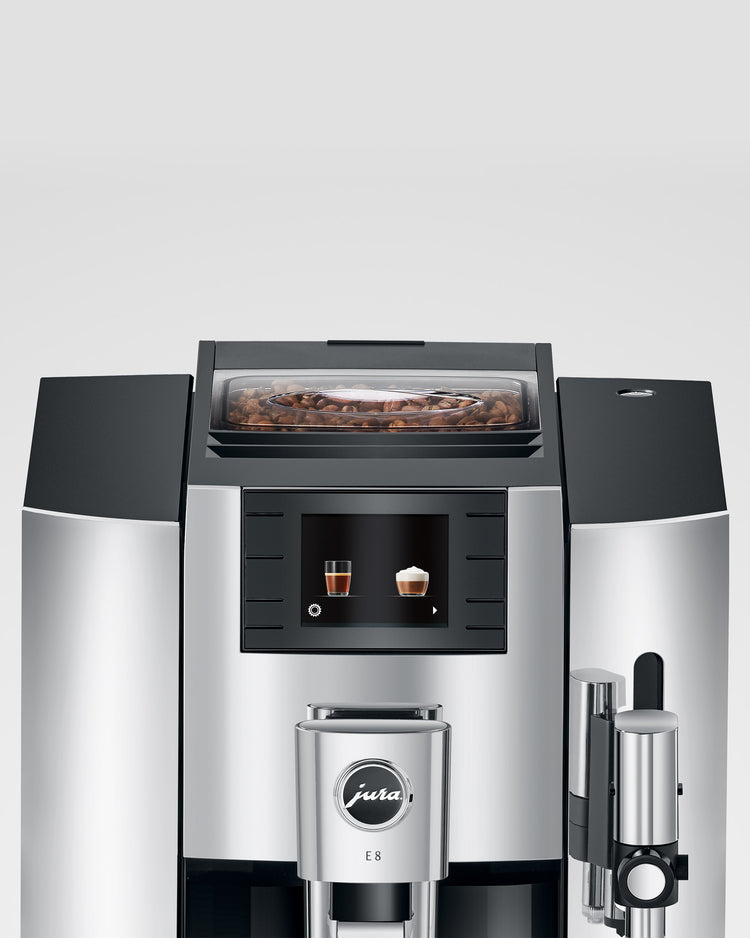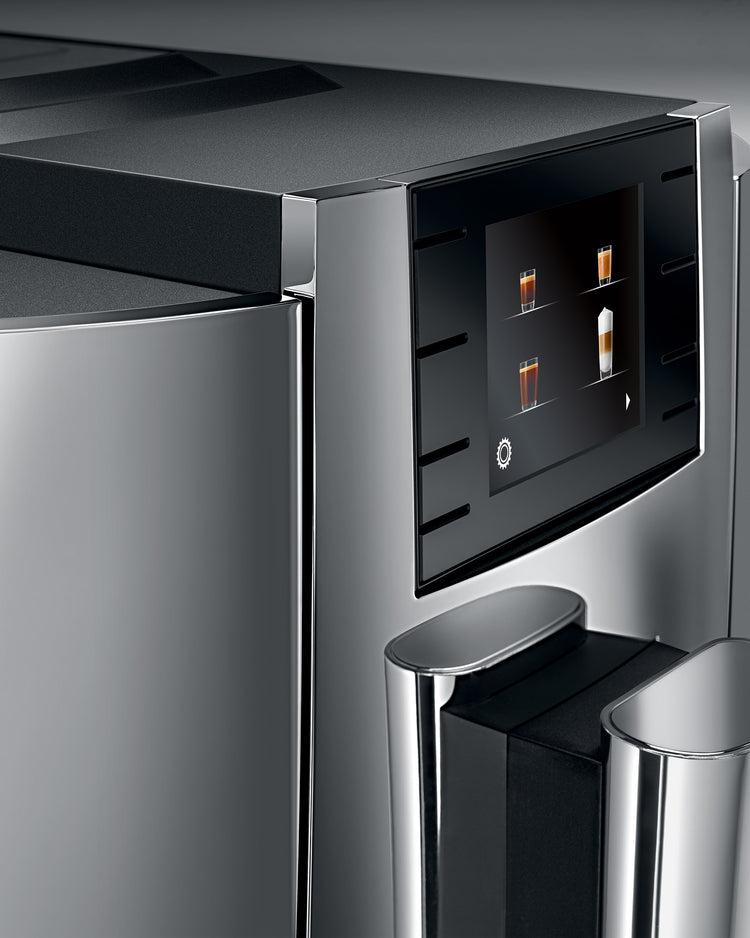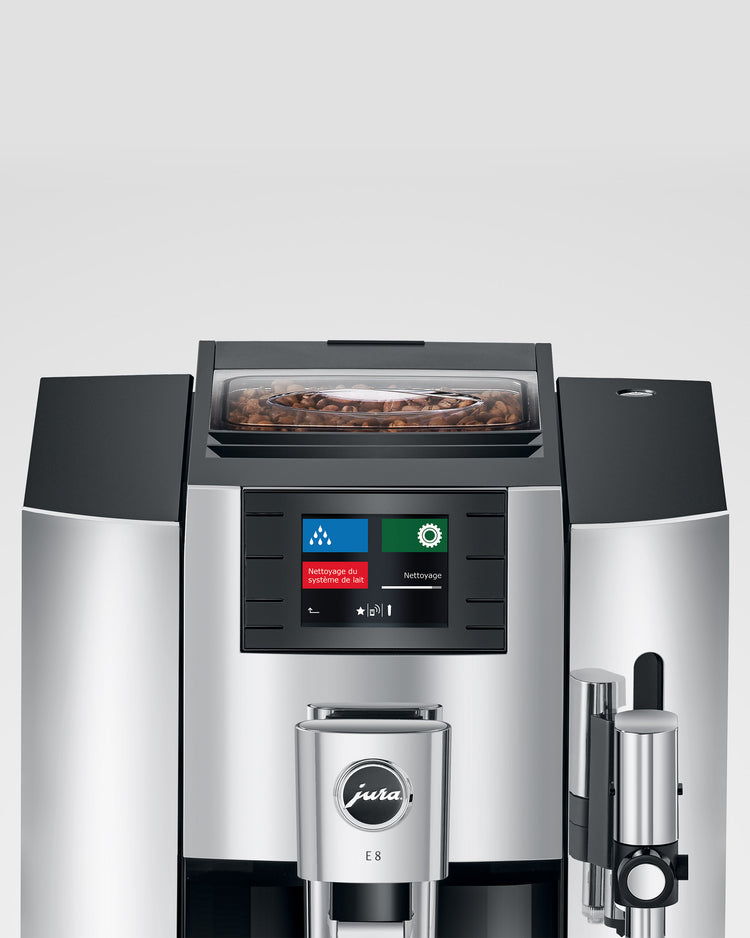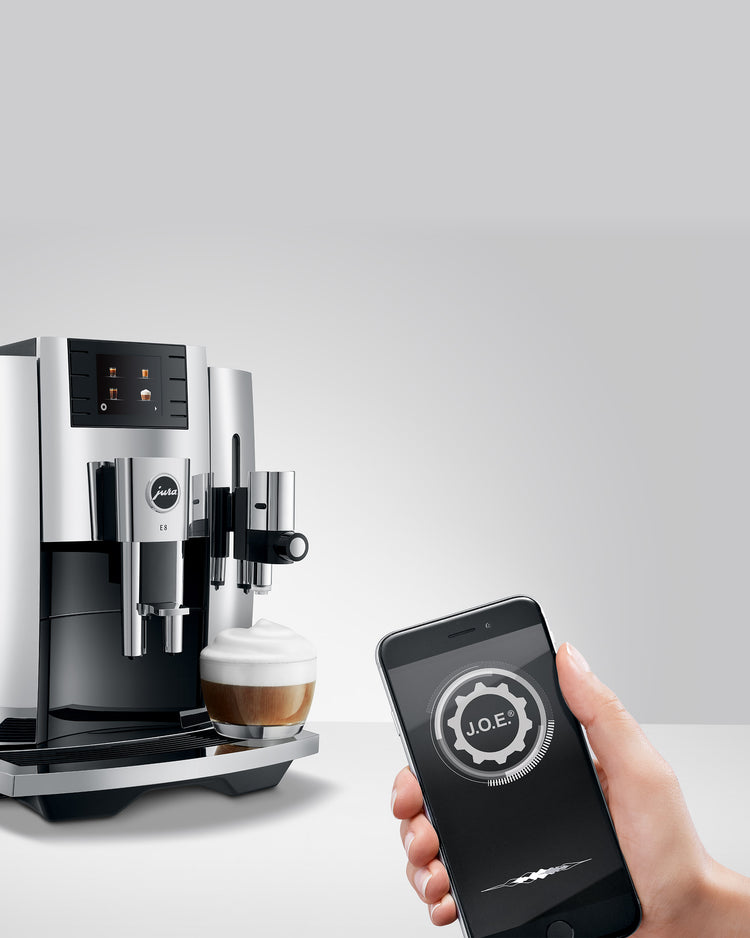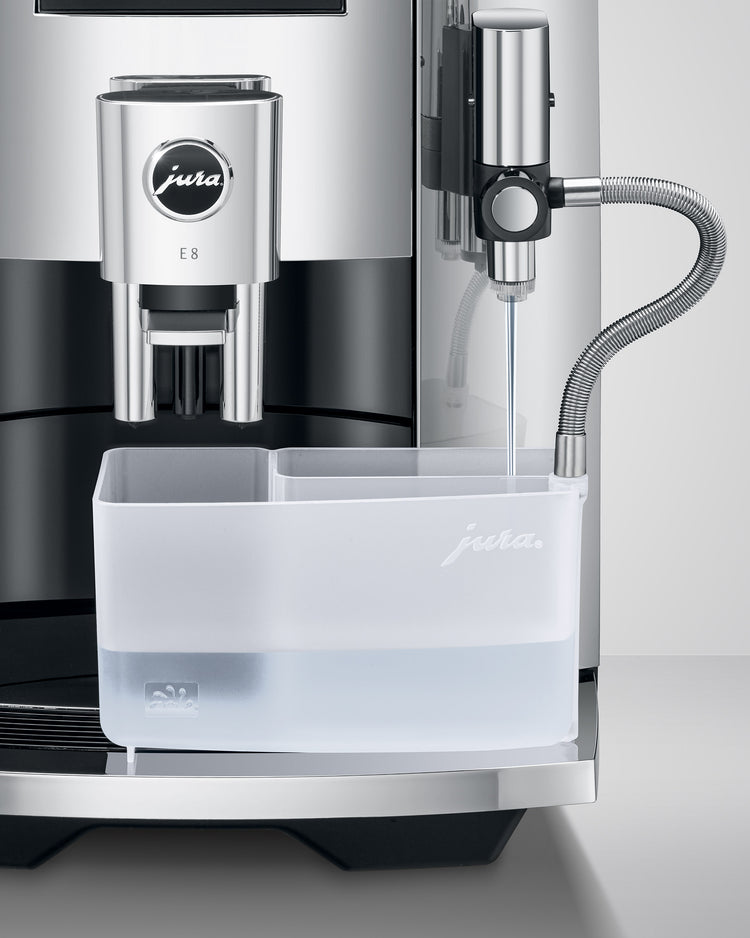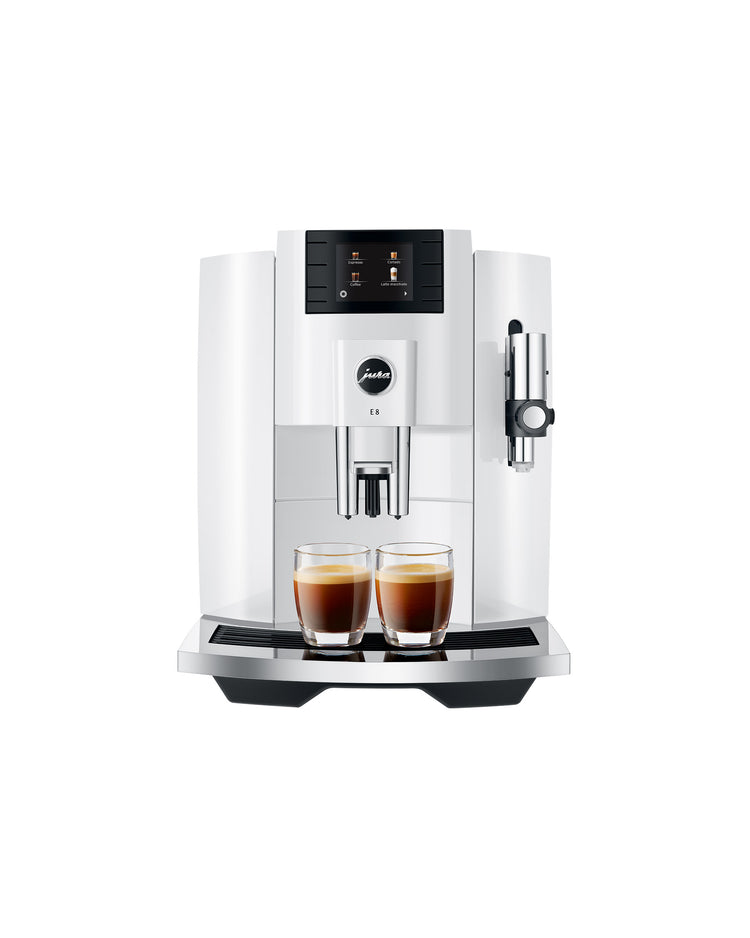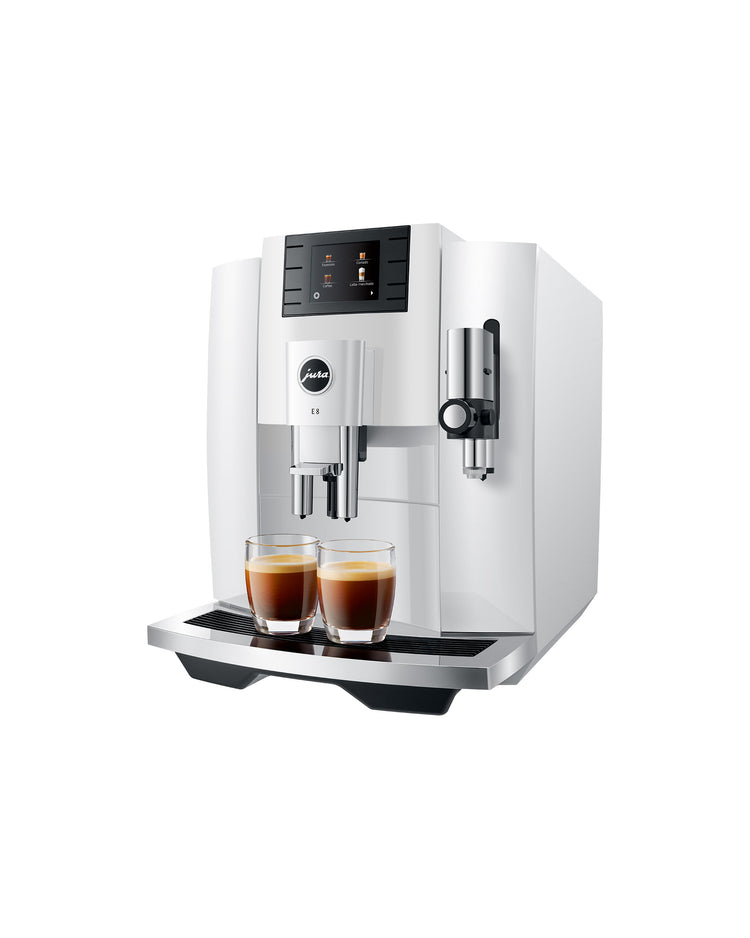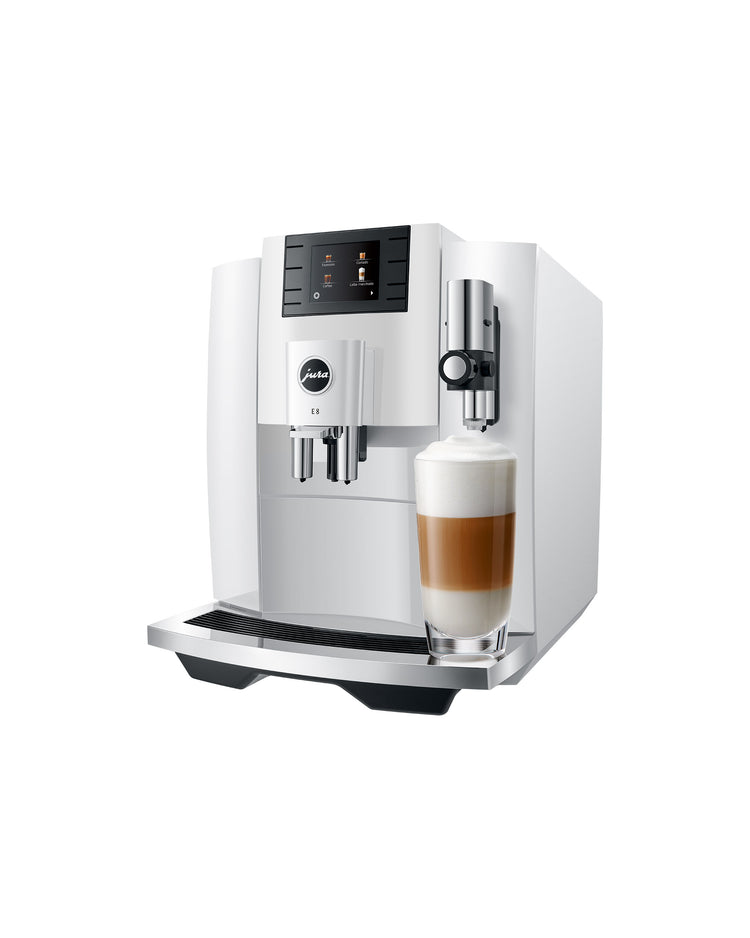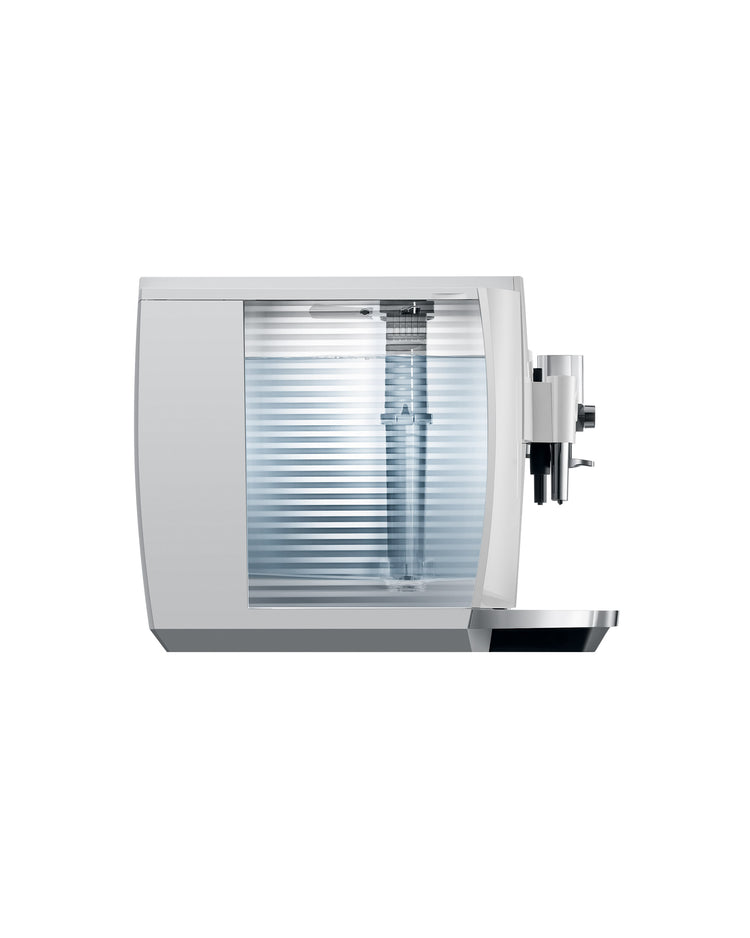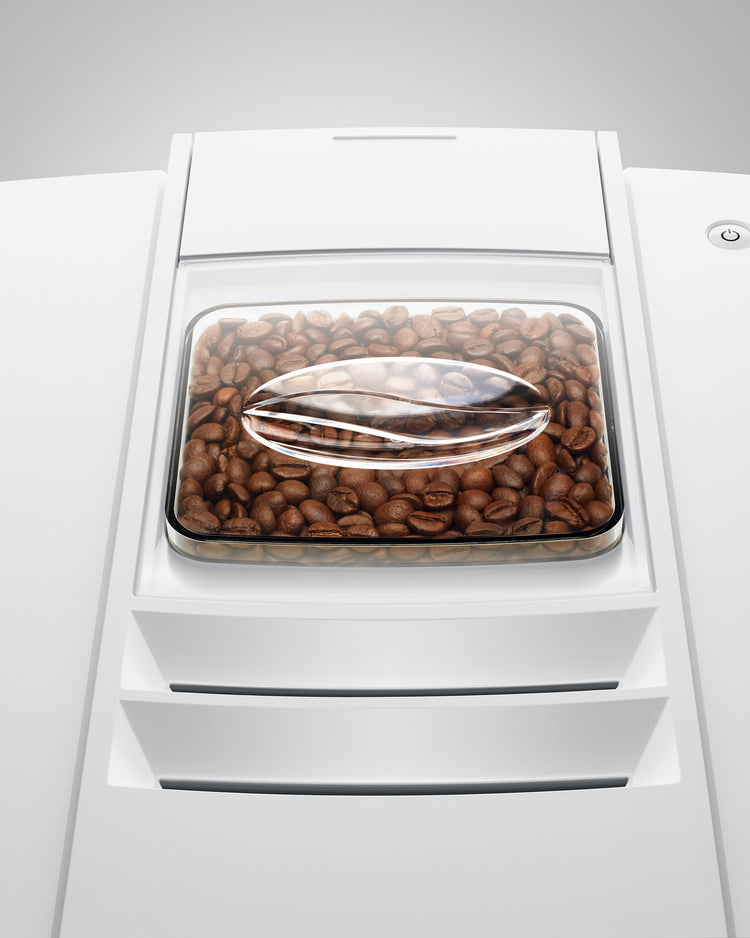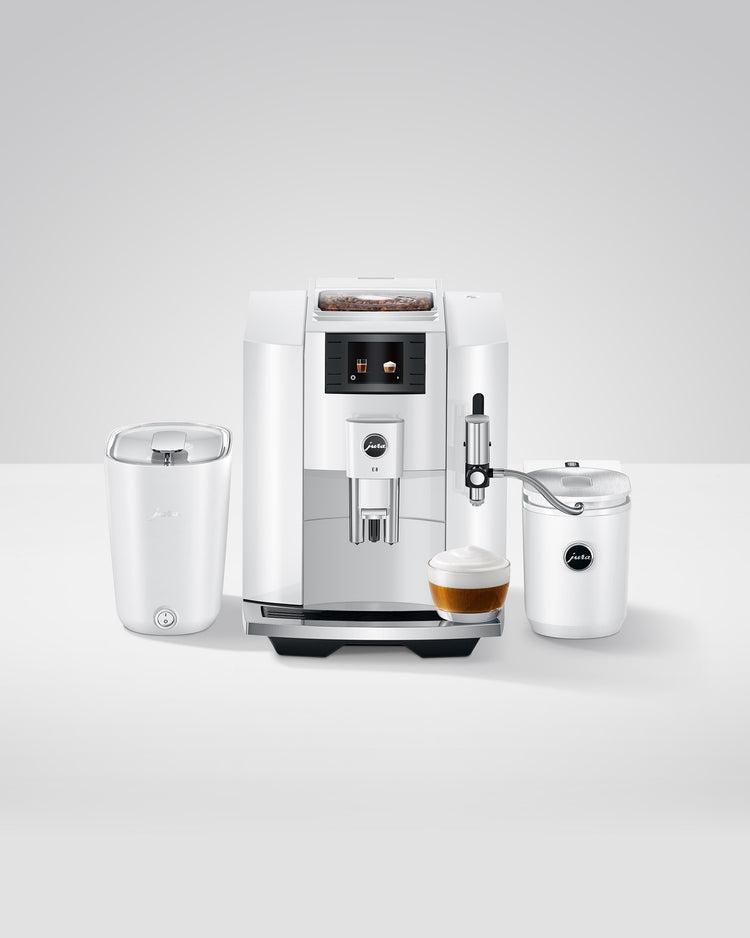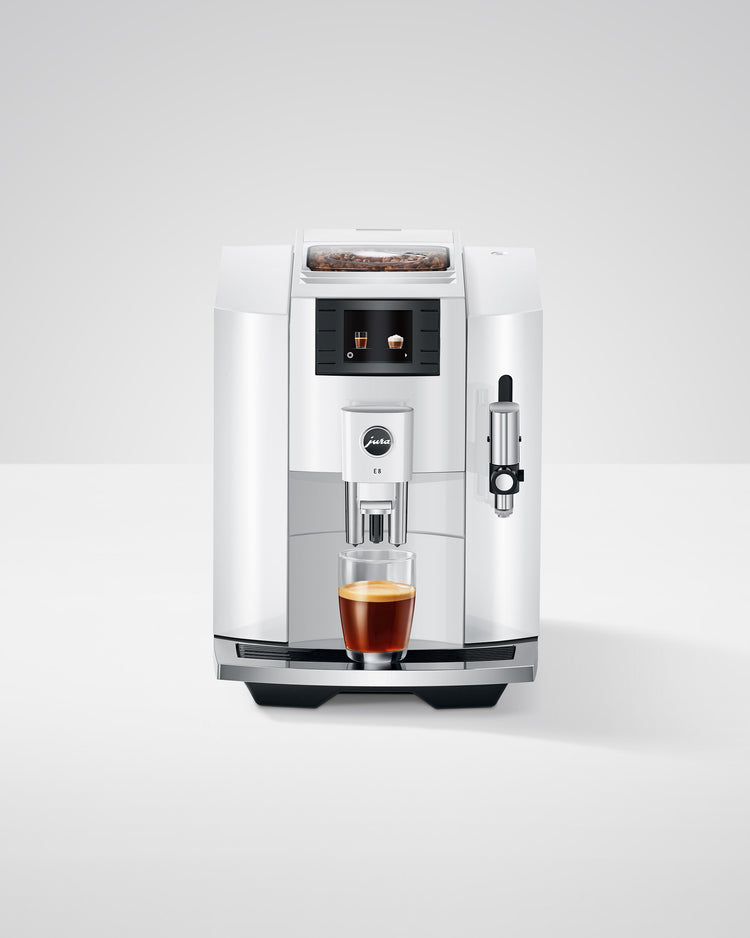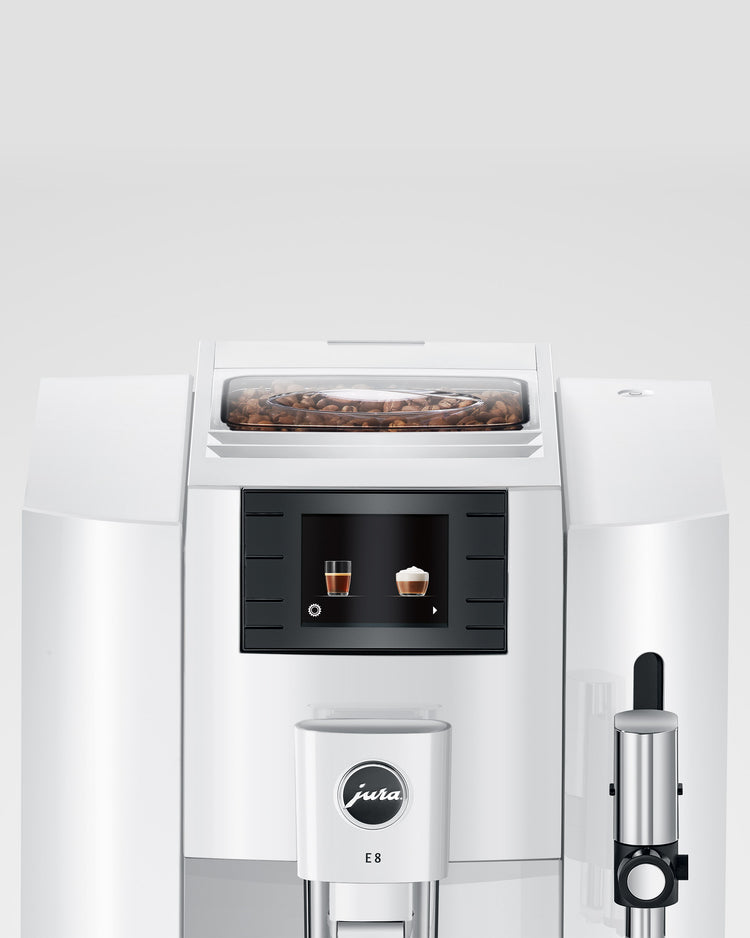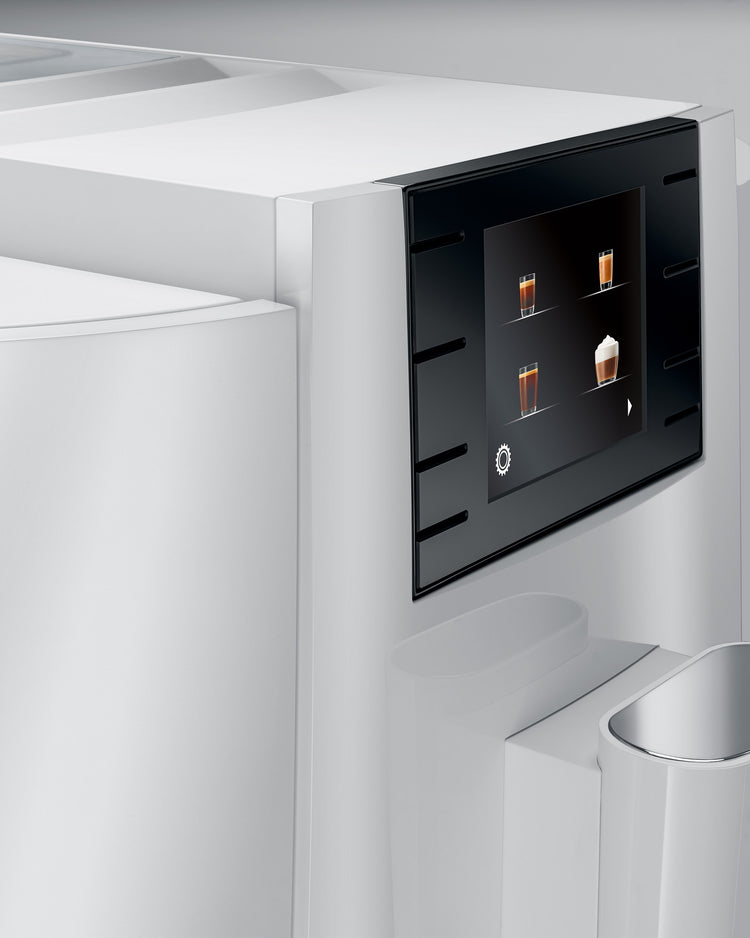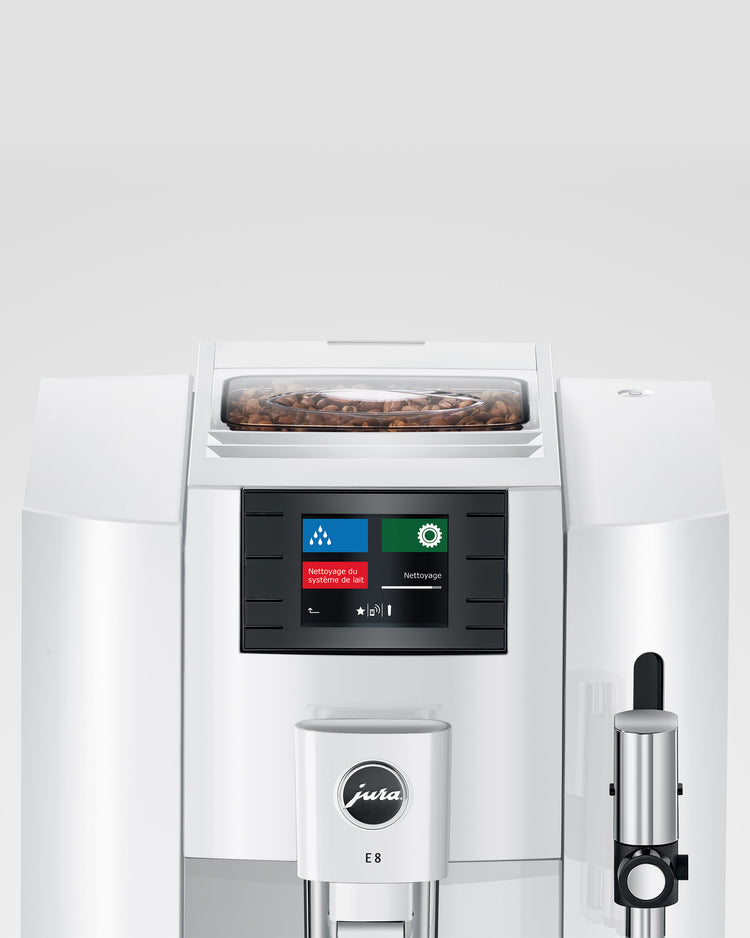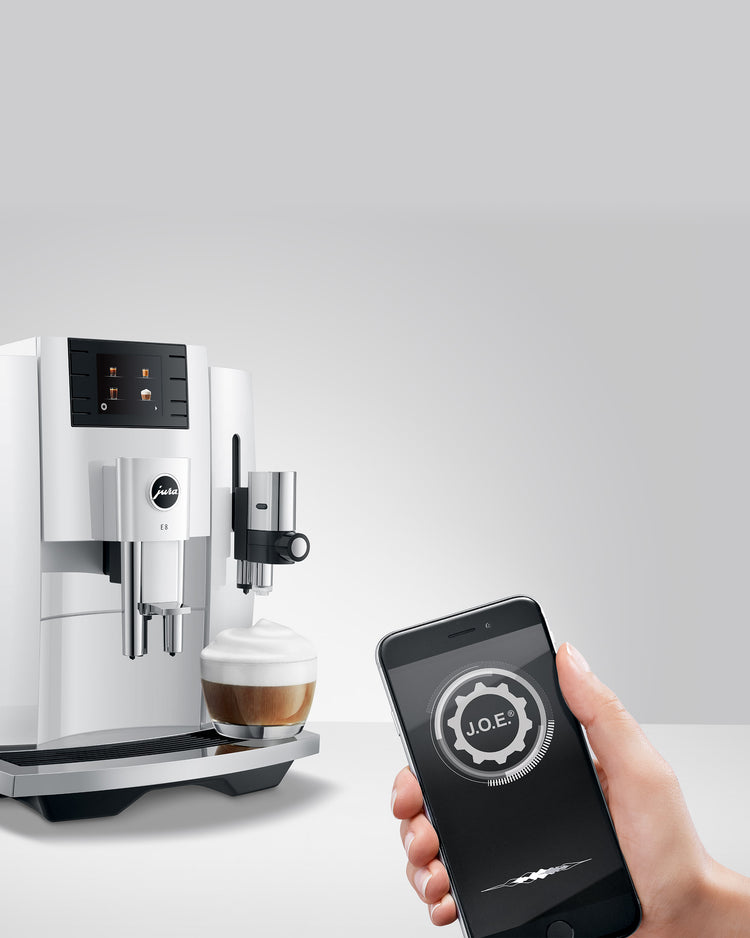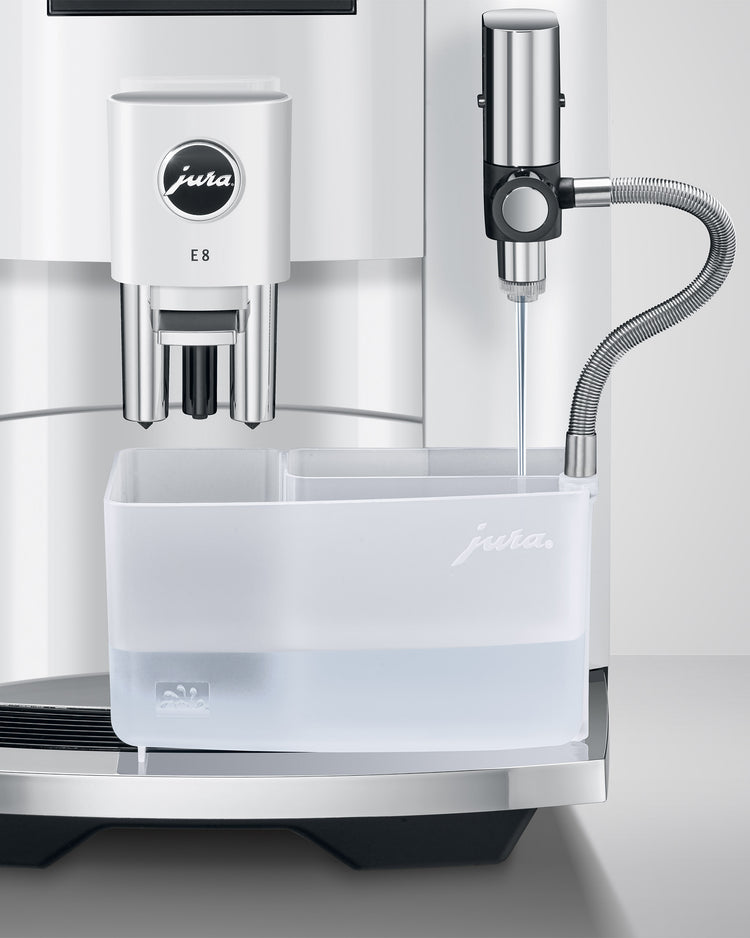 Luxe et polyvalence au service d'une dégustation parfaite
The latest generation of JURA's most successful coffee machine model boasts a reinterpreted design and a range of benefits previously found only in the premium class.

The Professional Aroma Grinder delivers a flawless grinding result, state-of-the-art brewing processes allow the coffee aromas to fully develop and trend specialities are better than ever thanks to the airy, feather-light milk foam. The innovative E8 offers 17 different specialities – from an aromatic espresso to a trendy cortado. It can also prepare long, mild specialities such as caffè Barista and lungo Barista to professional barista standard thanks to a new fluid system. Those who like their coffee more intense can pep up their cappuccino, flat white or latte macchiato using the Extra Shot function.

With the optimised fluid system, even milk system cleaning is carried out automatically at the touch of a button – another E8 function that will be familiar from JURA's top-line products. What's more, it now boasts even more intuitive handling along with incredibly easy operation.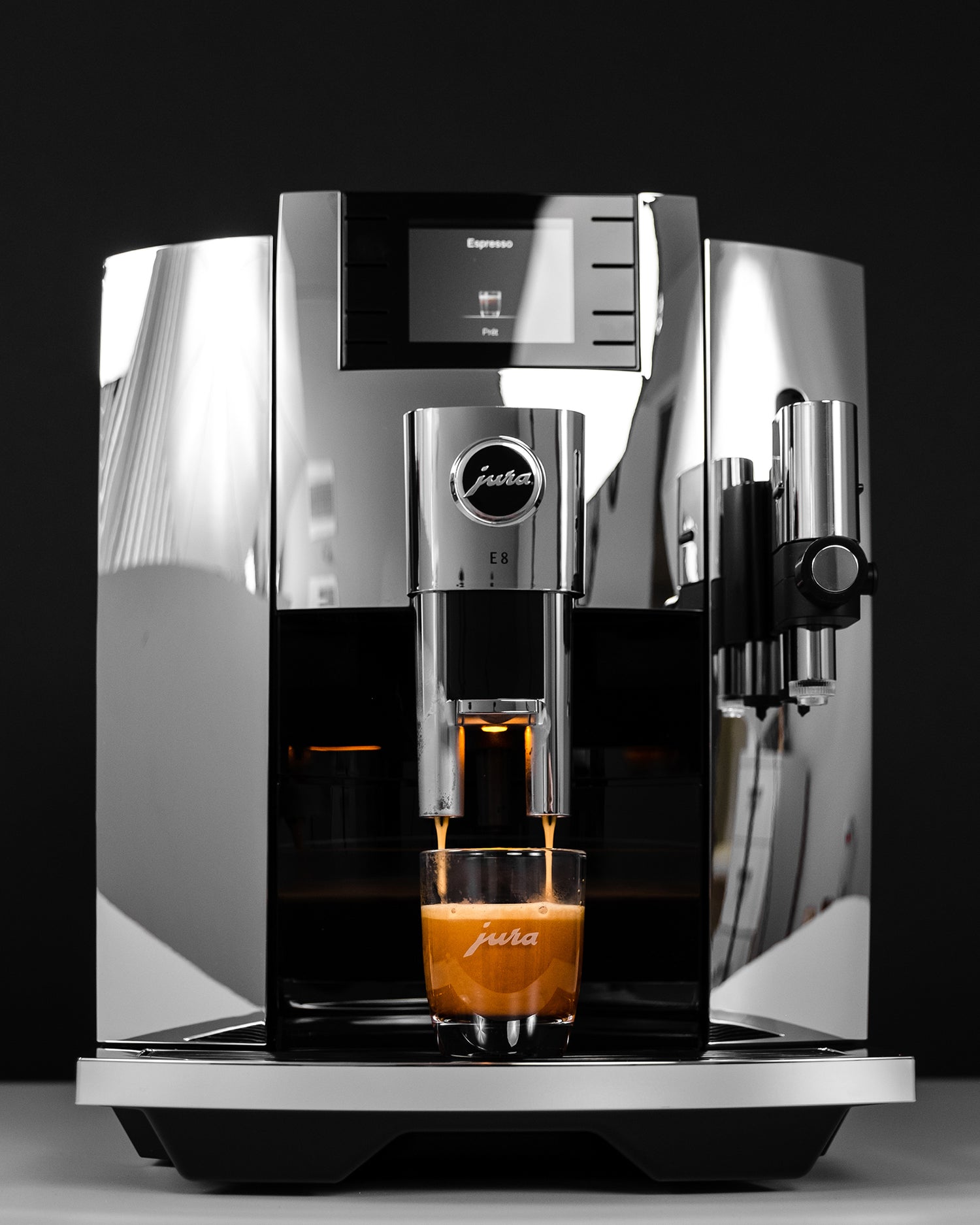 Une qualité de café magistrale
The Professional Aroma Grinder guarantees 12.2%* more aroma and consistently high grind quality so that flavours unfold to perfection throughout the entire service life of the grinder. The Pulse Extraction Process (P.E.P.®) ensures maximum flavour for short specialities, while intelligent preheating guarantees the ideal temperature right from the first cup.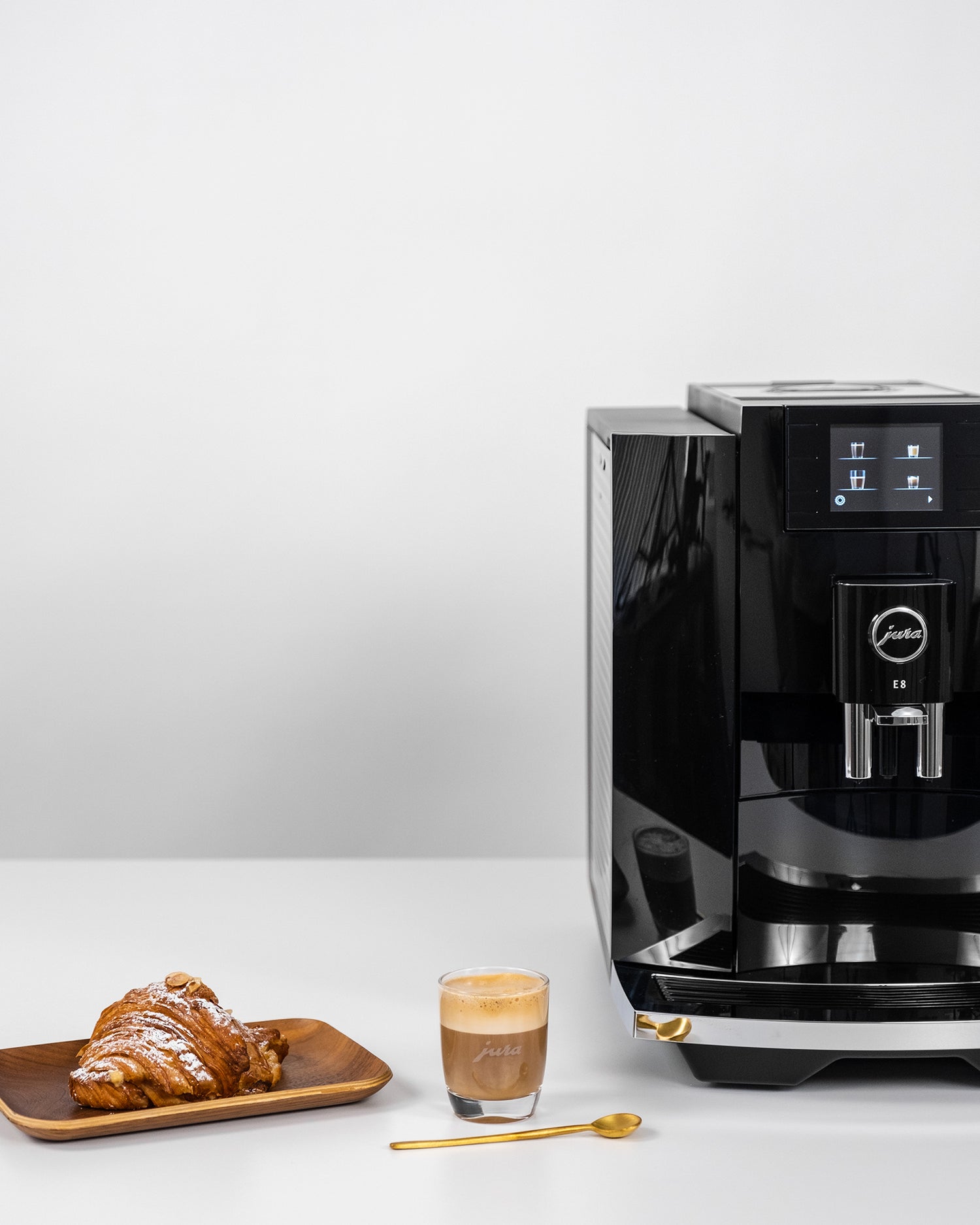 Une commande grand luxe
A 2.8" colour display, six buttons and a completely new operating concept featuring artificial intelligence enable simple handling. An intelligent algorithm identifies individual preferences and adapts the start screen so the user's two or four favourite specialities are always displayed. Product settings and their positions on the screen can be adapted in line with personal preferences and product names can be displayed or hidden.
Toutes les informations utiles sur la machine à café ainsi que les tâches d'entretien à réaliser sont clairement présentées dans le tableau de bord accessible depuis le visuel.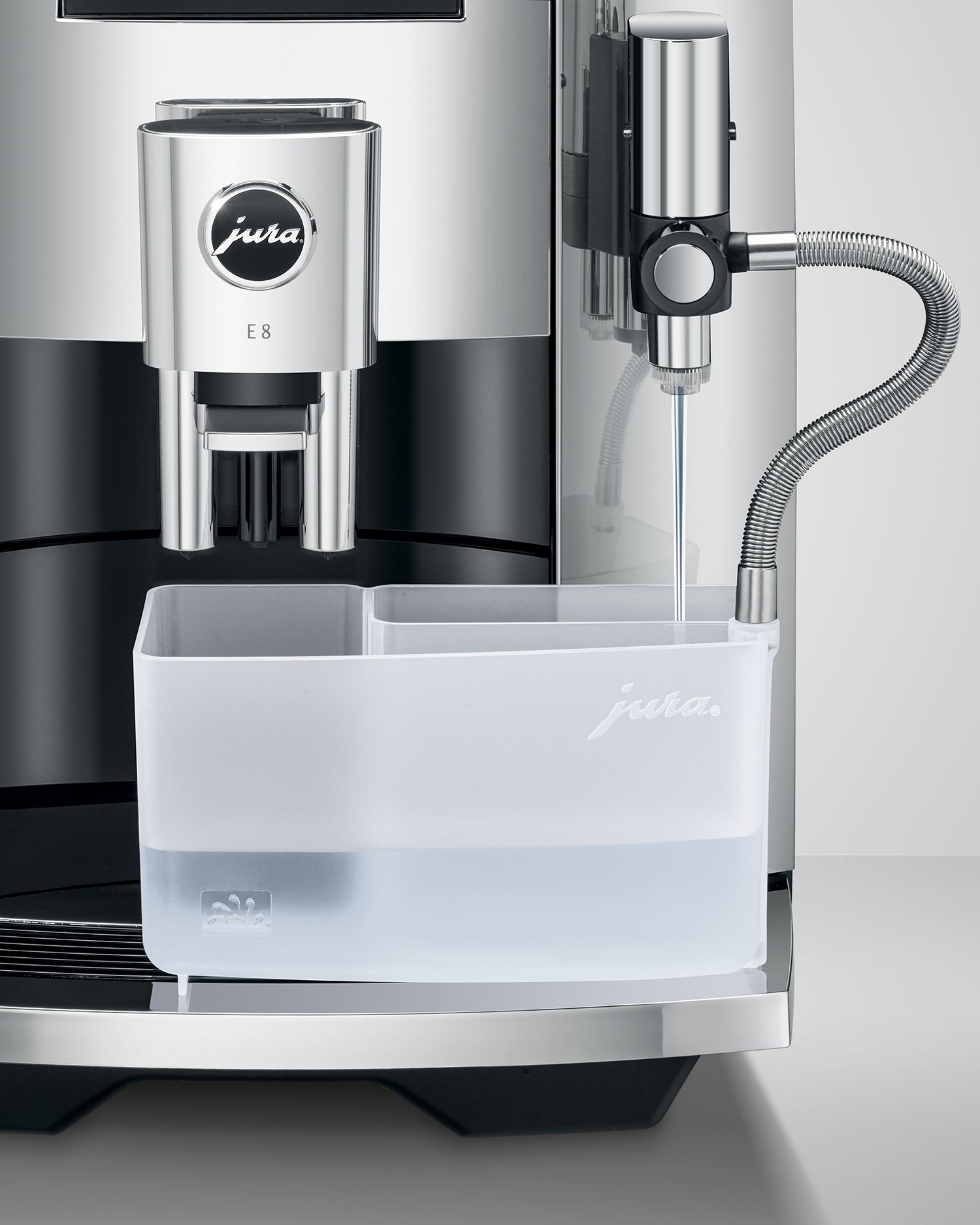 Nettoyage One-Touch du système de lait
The sophisticated milk system cleaning process takes place automatically at the touch of a button and is completed in no time.

The drip tray also meets the highest ergonomic standards. Its design prevents water from spilling and it can be removed conveniently with just one hand.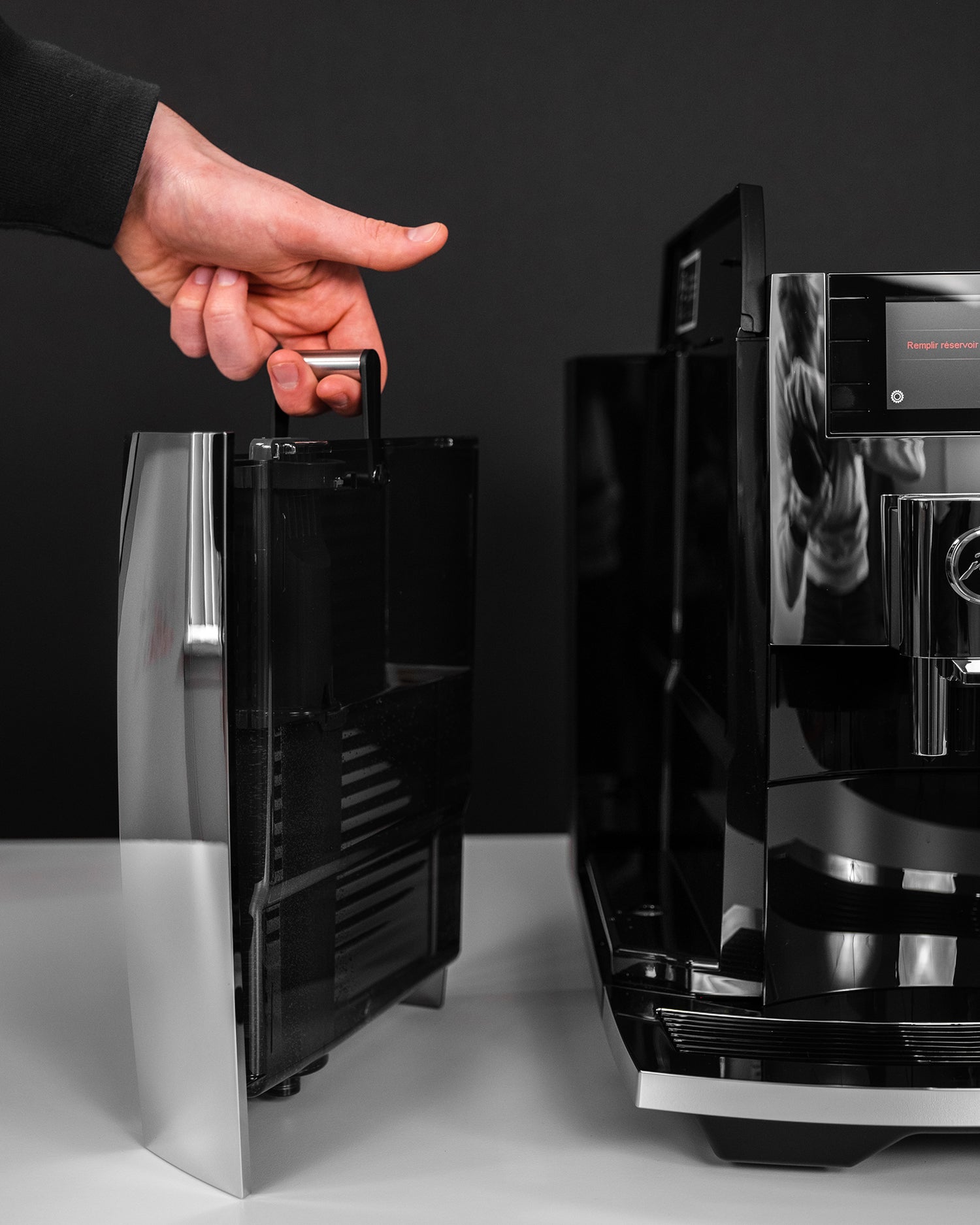 Un design harmonieux
JURA coffee machines feature a clean and expressive characteristic design.
Des matériaux haut de gamme et une finition précise soulignent l'excellence et la modernité de l'E8. Son esthétique respire la qualité, la fonctionnalité et la longévité.
Details such as the grooved water tank or the high-quality, chrome-plated cup grille perfectly complement the clean, harmonious design of the E8.
Vidéo de présentation de la machine espresso Jura E8
Données techniques
Design et matériaux

Technologies standard de commande et de programmation

Spécialités de café

Standards

Standards énergétiques

In figures

HYGIENE STANDARDS

Avantages Spécifiques