LELIT Bianca colors PL162TCB PL162TCW espresso machine
Regular price

Sale price

4,595.00 $

Unit price

per
Bianca V3 is an espresso machine without compromises, with E61 group, manual control of the water flow and dual boiler. It has been created for those demanding baristas !
Do not hesitate to contact us to pre-order at info@edika.com or at at 514-374-0683.
Produits complémentaires
Regular price

Sale price

39.95 $

Unit price

per

In recent years, in Quebec and around the world, we have witnessed an unprecedented craze for coffee.

People of all generations are passionate about its cultivation, its quality and the different ways of preparation. Here is a unique book that offers both coffee-based recipes and others that beautifully accompany this beverage that is part of the daily lives of millions of people: CAFÉ - LE CONNAÎTRE, LE CUISINER, L' APRRÉCIER by Kareen Grondin and Didier Reolon.

See more

See less

Regular price

Sale price

95.00 $

Unit price

per

LELIT stainless steel 75 cl Milk Jug with a latte art pen.

Regular price

Sale price

99.00 $

Unit price

per

Pre-tamp stainless steel coffee leveler suitable for filters and filter holders ø57 mm or ø58 mm.

Adjustable height and black aluminium handle.

Regular price

Sale price

745.00 $

Unit price

per

William PL71 is an on demand coffee grinder that brings together excellent performance and a design with a strong personality.

It combines quality and ease of use thanks to the micro-regulation and to the electronic dose adjustment.

See more

See less

Regular price

Sale price

375.00 $

Unit price

per

Fred is an on demand coffee grinder that provides high-performance in a very smallsize : it ensures constant and precise grinding thanks to the micrometricstepless adjustment
See more products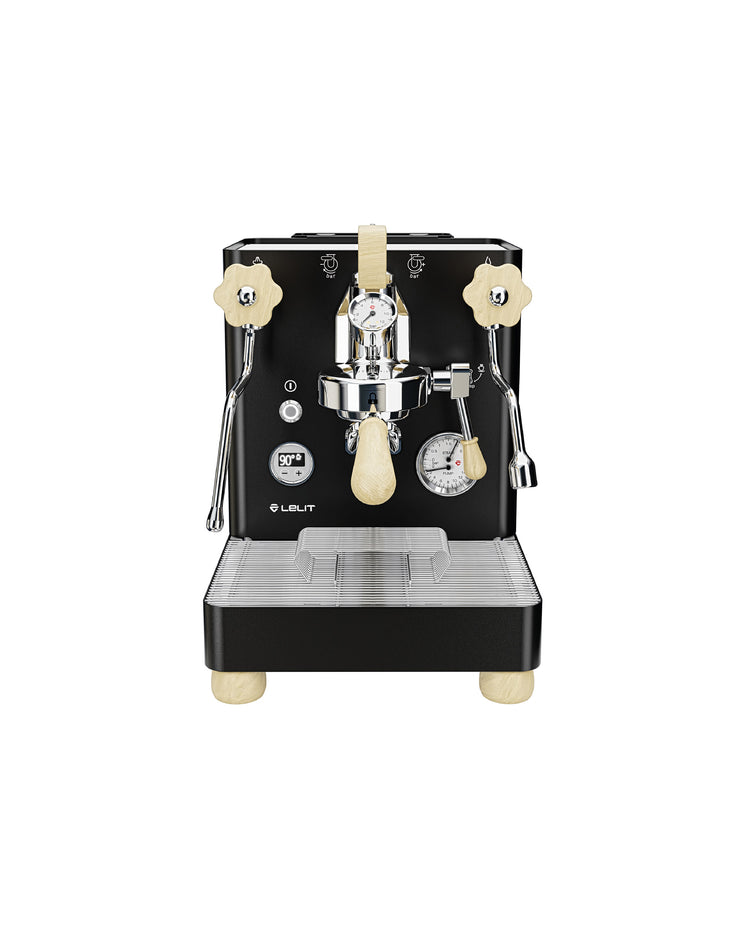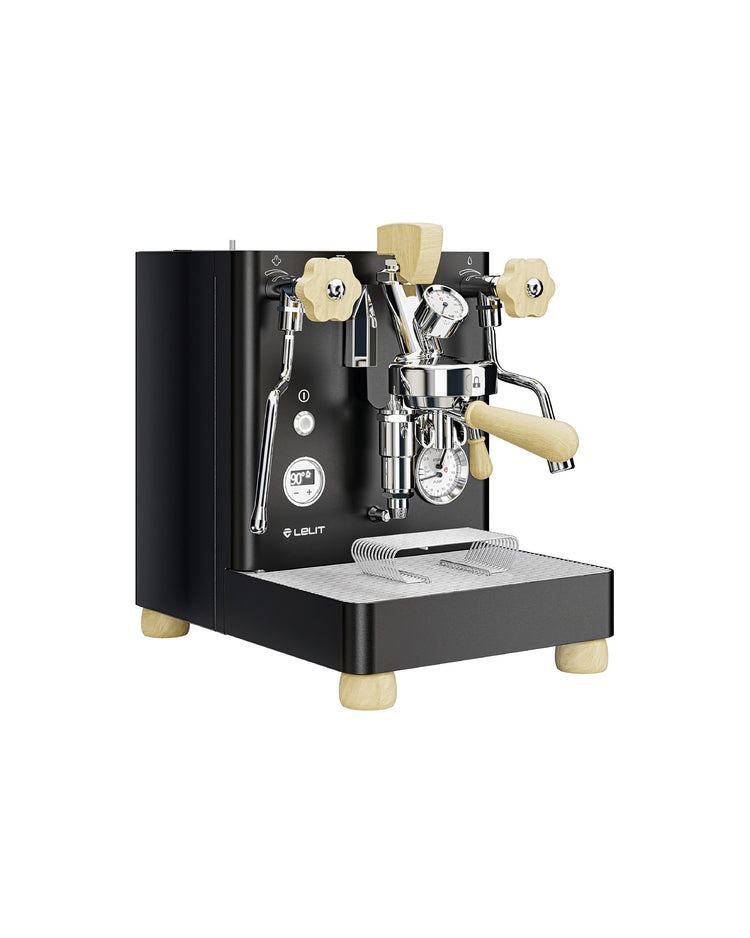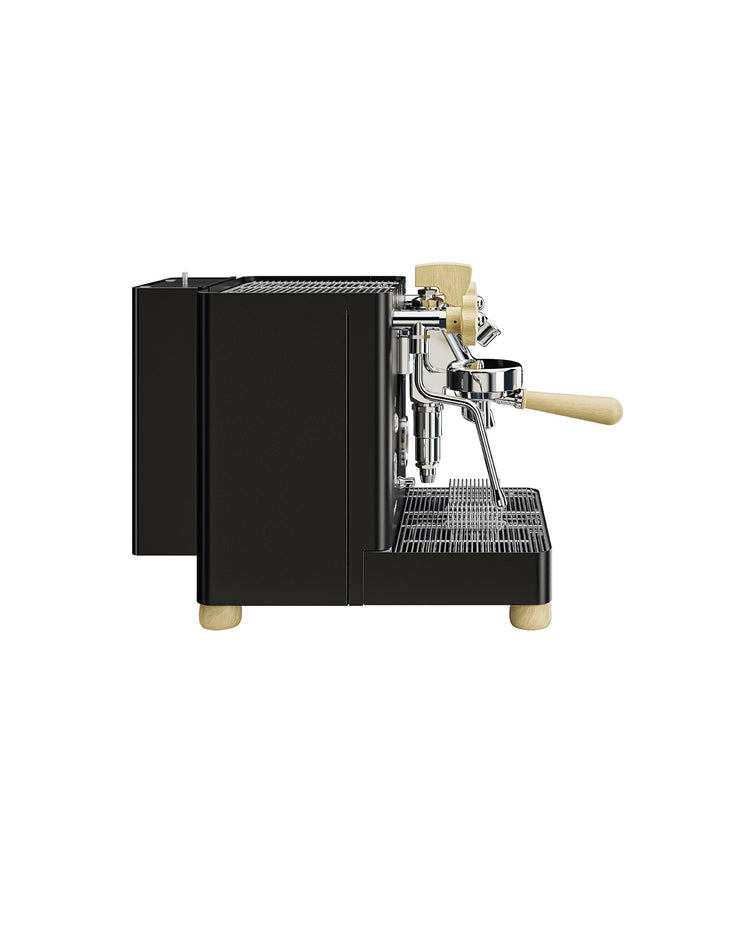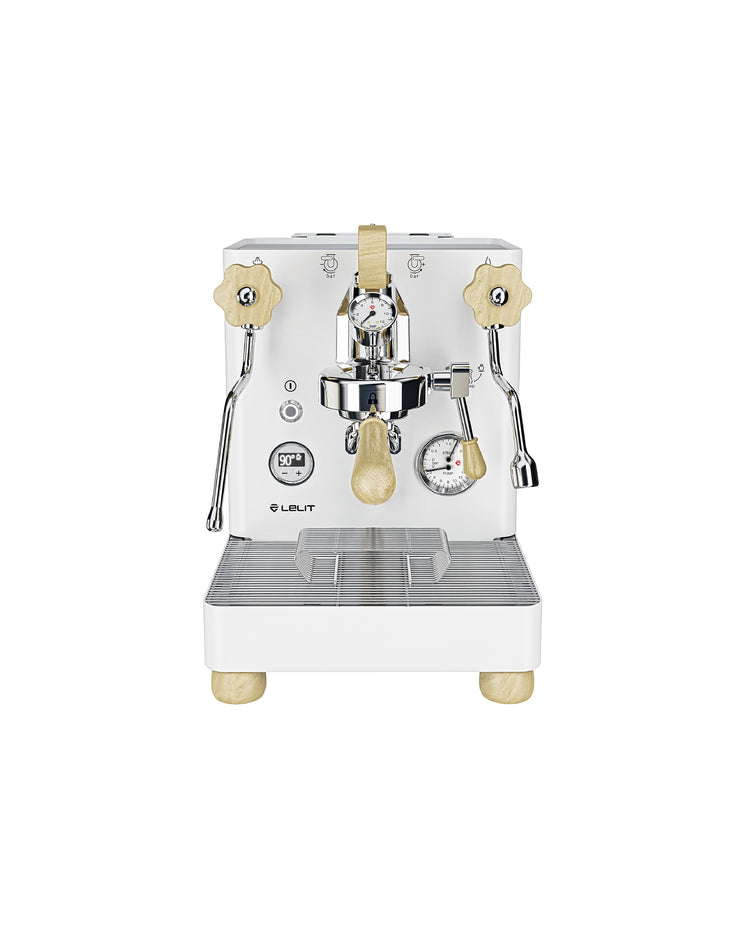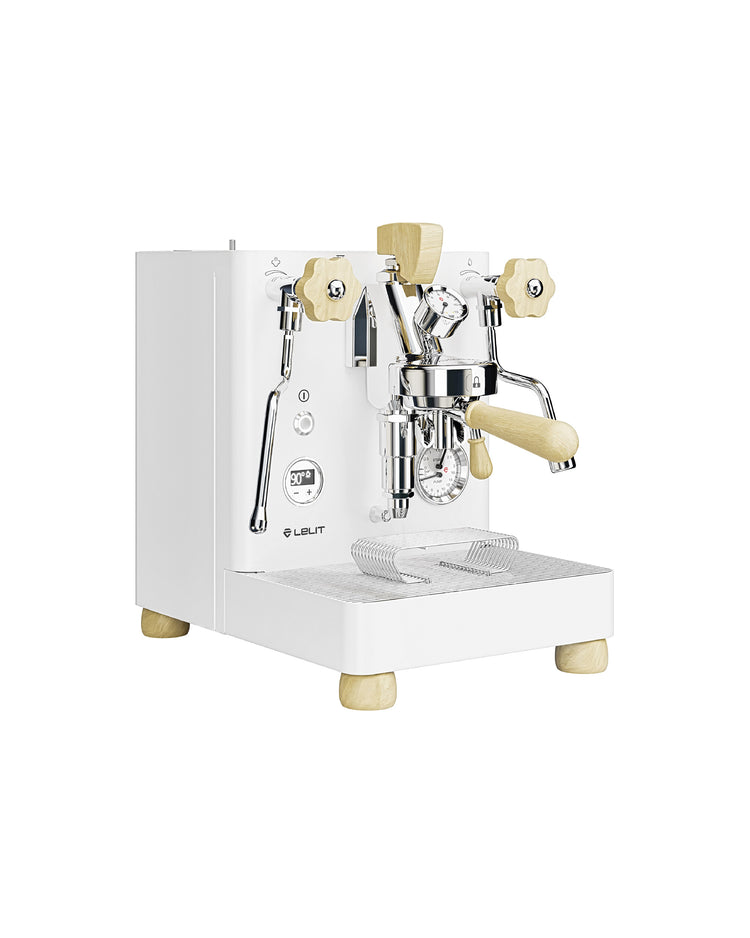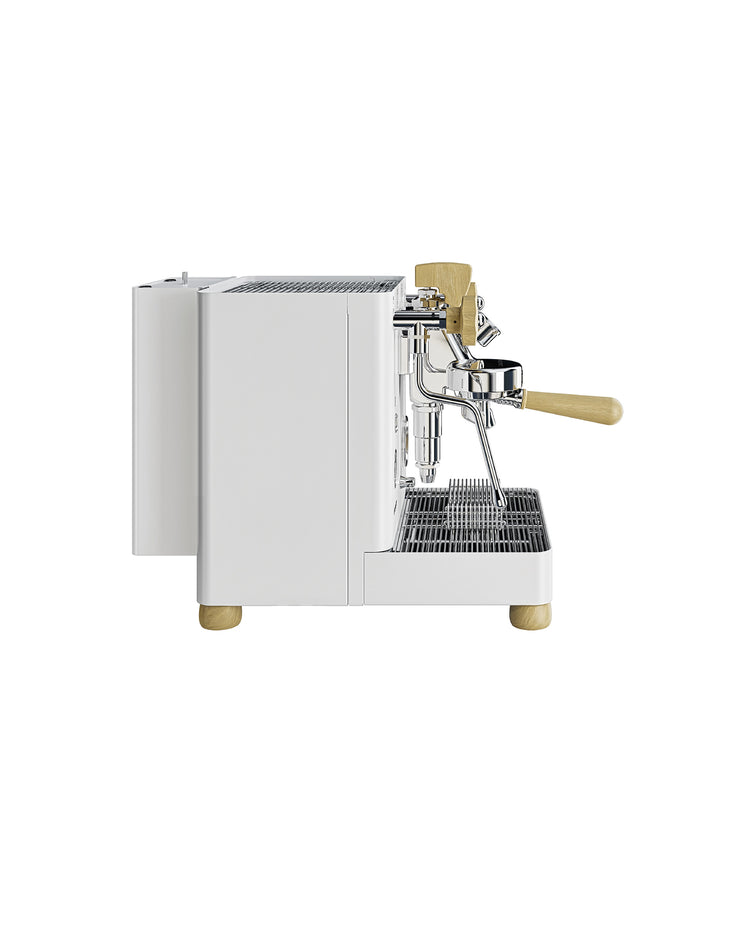 PRO Line
This group made the history of the Espresso, enabling to brew the best possible espresso at home as well as in Coffee Shop.
With these machines, the most compact in their categories, you have technology that has been refined over time, temperature control and prestigious materials made to last.
Elegance and quality for your inner barista!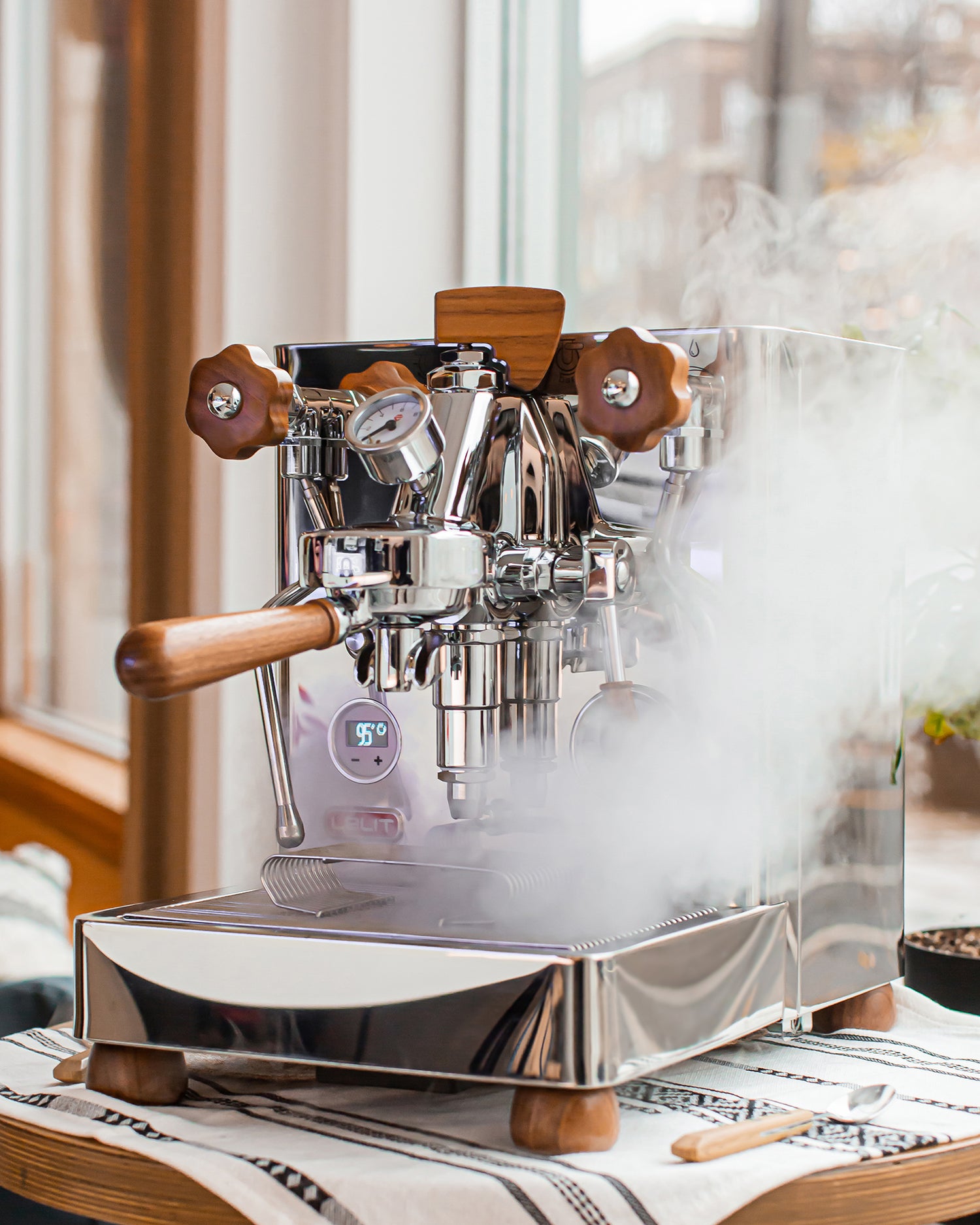 avantages
La nouvelle frontière de l'espresso
Bianca est le fer de lance des machines espresso LELIT. Un vrai bijou qui permet aux baristas experts d'avoir le contrôle absolu sur l'extraction de l'espresso à travers le contrôle manuel du flux d'eau grâce au paddle and the management of the parameters with the LCC system.
A long and constant pre-infusion
Bianca a éliminé la pré-infusion mécanique présente dans le groupe E61 en la remplaçant avec le couple LCC-Paddle qui permet de programmer les temps de "pump on" et "pump off" et d'obtenir une pression de pré-infusion constante pour une durée beaucoup plus longue.
Set the maximum pump pressure
Afin d'extraire le meilleur de chaque variété de café ou degré de torréfaction, chaque barista peut décider de modifier l'étalonnage de la pompe (jusqu'à un maximum de 12 bar) à travers la vis de réglage. La variation de la pression agit sur le comportement de la pré-infusion et du paddle.
An extraction never seen before
Le porte-filtre a un diamètre de 58mm avec une poignée en bois et une sortie Coffee Slide qui accompagne le café dans la tasse et contribue activement à la création de l'espresso. L'inclinaison progressive, la longueur de la sortie et les surfaces ouvertes sont balancées magistralement pour obtenir le meilleur résultat.
Handles and paddle made of the finest wood
All the details in Bianca, such as the knobs, the portafilter handle and the paddle are made of the finest walnut wood to give a pleasant tactile sensation and a high-quality aesthetical result.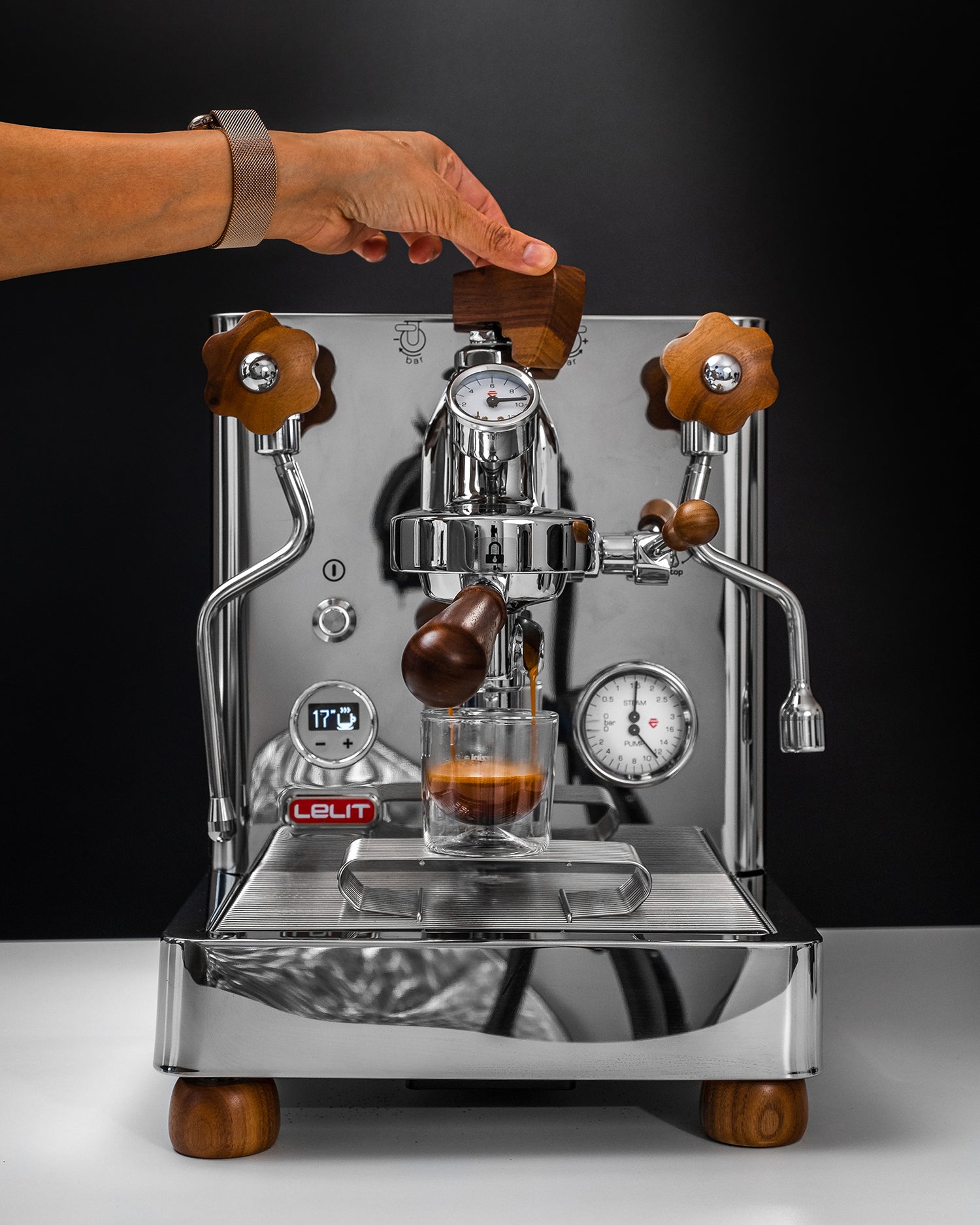 Paddle
Rotating it, you gradually vary the water flow inside the group until the highest pressure is reached. This way you can manually control every single phase of the coffee extraction to obtain the best possible result in the cup with every type of coffee blend.
LCC
It allows to control all the machine parameters, such as the temperature regulation for the coffee extraction and steam delivery, the pre-infusion times, the stand-by times, the possibility of enabling or disabling the steam boiler, the partial and total doses counter and the possibility of visualizing the temperature in °C or °F.
Dual Boiler
Two separate boilers, one for steam and hot water delivery and one for the coffee extraction. A system studied to grant a higher temperature stability and to allow the simultaneous delivery of coffee and steam.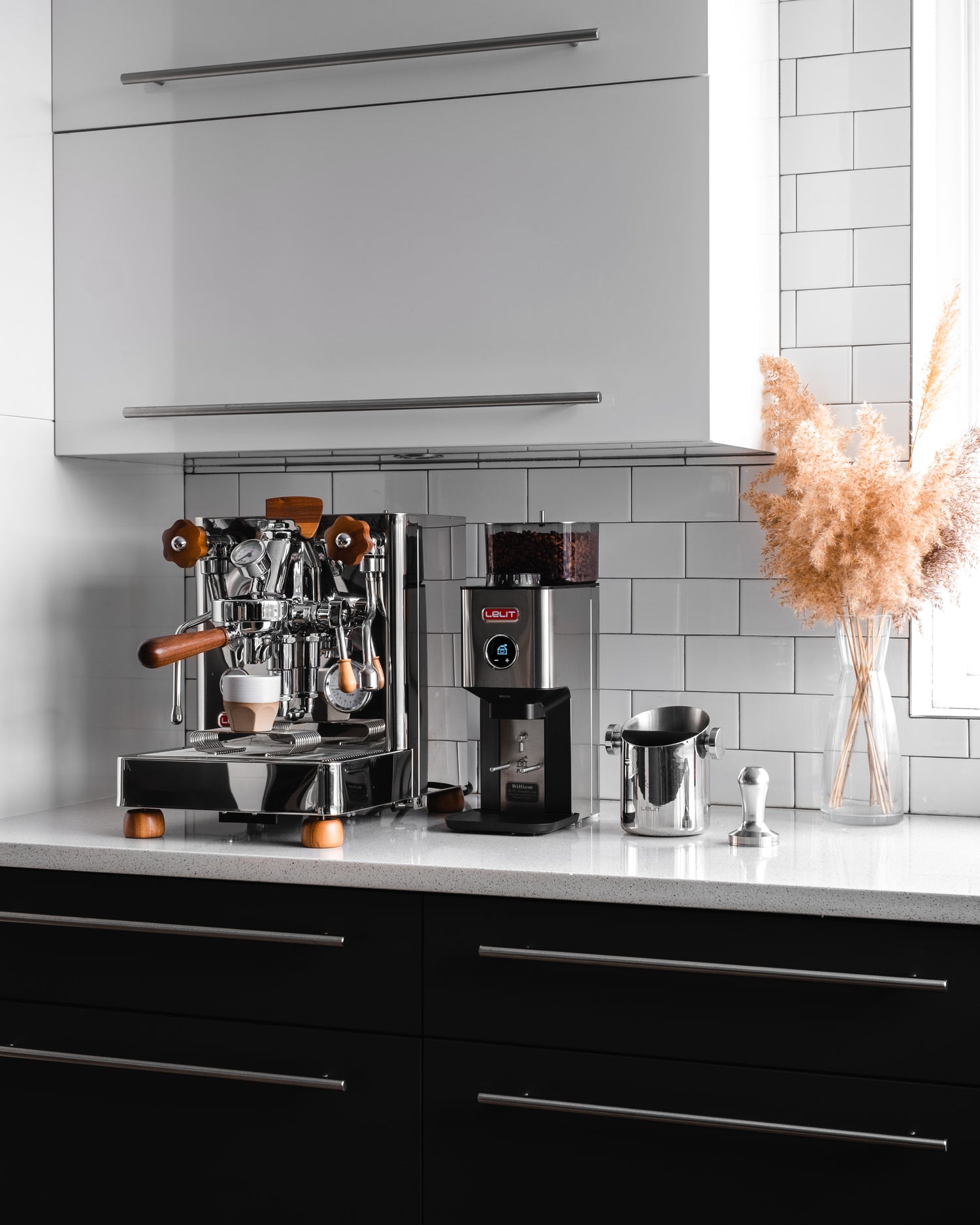 caractéristiques
Repositionable water tank with automatic coupling
Le réservoir de Bianca se tient à l'intérieur d'un ''sac à dos" externe à la carrosserie afin d'éviter l'éventuel réchauffement de l'eau, il peut être repositionné sur une des trois parties latérales de la machine pour s'adapter au mieux aux espaces disponibles. De plus, il a été conçu pour être facilement enlevé pour les opérations de nettoyage.
Measure the real extraction pressure
Thanks to the manometer on the E61 group you can measure the real pressure on the coffee puck having a much more precise and accurate control of the coffee extraction.
Carrosserie en acier inoxydable
La carrosserie et le bac de récupération de Bianca sont fabriqués en acier repoli AISI 304, le roi des matériaux, pour une durée infinie, un aspect esthétique et une facilité de nettoyage sans égal.
Buses vapeur-eau chaude avec technologie cool touch
Les nouvelles buses vapeur et eau chaude LELIT, avec leur nouvelle géométrie ergonomique, sont cool touch, to avoid any burn and have a new geometry to facilitate cleaning, avoid the limestone formation and allow a more satisfying use experience.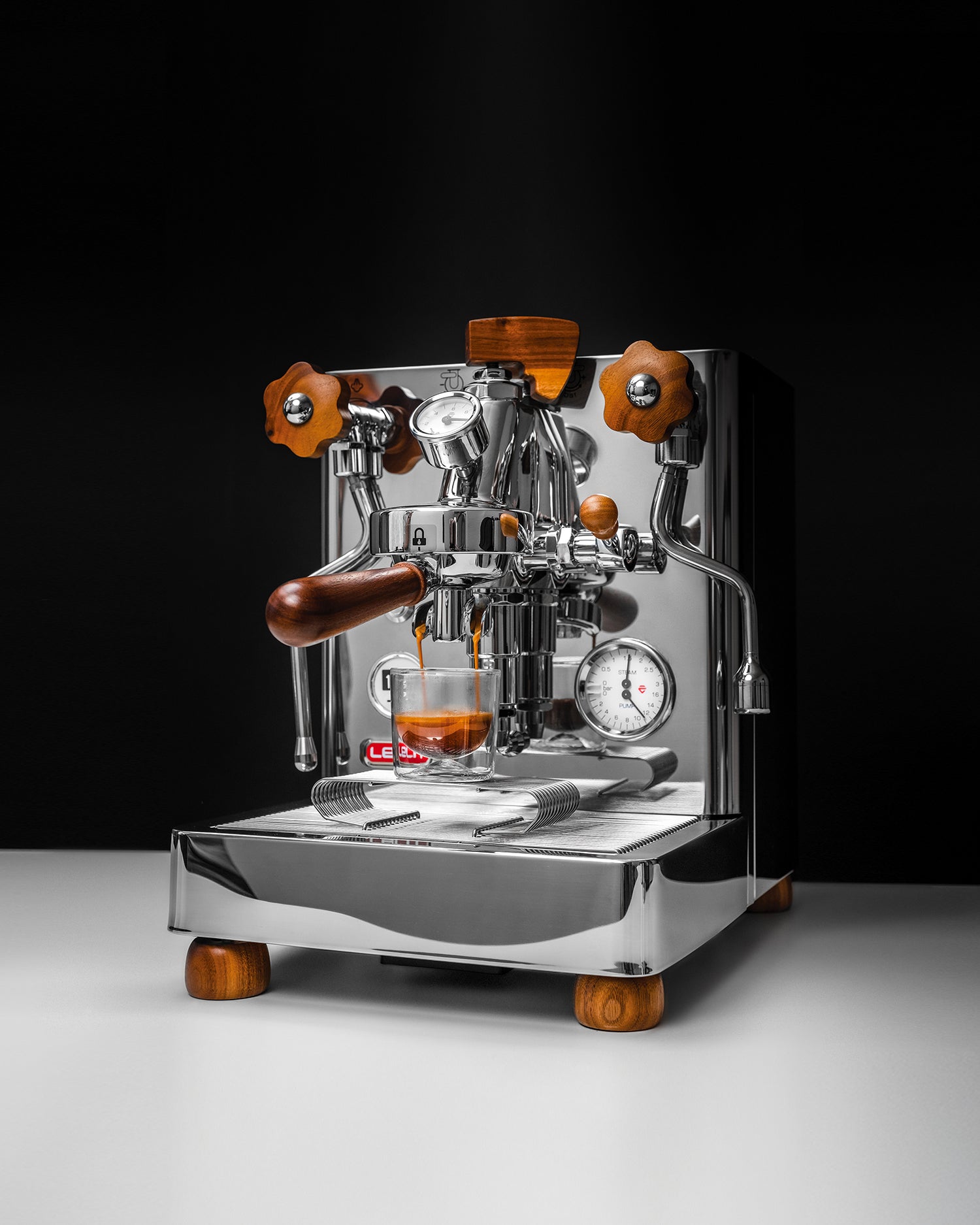 Adjustable feet
Les pieds de Bianca sont faits en bois de noyer, le même matériau utilisé pour les autres détails de la machine et sont réglables en hauteur - assurant ainsi une stabilité optimale de la machine sur toutes les surfaces et, en cas de connexion au réseau hydraulique, un réglage de l'inclination de la machine pour vider l'eau facilement.
Energy saving
Bianca est fabriquée avec un système sophistiqué pour économiser l'énergie. Celui-ci permet de programmer un temps de stand by time, after which the steam boiler is disabled. The coffee boiler maintains a temperature of 70° C and the efficiency of the warming cup surface is kept at 80%. The machine returns in the full energy modus in just 10 minutes, granting this way a significant energy saving.
Paramètres techniques
A super-performing machine like Bianca must be able to adapt to the different working conditions and to the different extraction needs of each barista. To obtain this result, Bianca is equipped with a technical submenu, where you can customize the settings, such as the PID parameters that determine the thermoregulation.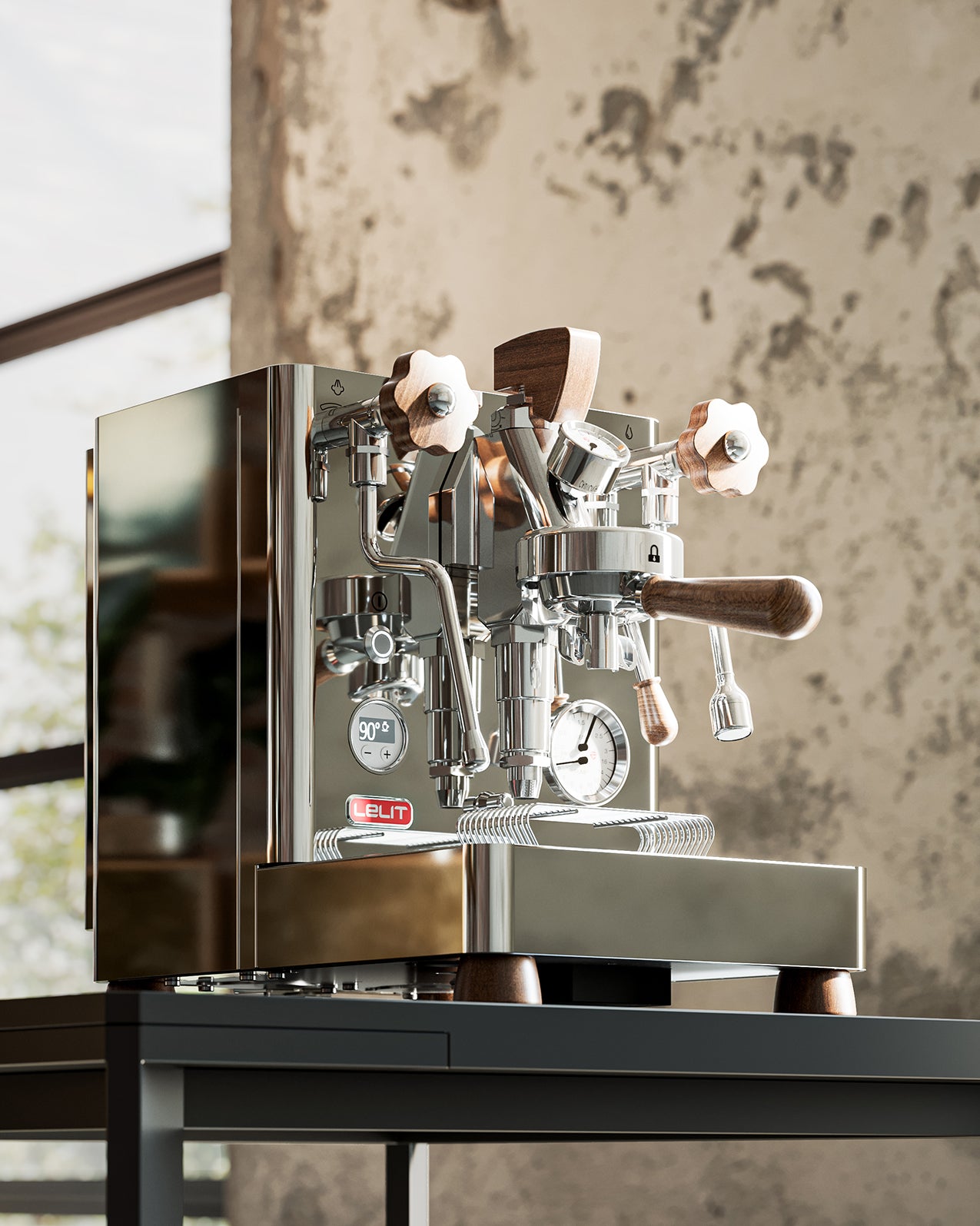 Sur la Bianca V3, il y 4 modes d'utilisation différents:
1- Sleep mode : après un temps programmé (de 30 à 540 minutes), le logiciel baisse la température de la bouilloire café à 70°C, pendant que la chaudière vapeur descend à 0°C.
2- Stand-by mode (mode veille) : c'est la nouveauté de la Bianca V3. Après 30 minutes, les bouilloires café et vapeur ainsi que le LCC s'éteignent. C'est le paramétrage par défaut.
3- E-Mode : la bouilloire vapeur est toujours éteinte.
4- Always ON : quand l'utilisateur désactive le stand-by mode (mode veille) et sleepy mode (mode eco). La machine est toujours allumée.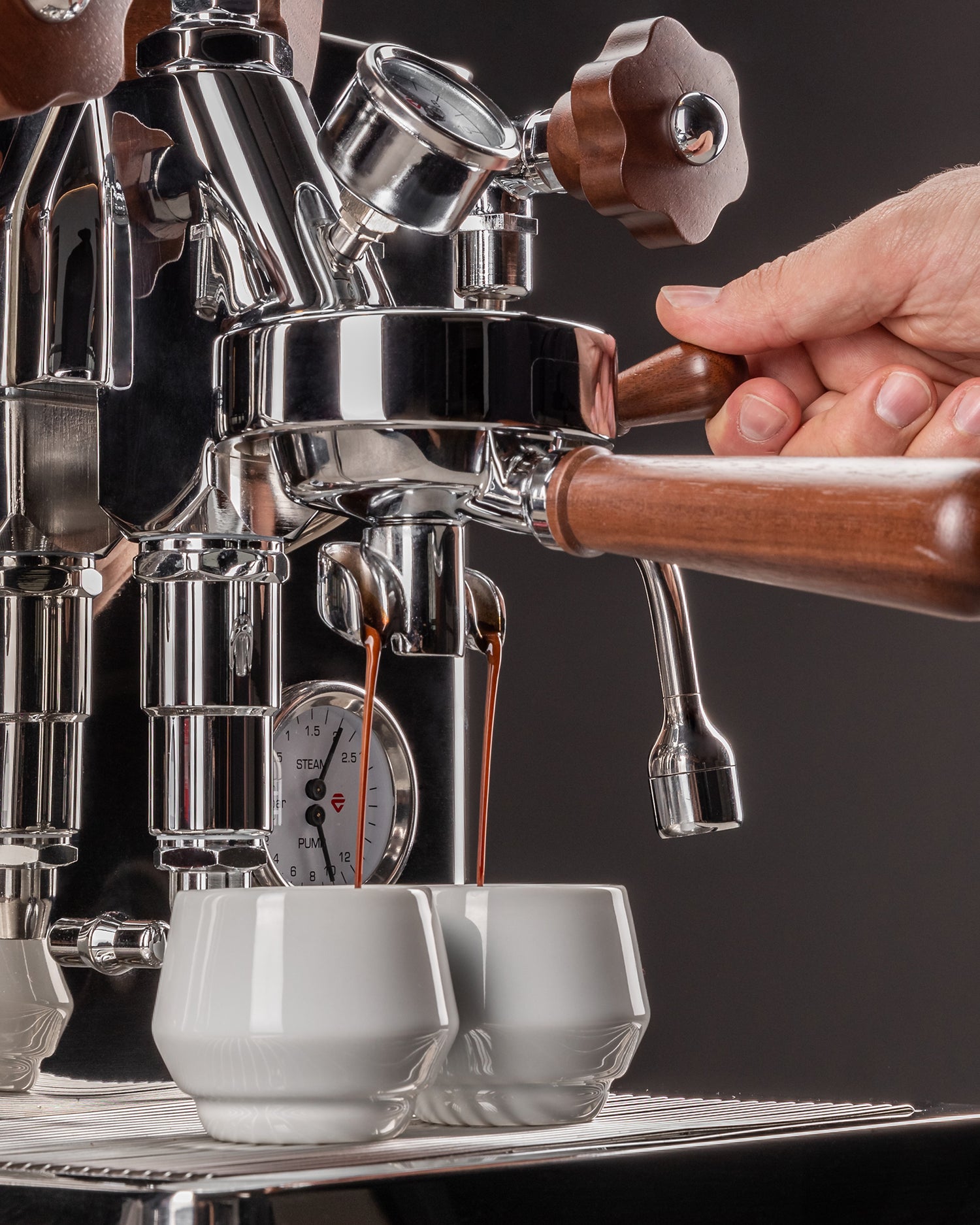 New software
Le logiciel de la machine a été amélioré pour ajouter la nouvelle fonction Low flow function, le Stand-by mode (mode veille) et l'optimisation du temps de chauffe de l'appareil.
Low flow function
La plus grande amélioration de la machine est la fonction Low Flow que l'on pourrait traduire par "réduction du débit d'eau". Sur la Bianca V3, LELIT a en fait automatisé une action précédemment réalisable uniquement à l'aide du paddle.
Mode compensation de température offset
This value either increases or decreases the coffee boiler temperature during coffee brewing, changing the temperature of the water coming out of the grouphead.
Vidéo de présentation de la LELIT Bianca V3